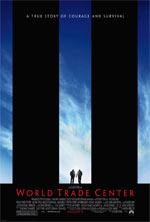 World Trade Center


- for intense and emotional content, some disturbing images and language.
Director:
Oliver Stone
Starring:
Nicolas Cage, Michael Pena, Maria Bello, Maggie Gyllenhaal
Running Time:
2 hours, 5 minutes
Theatrical Release Date:
August 9, 2006
Official Site
Plot Summary

Academy Award®-winning director Oliver Stone tells the true story of the heroic survival and rescue of two Port Authority policemen – John McLoughlin and Will Jimeno – who were trapped in the rubble of the World Trade Center on September 11, 2001, after they went in to help people escape. The film also follows their families as they try to find out what happened to them, as well as the rescuers who found them in the debris field and pulled them out. Their story shows how the best in people rose above the tragic events of that day. (from MovieWeb.com)
Film Review
For those who lived through the events of September 11, 2001, it is impossible to forget where they were during this horrific day. While I was in the comfort of my own Pennsylvania home that morning, I'll never forget the images on the TV, the feelings of anger and unrest I felt towards the events that took place, the helplessness of being where I was. It was surreal at the very least. I didn't get to see "Ground Zero" until a year or so later after the World Trade Center remains had been cleaned up. All that I'd seen was a fenced-off hole in the ground with memorial images for the victims of the attack scattered about the area. I could never, ever conceive the events that unfolded that day in person - what it must have been like to be a police officer, a firefighter, a survivor, a victim, or a family member of any of the above.
To make a feature film about this infamous day, which people can refer to as "nine eleven" and you'll always know what they mean, just seems odd. Immediately thoughts of a cold, selfish attempt to capitalize on this unforgettable day come to mind. But also, a sense of education, or at least a way to pull some good out of it can also be seen. The story of director Oliver Stone's film World Trade Center does just that -- focuses on the emotional trauma of that fateful day, all the while centering on the hope, the good, and the positive in the midst of an act of pure evil.
Casting such a big name as Nicolas Cage in the role of an everyday man in a true story like this may seem kind of odd. It does hinder the realism of the experience a bit. But knowing that what we're watching actually DID happen, and knowing that we have seen seemingly endless replays of real footage about this day, keeps some of the realism intact. World Trade Center is as much real as it is Hollywood.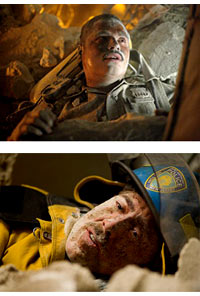 The film opens with John McLoughlin, played by Cage, going about a normal routine of getting up, showering, and heading to his usual destination as the Sargent of the New York Port Authority Police Department. We're faced with the realism of just a normal New York City day before utter chaos hit. And Stone handles the attack very carefully. Where the central officers had not actually seen the towers hit and everyone's information was fragmented or miscommunicated, we the audience are also given this experience. The only image of a plane we're shown is an eerie shadow cast upon nearby buildings as it past overhead. The officers then make their way to the towers, and in transit, we see what they see. Nothing's glamourized. The devastation isn't "cool." It's real, and we feel like we're right there in the bottom of Tower One with them. I was surprised how early on in the story the tower collapsed and the officers are trapped, but the core of the film becomes about the survival of two men -- John McLoughlin and Will Jimeno, as they fight to stay alive buried twenty feet below the surface of the rubble. Intermitently between shots of the guys below ground conversing, we're given a glimpse into the lives of their family members as they struggle with the ambiguity of the status of their loved ones. It all adds up to a lot of tension and suspense, and whole lot of emotion.
Stone approaches the story with a lot of sensitivity to the whole event and to those involved. If anything, it may appear a bit sugar-coated, but it accurately shows how beautiful the unity of mankind was that day. People eagerly pitched in to help each other. Politics meant nothing as Americans were once again proud to just be American. The United States were truly united and Stone definitely highlighted this without being heavy-handed. And for that reason alone, World Trade Center holds a lot of merit. This stuff did happen. It's real life drama. And to anyone who witnessed the events of September 11, 2001, this all means something.
Content isn't as intense as it could have been given how brutal the events of that day really were. I remember seeing a documentary on national television one night with my family that did not edit out any profanity, and the dialog between the officers and people involved was unmistakably R material. But Stone tones this down enough to fit within the PG-13 rating quite easily. One emphasized "f" word is present while another is incomplete, and a handful of other colorful words are present. The presence of violence is obvious, but we mostly see some bloody victims and a person's discolored fractured legs on a hospital bed, but nothing nearly as gruesome as many saw that day. All of this still adds up to an intense experience nonetheless, so I'd be cautious in letting younger ones see this film.
World Trade Center may feel like a documentary at times, but it's ultimately a theatrical, Hollywood look at September 11th. It would be hard to truly capture the horror without making it extremely hard to watch, however. Instead, Stone makes it easy to relate to the everyday people involved in the situations in this film. World Trade Center serves as a much-needed reminder of what was lost and gained on 9/11. I hope this film always brings this to memory for everyone who sees it. - John DiBiase (reviewed: 8/16/06)
Parental Guide: Content Summary

Sex/Nudity
: We see John in the shower in a torso and up shot, but no nudity is seen; We see Will and Allison in bed together, kissing and being playful, but nothing sexual happens.

Vulgarity/Language
: 1 "f" word (another incomplete), 6 "s" words, 2 "g*dd*mn," 3 "J-sus," 7 "h*ll," 5 "d*mn," 3 "a" words, 1 "cr*p," 1 "S.O.B.," 8 "Oh my G-d," 2 "Oh G-d"

Alcohol/Drugs
: Random people are seen with beers during the story.

Blood/Gore
: We see a cop with some blood on the side of his head; A cop has blood running from his mouth as he's dying; We see Allison vomiting into the toilet; We see a couple cops with blood on their uniforms; A person walking down the street has blood on them; We briefly see what looks like some smoldering debris as it burns a mark into Will's arm; John has some bloody marks on his face; Will appears to have some blood on his head.

Violence
: Two planes hit two sky scrapers (not seen); we see the distant image of a person falling from the tower (we don't see the impact); the towers collapse (we only see this from the perspective of the ground floor caving in); we see two men trapped in rubble; A man is hit by falling debri and bleeds to death (he pulls out a gun, presumably to use on himself but dies first before using it); the heat of falling debris sets off a firearm.
Disclaimer: All reviews are based solely on the opinions of the reviewer. Most reviews are rated on how the reviewer enjoyed the film overall, not exclusively on content. However, if the content really affects the reviewer's opinion and experience of the film, it will definitely affect the reviewer's overall rating.
To find out why we don't typically review R-rated movies,
click here