SKILLET CLOSES OUT WINTER JAM SUCCESS WITH LAUNCH OF HEADLINE 'COMATOSE' TOUR
BAND TO ROCK NEW YORK CITY, CHICAGO, MINNEAPOLIS AND MORE
'COMATOSE' in Christian SoundScan Top 10 After 75 Weeks of Release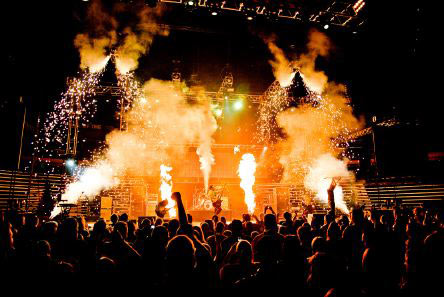 NEWS SOURCE: The M Collective
March 17, 2008

NASHVILLE, TN....3/17/08....In follow-up to a stellar 2007, in which Atlantic/Lava/Ardent/INO record's band Skillet received their second consecutive GRAMMY® nomination, garnered 4 back-to-back No. 1 singles and doubled the sales of their 2004 release, the rockers just performed before over 300,000 fans on Winter Jam and are ready to headline their COMATOSE TOUR starting next week on March 27th in Minneapolis. Hitting approximately 30 cities, including New York City,'s Grand Ball Room and Chicago's House of Blues, the tour will also feature Thousand Foot Krutch and special guest Decyfer Down, running through May 11, 2008. Tour dates are listed below and more information can be found at http://www.skillet.com and http://www.myspace.com/skilletmusic.
Criss-crossing the country over the past year and a half with other bands like Flyleaf, Breaking Benjamin, Three Days Grace and MercyMe, Barlow Girl Mandisa and more on Winter Jam, Skillet is excited to be launching their own tour. "We've had an amazing run with this album and these songs," frontman John Cooper remarks. "We've done everything from arena's to theaters, to churches and small clubs, and it's awesome to finally go on a headline tour where we can play over an hour of rock!!"
As COMATOSE continues to be one of the best-selling projects in Christian music, in the top 10 after 75 weeks of release and 312,000 units scanned, Skillet is also nominated for a GMA Dove Award for ARTIST OF THE YEAR and ROCK RECORDED SONG OF THE YEAR ("Comatose"), and became one the most popular bands ever in the history of the Winter Jam Tour Spectacular, Christian music's largest annual musical tour. In 2008 Winter Jam brought in more fans than ever before, with attendance trending 20 percent ahead of last year.
"Skillet was positioned on the Winter Jam 2008 Tour to provide a major part of the rock format for the event," commented Premiere Productions' Roy Morgan, who co-produces the Winter Jam Tour with NewSong. "We were pleasantly surprised at the response the audience gave them each night. Thousands of Skillet fans attended Winter Jam and Premier Productions has signed on to promote some of the COMATOSE tour dates. We look forward to growing together with this band in the future."
Skillet's current rock hit is already #3 on the Christian rock chart with a bullet on their song from the COMATOSE Deluxe Edition, "Live Free Or Let Me Die," and they'll be releasing "Those Nights" to CHR in April. In addition, Skillet will headline several rock stages and pre-closing slots at top summer festivals including Creation East and West, Kingdom Bound, Soulfest, Cornerstone, Icthus, NewSong, Rock the Universe, Spirit West Coast, Sonshine, LifeFest Alive, Red Letter Rockfest, and many more.
###
Skillet's explosive 2006 Lava/Atlantic/Ardent/INO Records GRAMMY-nominated release, Comatose follows 2004's Collide, which launched the group into the public eye and garnered the band their first prestigious Grammy nomination. A critical fave, Comatose has become their best-selling project to date, doubling the sales of Collide in half the time. In follow up to packed out headline club shows, a tour with FlyLeaf, and summer festivals Skillet spent last fall opening for mainstream rockers Breaking Benjamin and Three Days Grace. In the process of becoming one of the hardest working, most rocking, and broadly appealing acts of its generation, radio welcomed Comatose with open arms, as the first single, "Rebirthing" spent seven-weeks at No.1 on Christian Rock. Their second single, "The Last Night," also took the top spot, this time at both Rock and CHR (CRW/R&R), while their latest singles, "The Older I Get" (CHR/Rock) and "Comatose" have become their third and fourth consecutive No. 1 singles. At the end of 2007 the band was lauded with R&R's No. 1 Christian CHR Song of the Year for "The Last Night", which was also R&R's No. 2 Christian Rock song of the year. In addition, Skillet was named 2007s No. 2 top artist on both the CHR and ROCK year end lists.
Mar 27 2008 7:00P Club 3 Degrees - Comatose Tour Minneapolis, Minnesota
Mar 28 2008 8:00P Val Air Ballroom - Comatose Tour Des Moines, Iowa
Mar 29 2008 7:00P Wings Stadium - Comatose Tour Kalamazoo, Michigan
Mar 30 2008 6:00P House of Blues - Comatose Tour Chicago, Illinois
Apr 1 2008 6:30P Coronado Theater - Comatose Tour Rockford, Illinois
Apr 2 2008 7:00P Memorial High School - Comatose Tour Eau Claire, Wisconsin
Apr 3 2008 7:00P Paramount Theater- Comatose Tour Cedar Rapids, Iowa
Apr 4 2008 8:00P The Avenue - Comatose Tour Tipp City, Ohio
Apr 5 2008 7:00P Reynoldsburg UMC - Comatose Tour Columbus, Ohio
Apr 8 2008 7:00P Remingtons - Comatose Tour Springfield, Missouri
Apr 10 2008 7:00P New Daisy Theater - Comatose Tour Memphis, Tennessee
Apr 11 2008 7:00P The Underground - Comatose Tour Forrest Park, Ohio (Cincinnati)
Apr 12 2008 7:30P Reardon Hall/Anderson University - Comatose Tour Anderson, Indiana
Apr 13 2008 6:30P Elco Theater - Comatose Tour Elkhart, Indiana
Apr 17 2008 7:00P Northway Auditorium/North Country Commons - Comatose Tour Clifton Park, NY (Albany)
Apr 18 2008 7:00P New Life Christian Fellowship - Comatose Tour Portland, Maine
Apr 19 2008 7:00P Grand Ballroom (Hammerstein) - Comatose Tour New York, New York
Apr 20 2008 6:00P North Hagerstown High school - Comatose Tour Hagerstown, Maryland
Apr 24 2008 7:00P S.E. Belcher Jr. Performance Center - Comatose Tour Longview, Texas
Apr 27 2008 6:00P Abilene Civic Center - Comatose Tour Abilene, Texas
Apr 29 2008 7:00P Ist Baptist Of Raytown - Comatose Tour Kansas City, Missouri
May 1 2008 7:00P Samfordwright Center - Comatose Tour Birmingham, Alabama
May 2 2008 7:00P War Memorial Auditorium - Comatose Tour Greensboro, North Carolina (no TFK)
May 4 2008 7:30P Cricket Arena - Comatose Tour Charlotte, North Carolina
May 6 2008 7:00P Murray Hill Theatre - Comatose Tour Jacksonville, Florida
May 8 2008 7:00P Mobile Civic Center Theatre - Comatose Tour Mobile, Alabama
May 9 2008 7:30P Tivoli Theatre - Comatose Tour Chattanooga, Tennessee
May 11 2008 7:00P LMHS Fine Arts Center - Comatose Tour Lancaster, PA
*photo attached of Skillet's electric performance from the Nashville Winter Jam close out show
(Credit: David Molnar/DavidMolnar.com)

[2021]
Jan. | Feb. | March | April | May | June | July | Aug. | Sept. | Oct. | Nov. | Dec.
[2020]
Jan. | Feb. | March | April | May | June | July | Aug. | Sept. | Oct. | Nov. | Dec.
[2001 - 2020]
Visit our complete MUSIC NEWS ARCHIVE