- PROVIDENT'S FRIDAY BUZZ -
FOR THE WEEK ENDING SEPTEMBER 12, 2008

MICHAEL W. SMITH VISITS WITH PRESIDENT BUSH
AND SENATOR MCCAIN

MATT MAHER ATTENDS CHRIS TOMLIN'S RELEASE PARTY

KRYSTAL MEYERS VISITS TVU/RADIOU

NEVERTHELESS PREPARE FOR RELEASE OF IN THE MAKING…

CASTING CROWNS ANNOUNCES HEADLINING CHRISTMAS TOUR
NEWS SOURCE: Provident Label Group
September 12, 2008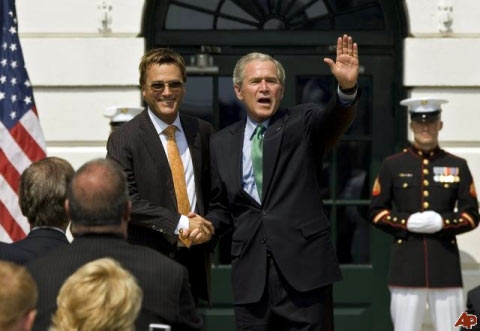 Michael W. Smith Visits with President Bush and Senator McCain: Multi-Platinum selling artist, Michael W. Smith, performed on the South Lawn of the White House on Monday, September 8, to celebrate President Bush's commitment to service through the President's Council on Service and Civic Participation. Smitty was appointed Co-chair of the organization by the president in 2006. Smitty also joined Senator John McCain in New York this week (September 11), as part of an event that brought together that organization and ServiceNation, a coalition of more than 100 groups dedicated to strengthening out democracy and problem-solving through civic engagement. For more information on Smitty, please visit www.michaelwsmith.com. *Pictured above, Michael W. Smith and President Bush at the White House on Monday, September 8.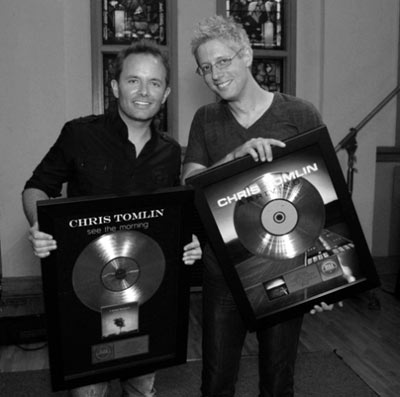 Photo caption: Matt Maher (left) pictured with Chris Tomlin (right) at Tomlin's album release party
Matt Maher Attends Chris Tomlin's Release Party: Essential recording artist Matt Maher recently attended Chris Tomlin's album release party, where Chris and his team celebrated the platinum status of Arriving, which features Maher's song, "Your Grace Is Enough," and the gold status of See the Morning, which features a digital bonus cut co-written by Tomlin & Maher. On Tomlin's latest release, Hello Love, Maher co-penned two songs, "My Deliverer" and "I Will Rise." For more information on Maher, please visit www.mattmahermusic.com.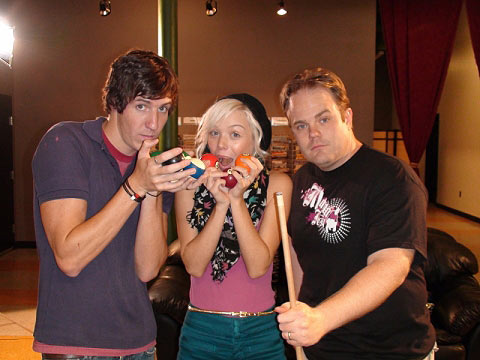 Photo Caption: Krystal Meyers pictured with Obadiah and Jared
(both of RadioU/TVU) filming segments for TVU.
Krystal Meyers Visits TVU/RadioU; Featured on HearItFirst.com: Pop artist Krystal Meyers kept herself busy during the release week of her highly-anticipated third album, Make Some Noise. On Tuesday, September 9, she spent the day with the staff at TVU/RadioU (pictured above), where she was interviewed for both radio shows and TV. Visit www.tvulive.com for more information on her visit there. Krystal is also featured on HearItFirst.com this week, where a week-long promo is going on that includes a new exclusive video every day, a full album dance party and a contest where one lucky winner will win a shopping spree with Krystal. For more information on Krystal, please visit www.krystalmeyers.com.
Nevertheless Prepare for Release of In The Making…: Chattanooga, Tenn.-based rock quintet, Nevertheless, is gearing up for the release of its sophomore album, In the Making…, this Tuesday, September 16. The band hit the road with fellow label mate Fireflight for the "Unbreakable Tour," which kicked off last night (September 11), in Ocean City, N.J. For more info on Nevertheless, please visit www.neverthelessmusic.com.
Casting Crowns Announces Headlining Christmas Tour: Grammy-winning, multi-platinum recording artist Casting Crowns, who sold 450,000 tickets in more than 80 cities during its last outing, will headline the 14-city "Casting Crowns Christmas Celebration" with a full orchestra and choir touring this November and December, performing songs from their first and highly anticipated Christmas album, Peace On Earth. The tour will feature special guests, three-time GMA Dove Award winning Female Vocalist of the Year, Natalie Grant, Denver & The Mile High Orchestra, Avalon, Michael English and new music from Radio Disney favorites, pureNRG. For tour dates, please visit www.castingcrowns.com.
###

[2020]
Jan. | Feb. | March | April | May | June | July | Aug. | Sept. | Oct. | Nov. | Dec.
[2019]
Jan. | Feb. | March | April | May | June | July | Aug. | Sept. | Oct. | Nov. | Dec.
[2001 - 2018]
Visit our complete MUSIC NEWS ARCHIVE