DISCIPLE CELEBRATES SUCCESFUL STREET WEEK
WITH WHIRLWIND PROMO RUN
INO Records' Band Completes Nationwide Radio Station Visits, Fan Meet and Greet Events, Hard Rock Cafe's Pinktober™ event and More

NEWS SOURCE: The M Collective
November 6, 2008
** Disciple's Southern Hospitality landed in the No. 7 position on the Christian soundscan charts and the No. 98 spot on the Billboard Top 200 after its Oct. 21 release its first week out the door. On top of scans, the band's newest rock single "3,2,1," is currently at No. 12 moving towards the top ten on the R&R Rock chart with their CHR single "Whatever Reason" recently going for adds. CHR stations and networks such as Air-1, Yes-FM, WAY-FM in Denver, KLFF and many others are also spinning the song.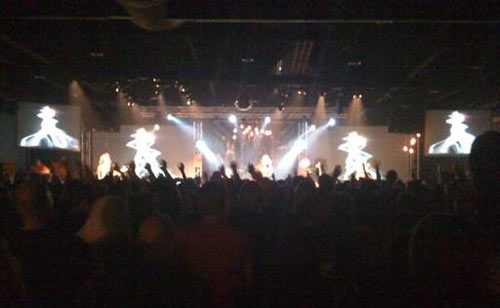 ** In support of Southern Hospitality, the band just finished a two-week promo tour with stops in Portland, Sacramento, Los Angeles, Phoenix and Nashville, while also partnering with Air-1 for national promotions and a series of free concerts in Portland, Rocklin, CA and Phoenix, AZ.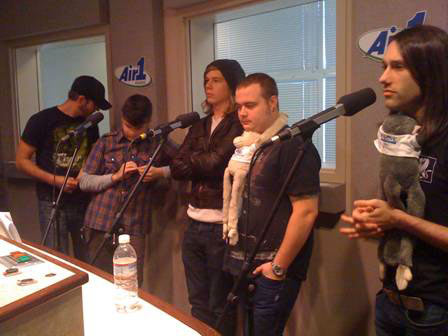 **Amidst radio station interviews, Disciple also made visits to Yahoo Music!, Sony's LA branch and HearitFirst.com, and treated fans to exclusive meet and greets at the Huntington Beach Pier and Santa Monica Beach Pier.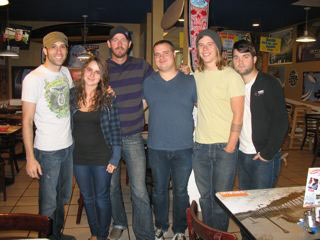 ** On top of the promotional stops, the INO Records' rock band came home to play Hard Rock Cafe's Pinktober™ event in Nashville. All proceeds from the event went to the Nashville chapter of the Susan G. Komen Breast Cancer Foundation.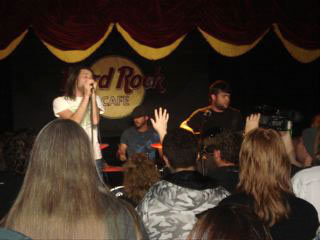 ** Disciple will continue touring throughout the U.S. and Germany for the remainder of 2008, tour dates listed below.
Disciple's first release on INO Records "Disciple" (2005) brought home three No. 1 hits, while their sophomore album "Scars Remain" (2006) became the highest selling record of their career, scanning 100,000 units. Disciple has been nominated for a whopping eight GMA Awards including a win for "Rock Album of the Year" in 2007, while their hit single "Game On" received massive placement in sports shows across the country including "Best Damn Sports Show," NFL's "Total Axxess," WWE's "Cyber Sunday" and Speed TV's "Speed Report," as well as in venues such as Wachovia Center in Philadelphia and even Madison Square Garden in New York City. The single was also used in promotion for CBS shows "Criminal Minds" and "CSI Miami." This year, the rockers were chosen to write a song for "WWE: The Music Vol. 8" and WWE superstar duo Hawkins and Ryder.
www.disciplerocks.com
myspace.com/disciplerocks
* all tour dates below, subject to change
Nov 7 2008 7:00P Grace Community Church Aurora, Missouri
Nov 8 2008 7:00P Granada Theater Emporia, Kansas
Nov 9 2008 6:00P Madrid Elementary School Gym Madrid, Iowa
Nov 12 2008 7:30P Jamestown, North Dakota
Nov 13 2008 7:30P Club 3 Degrees Minneapolis, Minnesota
Nov 14 2008 7:30P Cup O Joy Coffeehouse Green Bay, Wisconsin
Nov 16 2008 7:00P The Rock Dallas City, Illinois
Nov 22 2008 7:00P Jireh Fest 2008 Santiago
Dec 5 2008 8:00P Haus Ennepetal - Christmas Rock Night Ennepetal, Germany
Dec 6 2008 8:00P Haus Ennepetal - Christmas Rock Night Ennepetal, Germany
Dec 31 2008 7:00P Liberty University Lynchburg, Virginia
###