TOOTH & NAIL RECORDS FULFILLS WISH FOR ASPIRING MUSICIAN
T&N / Solid State Records' UNDERØATH Plays a Role in Wish Granted

NEWS SOURCE: Overture Media
November 12, 2008
Seattle, WA...November 12, 2008...Jonathan Stewart, an aspiring musician, was granted a wish of a lifetime on Monday, November 10 with the cooperation of the Make-A-Wish Foundation® and Tooth & Nail Records. Stewart's wish included spending time with the rock niche label Tooth & Nail Records and attending UNDERØATH's sold-out concert at Seattle's Showbox as a VIP guest.
Stewart was referred to the Make-A-Wish Foundation® for a wish as he dealt with osteosarcoma, a malignant form of bone cancer. He finally was able to travel to Seattle for his long-awaited wish. Requesting to have Tooth & Nail Records as part of his wish was easy for Stewart.
"I chose Tooth & Nail because they fit my style of music and beliefs, and they produce some of my favorite bands," he said. "Ultimately, I would like to be signed by them or a company like them."
His Make-A-Wish day included visiting the label office, touring Compound Studios with producer Aaron Sprinkle (Copeland, MxPx, Hawk Nelson), members of UNDERØATH and Randy Torres of Project 86 as well as hanging with the members of Demon Hunter. As another fun-filled surprise, Stewart was presented custom UNDERØATH soda bottles from Jason Hockney of Jones Soda. Stewart also enjoyed dinner with UNDERØATH and the label.
"We are honored that John would choose Tooth & Nail and UNDERØATH for his wish," shares label president Brandon Ebel. "It was a very special day for our staff and the band. John and his family are very humble, down to earth people. He listened to brand new mixes from MxPx, played the video game Rock Band with UNDERØATH, recorded a podcast with myself and The Almost, and was there when UNDERØATH was presented their new box sets. John and his family will be in our prayers."
Expounding on being a part of Stewart's wish, Chris Dudley (keyboards/samples) of UNDERØATH stated, "Hanging out with John was awesome. We took him on a tour of our record label, then we went to a recording studio and we actually recorded a song with him. He played guitar, his brother played drums, I sang, Spencer played guitar. It was one of our favorite days on tour, just because it's crazy for us to think that someone who is hooked up with Make-A-Wish would have their wish to be able to hang out with us for the day."
Executives from Cold Stone Creamery, one of the Make-A-Wish Foundation's sponsors, also took part in the wish as part of their 16-city tour visiting various franchises and supporting the foundation's wish-granting efforts. Stewart and the members of UNDERØATH sampled ice cream on Cold Stone's tour bus after dinner.
About Make-A-Wish Foundation:
The Make-A-Wish Foundation grants the wishes of children with life-threatening medical conditions to enrich the human experience with hope, strength and joy. Founded in 1980 when a group of caring volunteers helped a young boy fulfill his dream of becoming a police officer, the Foundation is now the largest wish-granting charity in the world, with 66 chapters in the United States and its territories. With the help of generous donors and nearly 25,000 volunteers, the Make-A-Wish Foundation grants a wish every 40 minutes and has granted more than 171,000 wishes in the U.S. since inception. For more information about the Make-A-Wish Foundation, visit www.wish.org and discover how you can share the power of a wish®.
About Tooth & Nail Records:
What began in a bedroom over a decade ago has grown organically to become the enthusiastic support system behind many of the most important rock bands operating, including Underoath, Emery, Hawk Nelson, Thousand Foot Krutch and The Almost. With headquarters in Seattle and offices in Nashville, Tennessee and elsewhere, Tooth & Nail Records is also the parent company to Solid State Records (Demon Hunter, Haste The Day) and BEC Recordings (Jeremy Camp, Kutless). Label founder Brandon Ebel became immersed in the network of musicians, clubs, fanzines and promoters who were making waves with bands whose positive messages (whether translated through melodic punk or heavy rock) and creative, inspired music. Driven to this unique perspective, the music press has caught on and embraced many T&N bands the kids already knew. With new signings like Family Force 5, Copeland, Capital Lights and The Becoming injecting fresh life into the company, Tooth & Nail continues to be a vital, dominant presence in the contemporary music scene. For more information, visit www.toothandnail.com.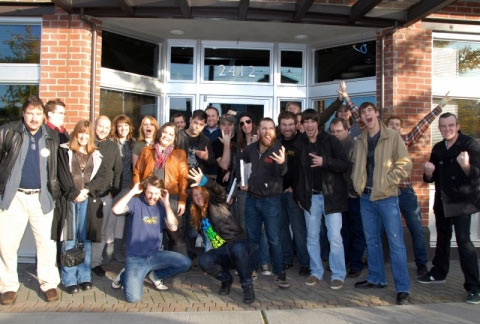 A Make-A-Wish® Day: (Left to Right) Ken Stewart, Jason Hockney, Sue Stewart, Tyson Paoletti, Annie Crandall, Lori Gerlach, Micah Johnson, Casey Crowell, Jeff Carver, Brandon Ebel, Aaron Gillespie, Scott Carlton, Brandon Day, Spencer Chamberlain, Tim McTague, Jordan Butcher, Chris Dudley, Chad Johnson, Jonathan Stewart, Jim Worthen, James Smith, Chris Stewart, Grant Brandell, Jonathan Dunn
**Jonathan is in the front with the black coat and light jeans. His brother is next to him, and his parents are on the far left.
###