ARROW RECORDS SIGNS POPULAR
MULTI-TALENT WITH HIP HOP ARTIST
SHONLOCK
Multi-Talented Instrumentalist, Lyricist & Choreographer to Release New Album in 2009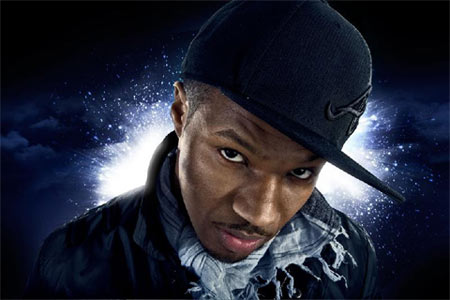 NEWS SOURCE: W&W PR
February 17, 2009
ATLANTA, GA (February 17, 2009) - Arrow Records, an affiliate of Creflo Dollar Ministries, announces today the signing of multi-talented gospel hip-hop artist Deshon Bullock, known professionally as Shonlock. Having an artistry and range of talents that have taken him traveling around the country, he has worked with some of secular and Christian music's most popular acts, from Aaliyah, Arrested Development, Grammy-nominated duo Grits, Kierra "Kiki" Sheard and Trinitee 5:7 as a dancer, choreographer, and lyricist. Shonlock is currently touring with Grammy winner TobyMac.
The Illinois-bred Shonlock has grabbed attention everywhere he goes with his exhilarating stage presence and positive sounds from his self-made and hugely popular first hip hop project. Now based in Atlanta, Shonlock's study and hard work with Christian music's biggest stars have paid off with his highly anticipated new album for Arrow/Universal Records. Featuring 12 scorching tracks with Shonlock's creative blend of influences from soul, rock, and hip hop, his new album is sure to make waves in furthering the spiritually-conscious hip hop movement.
Following up on his first self-made and self-produced hip hop project, which he sold while on the road to the tune of more than 15,000 units, Shonlock is pulling out all the stops utilizing all his talents and experience on the recording of his new album. Grammy-nominated producers David "Da Monsta" Lynch and Ric "Form" Robbins oversee the 12 tracks on the new album, which includes appearances from The Katinas and Trinitee 5:7.
In the ever-growing spiritually-conscious hip hop movement, Shonlock's exuberant performances and passionate celebration of the awesome power and gifts from trusting God delivers a fresh positive energy to the music industry and fans. Offering solace, insight and empowerment through God's love, Shonlock's music and lyrics strengthen the bonds between fans and faith.
About Arrow Records
Arrow Records, an affiliate of Creflo Dollar Ministries, is a Word-based record company located in College Park, Georgia. Established in 1998, our mission is to restore gospel music back to its original purpose-to usher in the power and presence of God in order to encourage the brokenhearted, heal the sick, deliver the captive and save the lost through the rhythm and beat of hip-hop, jazz, praise and worship, pop, urban, instrumental, inspirational, contemporary and traditional black gospel, and alternative sounds.
###

[2020]
Jan. | Feb. | March | April | May | June | July | Aug. | Sept. | Oct. | Nov. | Dec.
[2019]
Jan. | Feb. | March | April | May | June | July | Aug. | Sept. | Oct. | Nov. | Dec.
[2001 - 2018]
Visit our complete MUSIC NEWS ARCHIVE