MATT BROUWER SIMUTANEOUSLY TOPS 3 CRW RADIO CHARTS
AS SECOND SINGLE "COME BACK AROUND" ENTERS THE TOP 10
Matt Brouwer Adds Concert During MS-150 Houston to Austin to Spring Tour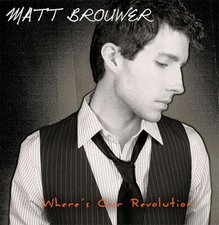 NEWS SOURCE: Indie Extreme
March 20, 2009
NASHVILLE, Tenn. (March 2009) – Black Shoe Records/Indie Extreme recording artist Matt Brouwer's song Beautiful Now was number one on the March 2, 2009 CRW Global AC, CHR, and Canadian CCM charts for a second straight week. Hitting #1 on all three charts on the same week is a milestone achievement for the Canadian born singer/songwriter. The song, which is the first single from his album, Where's Our Revolution, has been at the top of the charts for more than 20 weeks now. Meanwhile, Brouwer's second single Come Back Around also sits at #4 and #9 on the Canadian and AC charts respectively.
"Come Back Around" has been very well received by Station Programmers across the US, Canada, and abroad. With a message of an admitted collision between disillusionment and hope, the song deeply communicates. It brilliantly echoes the current spiritual and emotional climate of our world today.
"The song 'Come Back Around' by Matt Brouwer is a perfect fit for us. It is fresh sounding and Matt delivers a compelling message that resonates with our listeners and staff…appropriate and fitting." -Chris Grindrod, Program Director, WEEC FM
"We have added 'Come Back Around'. Actually, added it "out of the chute" directly into our "Heavy" airplay category. A Very strong song!" -Matt Dorfner, KJLY Blue Earth, MN
As Brouwer's "Love Can Save a Life Tour" with guest artist, Quimi www.quimialaniz.com , prepares to kick off in late March, the MS-150 (Houston-Austin) stop in La Grange, TX has been added to the tour schedule. The MS-150 Houston to Austin is the biggest Bike MS event in the United States as 13,000 cyclists saddle up to raise funds to support MS research and services for men, women and children living with multiple sclerosis. Matt and the band will entertain the cyclists during their overnight stay at the La Grange Fairgrounds. Matt's concert at the La Grange Fairgrounds on April 18th is sponsored by The Loft and TOMS Shoes. Other stops on the spring tour schedule include Austin, TX, Tampa, FL, Jacksonville, FL, Brevard, NC, League City, TX, Nashville, TN, Lincoln, NE, Fremont, NE, Hume Lake, CA, Seattle, WA and El Paso, TX.
For a complete list of tour dates and more information go to www.mattbrouwer.com or www.myspace.com/mattbrouwermusic