Facedown Presents' A PLEA FOR PURGING Announce Headlining Tour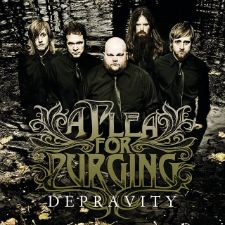 NEWS SOURCE: Facedown Presents
March 24, 2009
A Plea For Purging have announced the dates for their first headlining tour in support of their new album Depravity. The "We've Created a MonsTOUR" will kick off in Georgia and make its way through California before ending up?in the upper mid west. See all dates below.
You can hear 3 songs from the new album as well as check out the band's new video (previously featured exclusively on altpress.com) at http://myspace.com/apleaforpurging.
"We are super stoked that our very own Outerloop Management has put together a great headlining tour for us in support of our newly released record, DEPRAVITY! Some great bands have been picked for this tour and we are excited to share the road with some old friends, as well as some great new bands. This tour is going coast to coast. There are a lot of sweet bands and killer dudes on this tour. Come out and rage with us at a show." - Andy
Joining A Plea For Purging will be Burden of a Day 4/24-4/30 (Rise Records), Broadcast the Nightmare (Sumerian Records), The Great Commission 5/5-5/13 (Strike First Records), We Came as Romans & This or the Apocalypse 4/30-5/22 (Lifeforce Records).
We've Created a MonsTOUR brought to you by Outerloop Management, SIT Strings, Merch Connection & INRI Clothing.
http://www.merchconnection.com
http://www.sitstrings.com
Apr 24 - Douglasville, GA @ The 7 Venue
Apr 25 - Jacksonville, FL @ Murrayhill Theatre
Apr 26 - Winter Park, FL @ Island Oasis
Apr 27 - Ft. Meyers, FL @ Rockstarz Music Venue
Apr 28 - Sarasota, FL @ Willer Hall
Apr 29 - St. Petersburg, FL @ The Garage
Apr 30 - Madison, AL @ Insanity Skate Park
May 1 - Shreveport, LA @ 516 Soundstage
May 2 - Bryan, TX @ Stafford Main Street
May 3 - Dallas, TX @ The Max
May 4 - San Antonio, TX @ The White Rabbit
May 5 - Albuquerquer, NM @ Telos
May 6 - Phoenix, AZ @ The Phix
May 7 - Whitier, CA @ The Green Turtle
May 8 - Bakersfield, CA @ Jerry's Pizza
May 9 - Rosamond, CA @ The Moose Lodge
May 10 - Canoga Park, CA @ The Cobalt Cafe
May 11 - Fresno, CA @ The Exit
May 12 - Livermore, CA @ The Burnin' Burro
May 13 - Bend, OR @ TBA
May 14 - Twin Falls, ID @ TBA
May 15 - Salt Lake City, UT @ TBA
May 16 - Riverton, WY @ F.E.O.
May 17 - Greeley, CO @ TBA
May 18 - Wichita, KS @ The Eagles Lodge
May 19 - St. Louis, MO @ Fubar
May 20 - Herrin, IL @ Hitts
May 21 - Jefferson, SD @ Jefferson Community Center
May 22 - Buffalo, MN @ The Vault