JFH NEWS SHORTS FOR MONDAY JUNE 29, 2009
News on GRITS, Newsboys, Plumb, David Crowder*Band, FM Static, Maylene and the Sons of Disaster, Mat Kearney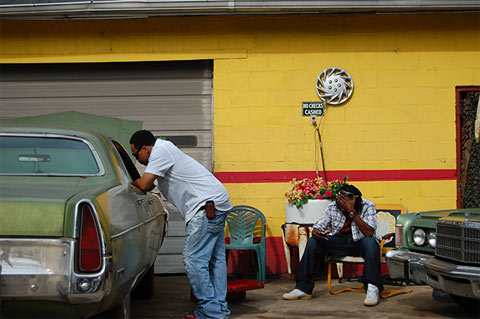 NEWS SOURCE: a Jesusfreakhideout.com report
June 29, 2009
After a busy and fun week at Creation East in Mt. Union, PA, we have plenty of music news shorts to catch up on! Here's a bunch...

>> GRITS Films "Fly Away" Video
GRITS' Stacy "Coffee" Jones (left) and Teron "Bonafide" Carter (right) show off their acting chops on the set of their new music video, "Fly Away," filmed June 14-15, 2009 in Atlanta. Produced by Dust, the video, which will release to national video outlets next month, features a guest appearance by hip hop producer Diamond D. (source: Savvy Media)
>> Newsboys Are Amazon's Deal Of The Day -- Ends TODAY!
Newsboys' latest release, In the Hands of God, featuring the no. 1 radio hit of the same title is available for digital purchase June 25-29 from Amazon.com at the low price of $3.99. -- definitely worth the deal! (source: Savvy Media)
>> Plumb Aims For Twilight Soundtrack(s)
Singer, songwriter, and shameless Twilight fan Plumb has announced her hopes for getting an original song on one of the popular series' upcoming sequels. She writes, "so i have written 3 songs with the Twilight saga in mind...if they end up in New Moon or the following 2 films...i will be more than happy...i'll have my teeth shaved to a point. they're total plumb songs...i played them for my friend leyna and mugsy and melis and jenny g...all obsessed with the books and films and they voted yes on them...but they're partial so who knows. i've not submitted them yet but with all the songs i've had in films...most of which i had nothing at all to do with...they were just amazing gifts...this is the 1st time i've ever wanted a song in a film...really wanted it. so keep your ears to the ground and your eyes to the skies (thanks for that lyric Joy Joy) and maybe it'll happen. if not...you'll at least hear them on a future plumb album dedicated to vampires. ha. the author is a mother of 3, same as me and the same age as me...and so i'm hoping i can connect with her artistically and then in turn capture the film...are you all pulling for me? you better. i'll bite you if you don't. :)"
>> New Single "How He Loves" Available From David Crowder*Band
"The new single "How He Loves" from David Crowder*Band is now available! Click here to get it on iTunes now. The much-anticipated new album Church Music will be available everywhere September 22. And if you need any more reasons to get excited about all things Church Music, be sure to watch "Shred On, Buddy," "You Can Bet Your Life On It" and "Turn The Other Cheek" -- parts 1-3 of David Crowder*Band's gritty, behind the scenes self-made rockumentary.

Also catch Crowder on the road this fall with buzz-worthy new Sparrow artist Danyew and Seabird. The "Church Music Tour" will crisscross the United States from October 1 through November 21." (source: Sparrow Records)
>> New FM Static Video Hits iTunes
Last week, FM Static announced the release of a brand new video for iTunes... "Our video for "Her Father's Song" is available NOW at iTunes!!! Get it today and let us know what you think! "Dear Diary" is available on iTunes for ONLY $9.90!!!"
>> Meet Maylene and the Sons of Disaster in Denver July 20th
The Maylene guys posted this announcement last week... "Maylene and the Sons of Disaster will be signing autographs at the Denver Pavilions Hot Topic located at 500 16th Street, Denver, CO 80202 on Monday, July 20th at 3:00 PM! Here's your chance to meet them! Beginning Wednesday, June 24th, purchase the new Maylene and the Sons of Disaster CD, III, or any Maylene and the Sons of Disaster T-shirt from the Denver Pavilions Hot Topic location ONLY and receive a wristband that guarantees the opportunity to meet the band on July 20th!* Need more info? Call the Denver Pavilions Hot Topic at 303.436.1723. We'll see you there! (*Available while supplies last. Space is limited. Offer not valid online. Limit one wristband and one autograph per person. No cameras will be allowed. See store associate for further details.)"
>> Mat Kearney Releases Candid "Closer To Love" Performance Video
Mat Kearney just posted this video on YouTube of him performing "Closer To Love" with a tennis racket and acoustic, with basketball accompaniment... sounds strange? It is, but it sounds fantastic! Definitely worth a watch...
For more info on these artists, visit the JFH Artists Database.


[2021]
Jan. | Feb. | March | April | May | June | July | Aug. | Sept. | Oct. | Nov. | Dec.
[2020]
Jan. | Feb. | March | April | May | June | July | Aug. | Sept. | Oct. | Nov. | Dec.
[2001 - 2020]
Visit our complete MUSIC NEWS ARCHIVE