Odd Thomas and Propaganda Sign with Syntax Records
Partnership Confirms Rumors and Adds New Dimension to Label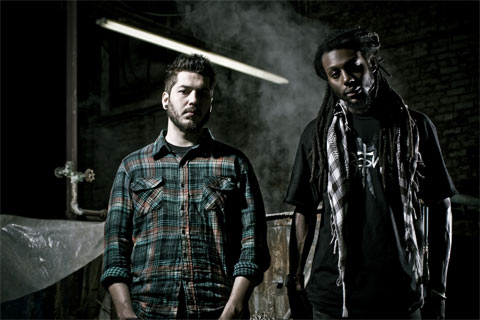 NEWS SOURCE: Syntax Records
June 29, 2009
Longtime collaborators Odd Thomas and Propaganda have a new home at Syntax Records. The California-based label brought the rap artists onto their roster this summer. The pair will join the likes of Braille, Kaboose, DJ Promote and a host of other hip-hop all stars.
Rumors swirled of the pending partnership after their epic performance at Syntax Records' Peanut Butter and Jelly Party during GMA Week in Nashville, Tennessee.
"This is an honor for us, because both of these guys deserve more ears, and that's just what we're going to give them," says Syntax Records President and co-founder Tim Trudeau.
Syntax Records has a long relationship with Odd Thomas and Propaganda that dates back to 2000. Odd Thomas worked on compilations such as Fashion Expo and Night Owls volumes 1, 2 and 4. He is also responsible for the beat used on RedCloud's infectious joint "Tapatio."
"I have always respected Syntax both in terms of creativity and in vision," Odd Thomas says. "I knew that it was only a matter of time before we built on something a little more exclusive."
Propaganda had also known the Trudeau brothers for years and toured with RedCloud in 2008. "We had such a good time together on the road and seemed to really work well together," he notes. "We have always had a mutual respect for each other's work. Finally, we can partner up."
He adds, "To be honest, I feel the brotherhood and friendship is the biggest gain."
Both artists are looking forward to what will come from this. Trudeau notes, "Although these guys are best friends in real life and we signed them at the same time, you can expect them to have their own clear distinctive careers and music offerings."
"Syntax is that down to earth family that is committed to professionalism and creating quality music," says Odd Thomas. "Because they are excellent in everything they do, from production and mixing to marketing and developing, they have both an excellent reputation and a wide reach. I think Syntax will help us impact the largest amount of people with the highest amount quality and with the most amount of integrity."
"To agree with these guys," Trudeau adds, "I can't help but feel like we gained much more than just another two rappers. Many say that friendship and business don't mix, but we have been successful with a business model for nearly 13 years where the bonds are based on friendship."
###
For more information on Odd Thomas: www.myspace.com/oddthomas
For more information on Propaganda: www.myspace.com/propaganda
For more information on Syntax Records: www.syntaxrecords.com


[2021]
Jan. | Feb. | March | April | May | June | July | Aug. | Sept. | Oct. | Nov. | Dec.
[2020]
Jan. | Feb. | March | April | May | June | July | Aug. | Sept. | Oct. | Nov. | Dec.
[2001 - 2020]
Visit our complete MUSIC NEWS ARCHIVE