JFH NEWS SHORTS FOR FRIDAY JULY 3, 2009
News on The Showdown, Everyday Sunday, Group 1 Crew, Rebecca St. James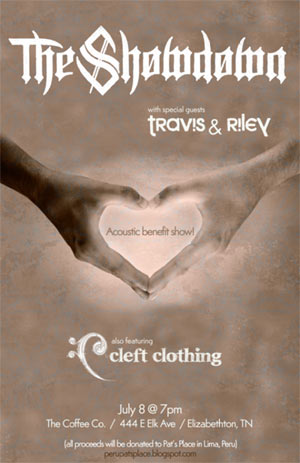 NEWS SOURCE: a Jesusfreakhideout.com report
July 3, 2009
>> The Showdown To Perform Benefit Acoustic Show July 8
The Showdown announced a special acoustic benefit show today... "YO, we are playing a benefit show at the Coffee Company in downtown Elizabethton July 8. Music, Chili Dogs, and sweet T for everyone through the door! $5! The Goal is to raise money for Pats Place in Lima, Peru. Pats Place is a refuge for at-risk women and their children. Check Them out @ perupatsplace.blogspot.com All money is being sent directly to pats place!!! Please help us spread the word about this event through myspace, facebook, twitter whatever! Dave" www.experiencingcoffee.com
>> Get Everyday Sunday Best Night... For $5 In July!
Everyday Sunday's new album Best Night Of Our Lives is an Amazon editor's pick to be part of the 50 for $5 on AmazonMP3 throughout the month of July! Right now you can download the June 16th release for just 5 bucks (more than HALF the price!) at AmazonMP3 until the end of the month!
>> Group 1 Crew Member Founds Revolution 1
Group 1 Crew frontman Manwell Reyes has started a new nonprofit organization with the sole goal of changing the world 1 dollar at a time. Manwell writes, "It's based around the idea that if we all gave a dollar to help someone in need we could change the world!! All I'm askin is that you check out Rev1.org. I'll tell you what it's all about there, and I'd love for you to join the revolution! It's gonna be so amazing!! Changing the world with just one dollar! But you have to tell someone else about it, thats the deal!" For more details and a letter from Manwell explaining the cause more in-depth, visit www.rev1.org
>> Share Your Monday Morning Coffee With Rebecca St. James
MorningStar PR announced a special morning show appearance from Rebecca St. James this coming monday, July 6...
Share your Starbucks with Rebecca this Monday morning July 6th when she's doing national co-hosting on Salem Radio Network's popular eye-opening morningshow "Doug & Kim in the Morning."

Rebecca will be live on air for two hours from Los Angeles -Doug will be in studio in Nashville-and all will be brought together by the miracle of ISDN line!

Tune in on live stream at: www.dkradio.com 7:00 A.M. -9:00 A.M. US Central. For international listeners-be sure and sync world time zones to hear Rebecca live!

Rebecca with Doug Griffin of "Doug & Kim in the Morning"
For more info on these artists, visit the JFH Artists Database.


[2021]
Jan. | Feb. | March | April | May | June | July | Aug. | Sept. | Oct. | Nov. | Dec.
[2020]
Jan. | Feb. | March | April | May | June | July | Aug. | Sept. | Oct. | Nov. | Dec.
[2001 - 2020]
Visit our complete MUSIC NEWS ARCHIVE