SKILLET SOARS INTO STREET WEEK WITH #1 ALBUM AT iTunes®, RADIO HITS & SPECTACULAR REVIEWS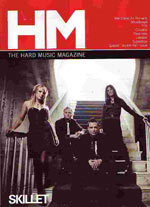 NEWS SOURCE: The M Collective
August 26, 2009
*As their new album "Awake" (Atlantic/Ardent/INO) hits stores and digital domains all over the nation this week, SKILLET is psyched to know that digital consumers have responded immediately on iTunes®. In less than 24 hours it became the #1 (deluxe version) and #4 best-selling project on the overall iTunes® sales chart as well as it's rock sales chart.
**Radio is also on board with "Awake," as the first Christian CHR single, "Hero" continues its climb to the top at #2 this week, previously hitting #1 on the Christian Rock format earlier this month. In addition, Active Rock is making way for "Monster," as the track, currently #26 on the Active Rock BDS/Billboard chart and #28 on the Mediabase chart, has been added to stations in key markets including Philadelphia, Minneapolis, Phoenix, Dallas, Chicago, Seattle, Detroit and many more.
**SKILLET's 50 city "Awake & ALIVE" fall tour, which will feature Hawk Nelson, Decyfer Down and The Letter Black, will launch on September 24th and rock across the country, landing in markets including New York City, Los Angeles, Atlanta, Phoenix, Seattle, Dallas, and their hometown base of Chicago.
**"Awake" is also continuing to get media's attention in a big way, currently on the cover of HM (attached), a 'site takeover' with CCMmagazine.com, numerous features, a skype interview on CBNNews.org , and spectacular reviews, including the following:
"… Skillet has once again outdone the competition." – CCMmagazine.com
"The bottom line here is that Awake shows us all that Skillet is like a fine wine ... better and better with age. All 12 tracks come as close to excellent as you will find in today's musical landscape. This is a "must have" CD for any Christian rock fan and it's one that will be gracing my CD player for many years to come." – About.com
"Skillet's music has a, 'Midas-like gold touch'" – CMSpin.com
"… this should be another Grammy nomination for Skillet." – RockEyez.com
"… best Skillet record to date." – Melodic.net
"Awake is Skillet's action-adventure summer blockbuster....aggressive, splashy and entertaining." – ChristianMusicToday.com (Christianity Today)
"… a new noticeable evolution of their music sure to connect with longtime panheads and open the floodgates to mainstream music rock fans who have never heard their music." – StereoTruth.net
"It's been a long wait for an all-new Skillet CD, but the result is worth it. Skillet fans are sure to embrace Awake, another strong addition to the band's discography." - Beyondtheturntable.net
" Skillet is truly one of today's most innovative, entertaining and inspiring modern rock bands." - Andy Argyrakis (freelancer writer with ChristianMusicToday.com, HearSay magazine, CCMmagazine.com and GospelMusicChannel.com)
" .... thunderous, motivating, and will do its best to wake your heart up and sync it with its rhythms. The beats are pulsing in our brains, the truth is resonating in our hearts—we love this album!" -YouthWalk magazine
" .. this record easily stands out as the best work the band has done in years, possibly of their career. This is the one that will fully bring Skillet into the mainstream spotlight." -UndertheGunreviews.net