BARLOWGIRL - SUPERCHICK TO LAUNCH CO-HEADLINING TOUR THIS FALL
BarlowGirl-Superchick Live Tour will also feature VOTA And Will Cover Thirty-One Cities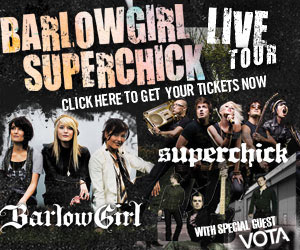 NEWS SOURCE: Bozeman Media
August 27, 2009
Nashville, TN (August 26, 2009) ---- After a three year wait and strong fan demand, two of Christian music's renowned bands are joining forces for an incredible fall tour. The BarlowGirl-Superchick Live Tour launches on September 23 and will cover thirty-one cities over a two month period, which ends in Orlando, FL November 15. Featured along with the co-headliners, BarlowGirl and Superchick, will be INO's breakout band, VOTA.
"We are thrilled to be co-headlining with our long time friends Superchick," says BarlowGirl. "We will always remain grateful for Superchick's first single, 'Barlow Girls,' that was so supportive of us as a band in our early days. And we love the music of our featured guest band, VOTA, and so happy they can join us on the tour. We can't wait to play songs from our new CD, Love & War, for the fans and to see everyone out on the road."
"We are just a couple of weeks away from probably the most anticipated, long-awaited co-headline tours we could have wanted," says Tricia Brock of Superchick. "It's going to be a great night every night! We're excited to bring a tour we know our fans will love".
BarlowGirl is poised to release their fourth project, Love & War, on Fervent Records September 8, 2009. The video for the first single, "Beautiful Ending," world premiered on Yahoo! Music and the song is currently #21 at Christian radio after going for adds on July 17th. The early buzz on the new album will continue the incredible path of success achieved by BarlowGirl in the Christian and mainstream industries, since their self-titled debut in 2004. In five short years they have become a million-selling, ten-time Dove nominated act that has become one of the most respected and renowned groups in the music industry. Their accolades include: longest #1 single at 13 weeks in Christian Radio Weekly chart history with their mega-hit, "I Need You To Love Me," two consecutive #1 singles from their sophomore project, Another Journal Entry, have played to millions of fans worldwide, was the winner of Yahoo! Music "Who's Next" user's choice promotion and have been featured by numerous media outlets including NBC's Today Show and Associated Press. In fall 2008, BarlowGirl released their critically acclaimed Christmas project, Home For Christmas, which received stellar reviews from USA Today and the New York Times. The holiday album also had great chart success with "Carol of the Bells" reaching #18 on the Holiday Songs Chart at iTunes and #4 on the Christian/Gospel Digital Tracks charts.
Inpop Records' sister-fronted band Superchick comprises Tricia Brock (vocals) and Melissa Brock (vocals, guitar), Matt Dally (bass, vocals), Dave Ghazarian (lead guitar, vocals), and Max Hsu (keyboards/DJ). With five projects to date, Superchick has sold upwards of 700,000 albums and celebrated multiple record-breaking No.1 singles at radio, including the standout tracks "We Live" and "Stand In The Rain." The group's songs have been heard in more than 80 films, television shows and video games, making Superchick one of the most licensed bands in the Christian music industry. Superchick's latest release, Rock What You Got, its boldest and most unapologetic project to date, turned out the group's highest ever first week sales numbers and has received significant licensing placements on MTV's "The Hills," ABC television spots for "True Beauty," and the Style Network's reality series "Running In Heels," to name a few. The album additionally received a 2009 GRAMMY nomination for Best Rock Or Rap Gospel Album and produced the Top 5 radio hit, "Hold." For more information, visit www.superchickonline.com.
VOTA, formerly recognized as Casting Pearls, has reinvented themselves with a new name, new sound and new record label. Bryan Olesen, Case Maranville and Scott Rutz wanted to distinguish themselves amongst the crowds and distinguish they did. VOTA released their self-titled album last year with INO Records and since then, they have had a hit single "Hard To Believe," a successful Discovery Download campaign with iTunes ® and have been performing for massive crowds across the country. They are excited to continue sharing their music with their fans, both new and old, while moving forward in their journey.
Before heading out on the official fall tour, BarlowGirl will host a CD release party for Love & War at Rock The Universe in Orlando, FL September 13th. Special event packages are available for the weekend. Fans can go to www.barlowgirl.com for more details.
Word Entertainment, a Warner/Curb company, is comprised of Word Distribution, Word Music and Word Label Group's Word Records, Fervent Records, Myrrh Records and Word Music Publishing. Leading the industry with over 55 years of music making history, Word Entertainment represents some of Christian entertainment's top brands, including award-winning artists Diamond Rio, Point Of Grace, BarlowGirl, Mark Schultz, Randy Travis, Selah, Natalie Grant, Aaron Shust, Big Daddy Weave and Francesca Battistelli, in addition to Big Idea's successful VeggieTales video series.
###
Tour dates (subject to change):
Sept. 23 – Decatur, TX
Sept. 24 – Tulsa, OK
Sept. 25 – Davenport, IA
Sept. 26 – Alton, IL
Sept. 27 – Waukesha, WI
Oct. 1 – Birch Run, MI
Oct. 2 – Madison, WI
Oct. 4 – St. Charles, IL
Oct. 8 – Grand Rapids, MI
Oct. 9 – Monroe, MI
Oct. 10 – Appleton, WI
Oct. 11 – Valparaiso, IN
Oct. 15 – Hiawatha, IA
Oct. 16 – Westerville, OH
Oct. 17 – Cary, NC
Oct. 18 – Arlington, VA
Oct. 24 – Altus, OK
Oct. 25 – Amarillo, TX
Oct. 29 – Longview, TX
Oct. 30 – Austin, TX
Oct. 31 – McAlester, OK
Nov. 1 – Oklahoma City, OK
Nov. 5 – Shepherdstown, WV
Nov. 6 – Williamsport, PA
Nov. 7 – Webster, MA
Nov. 8 – Buffalo, NY
Nov. 11 – Peachtree City, GA
Nov. 12 – Panama City, FL
Nov. 13 – Tallahassee, FL
Nov. 14 – West Palm Beach, Fl
Nov. 15 – Orlando, FL
For more info on BarlowGirl, visit the JFH Artists Database.
For more info on Superchick, visit the JFH Artists Database.
For more info on VOTA, visit the JFH Artists Database.


[2021]
Jan. | Feb. | March | April | May | June | July | Aug. | Sept. | Oct. | Nov. | Dec.
[2020]
Jan. | Feb. | March | April | May | June | July | Aug. | Sept. | Oct. | Nov. | Dec.
[2001 - 2020]
Visit our complete MUSIC NEWS ARCHIVE