KATINAS ORGANIZE "HOPE FOR SAMOA" BENEFIT CONCERT TO AID DISASTER RAVAGED HOMELAND
NATALIE GRANT, MELINDA DOOLITTLE, AMONG ARTISTS TO HIGHLIGHT OCTOBER 7TH BENEFIT CONCERT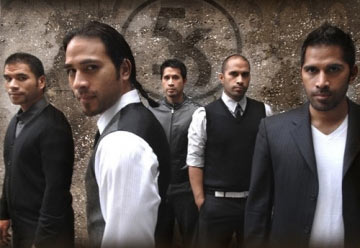 NEWS SOURCE: Brimstone Services
October 1, 2009
(Nashville, Tennessee) –October 1, 2009 – The effects of the 8.2 magnitude earthquake and resultant walls of 15-20 foot high tsunami waves that ravaged Samoa this past Tuesday, Sept. 29th, were personally felt a world away in Nashville, Tennessee by one of Christian music's most celebrated groups, The Katinas, who can claim Samoa as their native homeland. They lost both friends and family in the disaster.
In the wake of waves of death and destruction that surged more than a mile inland on the tiny island nation, the band is already organizing a relief effort for their homeland – a "Hope For Samoa Benefit Concert" to be held next Wednesday, October 7th at Fellowship Bible Church in Brentwood, Tennessee—just outside of Nashville.
Among the famous friends in music already set to join them: GMA Female Vocalist of the Year –Natalie Grant and American Idol's Melinda Doolittle. The church is located at 1210 Franklin Road in Brentwood. Nationally known radio personalities, Doug & Kim, from Salem Broadcasting's popular 'Doug & Kim in the Morning' will emcee the event. Salem's Nashville anchor station has also denoted free radio spots for the event. The benefit concert is scheduled for 7:00 P.M. with additional artists to be set.
Noted The Katinas in an open letter on Wednesday:
Dear Family and Friends,
As most of you know by now, an earthquake that registered at 8.2 on the Richter scale and tsunami that hit yesterday morning has devastated our homeland of Samoa. Our Dad, 4 sisters, brother and 2 nephews that live there are okay. However, some of our friends and close family members are still missing. We have confirmed news that on of our cousins from the village of Leone (our Mother's birthplace and place where our Dad pastors) died yesterday in the aftermath of the tsunami. The latest death toll has surpassed 100 and many are still unaccounted for.
We have been planning our 3rd annual missions' trip to Samoa this November. Yesterday's events have made us even more passionate to go and help our people.
Samoa is dear to our hearts. Growing up there prepared us for what we've been doing for the last 20 years. We have been blessed to travel the world and minister the message of Jesus through music. Now we are blessed to give back to the very place we come from.
We need your help. We have set up a "Samoa Relief" fund to assist with some of the immediate and long term needs on the island. We are still gathering information on what those needs are. However in the meantime we are doing whatever we can to help. Here's how you can help………..
Pray for the comfort of our people. Pray for the search of those who are still missing. Pray that God would heal our people both spiritually and physically. You can go to our website at www.katinamissions.org and make a monetary donation. All donations are tax deductable.
Thank you so much for your time and love for Samoa.
Blessings,
Sam, Joe, James, John and Jesse Katina
- ### -
For more info on The Katinas, visit the JFH Artists Database.


[2021]
Jan. | Feb. | March | April | May | June | July | Aug. | Sept. | Oct. | Nov. | Dec.
[2020]
Jan. | Feb. | March | April | May | June | July | Aug. | Sept. | Oct. | Nov. | Dec.
[2001 - 2020]
Visit our complete MUSIC NEWS ARCHIVE