SUPERCHICK EMBARKS ON "ALIVE TOUR" MARCH 19
Band Joined By Guest Artists John Reuben, Luminate and Bread of Stone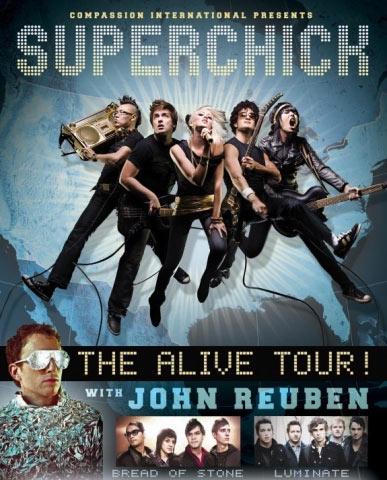 NEWS SOURCE: Savvy Media
March 15, 2010
(Nashville, Tenn.) March 15, 2010--Grammy nominated pop/rock band Superchick will embark on its spring 2010 "Alive Tour" March 19, 2010. Visiting an expected 20 cities through late May, Superchick will be joined by guest artists Gotee Records' John Reuben, new Sparrow Records signing Luminate, and touring veterans Bread of Stone.
Known for its legendary, explosive live performances, Superchick's "Alive Tour" will kick off in Minneapolis and travel to major markets including Cincinnati, San Antonio, and Chicago.
"We are so excited to get back on the road after being in the studio finishing our new album," says Tricia Baumhardt, lead singer of Superchick. "We can't wait to connect with our fans, tour with long-time friend John Reuben, and bring fresh new artists with us! It will definitely be a fun night. You never know what may happen at a Superchick show!"
A complete tour itinerary follows this release. For tour updates, visit www.superchickonline.com
Inpop Records' sister-fronted band Superchick comprises Tricia Brock (vocals) and Melissa Brock (vocals, guitar), Matt Dally (bass, vocals), Dave Ghazarian (lead guitar, vocals), and Max Hsu (keyboards/DJ). With five projects to date, Superchick has sold upwards of 700,000 albums and celebrated multiple record-breaking No.1 singles at radio, including the standout tracks "We Live" and "Stand In The Rain." The group's songs have been heard in more than 80 films, television shows and video games, making Superchick one of the most licensed bands in the Christian music industry. Superchick's latest release, Rock What You Got, its boldest and most unapologetic project to date, turned out the group's highest ever first week sales numbers and has received significant licensing placements on MTV's "The Hills," ABC television spots for "True Beauty," and the Style Network's reality series "Running In Heels," to name a few. The album additionally received a 2009 GRAMMY nomination for Best Rock Or Rap Gospel Album and produced the Top 5 radio hit, "Hold." For more information, visit www.superchickonline.com.
Gotee recording artist John Reuben has released five albums, selling more than 250,000 records. His debut LP, Are We There Yet?, captured the young artist's quick wit, fun hip hop beats, along with some darker leanings as well. His second album, Hindsight, picked up where his last album left off, exploring his early 90's hip hop influences while delving into alternative pop. In 2003, John produced Professional Rapper. Some say this project is where he truly came into his own, incorporating more live instrumentation rather than samples and loops. He continued to pen lyrics with personal themes and an increasingly eclectic musical soundtrack on his next two albums, 2005's The Boy vs. the Cynic and 2007's Word of Mouth, both of which earned him enthusiastic reviews from the music press. John's latest release, Sex, Drugs and Self-Control (Dec. 2009), was produced by John and his drummer, Seth Earnest, and recorded at his home studio in Ohio. With live instruments and drum loops John achieves a sound that suggests the influence of artists like Beck and the Dust Brothers. His personality once again sets this album apart lyrically and brings it to life. At times broodingly dark and at other times the life of the party, Sex, Drugs and Self-Control gives listeners a glimpse of who he really is. For more information on John Reuben visit www.johnreuben.com
Formed in the fall of 2005, Luminate comprises Sam Hancock (lead vocals/rhythm guitar), Cody Clark (lead guitar), Dustin DeLong (vocals/keys), Dusty Jakubik (bass), and Aaron Matthew (drums). The band released three well-received independent projects, prompting extensive touring nationwide, before signing with Sparrow Records in late 2009. Luminate's first national release, produced by multi-Dove Award-winning producer Ed Cash (Chris Tomlin, Vince Gill, Steven Curtis Chapman), combines poignant lyrics and anthemic choruses that speak to the essence of God' love. The self-titled project is scheduled to release March 23, 2010, while the album's lead single, "Shine (Love Is An Action)," is currently impacting Christian radio. For more information on Luminate, visit www.myspace.com/luminate.
Infused with an energy that finds its source in their passion for bringing others closer to Jesus, Bread of Stone is a Christian band based out of Sioux City, Iowa with a sound all their own. Coming from Indonesia, the largest Muslim country in the world, Bread of Stone was formed by two brothers Ben (vocals) and Bill Kristijanto (guitar) and later joined by friends Tim Barnes (bass) and Krislyn Woolley (drums) , they have answered the call to ministry through inspiring music. With a unique blend of rock, pop, and worship, their music takes listeners on a journey through the heights and depths of the human experience. When asked about the significance of the name "Bread of Stone," they state we are all merely stones that God turns into bread to feed the hungry and that without Him, no one can accomplish good in this downfallen world. With the grace of God flowing through their ministry, they have had the opportunity to see numerous people come to know the Lord. They are determined to glorify Him in everything they do, for this is the true heart of Bread of Stone.
###
Alive Tour Itinerary

DATE CITY
3/19 Minneapolis, MN
4/10 Cincinnati, OH
4/22 Sanger, TX
4/23 San Antonio, TX
4/24 Picayune, MS
4/28 Anderson, IN
5/1 Minneapolis, MN
5/2 Omaha, NE
5/8 Pigeon Forge, TN
5/14 Pembroke, NH
5/15 North Adams, MA
5/16 McAlisterville, PA
5/22 Muskegon, MI
5/23 Schaumburg, IL
For more info on Superchick, visit the JFH Artists Database.


[2022]
Jan. | Feb. | March | April | May | June | July | Aug. | Sept. | Oct. | Nov. | Dec.
[2021]
Jan. | Feb. | March | April | May | June | July | Aug. | Sept. | Oct. | Nov. | Dec.
[2001 - 2021]
Visit our complete MUSIC NEWS ARCHIVE