GRAMMY-NOMINATED BAND LEELAND
AND ACCLAIMED SINGER-SONGWRITER PHIL WICKHAM
CO-HEADLINE 'A NIGHT OF WORSHIP' TOUR
Featuring Special Guest Worship Artist Matt Maher,
Tour Travels To 26 Cities This Spring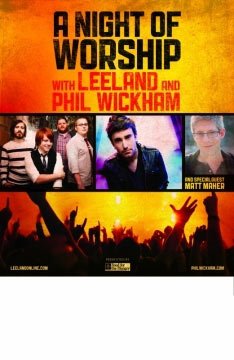 NEWS SOURCE: Provident Label Group
March 16, 2010
NASHVILLE, Tenn. – March 16, 2010 – Three-time GRAMMY®-nominated progressive rock act Leeland and acclaimed Dove Award-nominated singer-songwriter Phil Wickham will co-headline the 26-city A NIGHT OF WORSHIP TOUR featuring special guest, songwriter/artist/worship leader Matt Maher. Kicking off April 8, in Temple, Texas, the tour will make stops in Denver, CO; Reno, NV; Fresno, CA; Seattle, WA; Bend, OR; Tucson, AZ; and more before wrapping up in Belen (Albuquerque), NM on May 10. *Dates, markets and venues listed below.
The Night of Worship Tour unites a group of the Christian music industry's most critically-acclaimed artists, songwriters and architects of modern worship music – all of whom continue to influence a generation of new worshippers across the globe. Along with some collaborative moments on some of today's best-loved worship songs, the tour will also feature music from Leeland's GRAMMY-nominated third album Love Is On The Move, Wickham's chart-topping third album Heaven And Earth, and Maher's Dove-nominated sophomore project Alive Again.
"We've known Phil and Matt for quite some time now, and we've dreamed of doing a tour with them for even longer!" says Leeland keyboardist Jack Mooring. "It's going to be a collaborative worship night that ebbs and flows. We know that every night will be powerful, as we seek after God together in each city. I can't wait!"
"I am so excited to be a part of this tour," Wickham adds. "Leeland and Matt are two of my favorite worship leaders and to be able to share the stage with them will be an honor. I hope everyone that comes to the shows will be ready to sing!"
The Night of Worship Tour couldn't come at a better time for this celebrated trio of artists. For Houston-based progressive rock band Leeland, the tour comes on the heels of the group's third career GRAMMY nomination for Best Pop/Contemporary Gospel Album, continuing a streak of GRAMMY honors for each of the outfit's three projects to date. Wickham's latest release, Heaven And Earth, has been lauded by critics as one of the top Christian albums of 2009, and gave him his first No. 1 radio single ("Safe") along with the highest chart placement of his career when it debuted at No. 5 on the Christian music sales chart in December. Maher recently garnered six nominations as a top nominee for the upcoming 41st Annual GMA Dove Awards, and was called "this year's breakthrough nominee" by the Associated Press.
A Night of Worship with Leeland and Phil Wickham, and special guest Matt Maher, is presented by Christian relief organization Food for the Hungry. Founded in 1971, Food for the Hungry provides emergency relief and implements development programs in more than 26 countries to help the world's most disadvantaged people. Learn more by going to www.fh.org.
About Leeland:
Hailing from Houston, Texas, GRAMMY-nominated progressive rock act Leeland has been known to deliver songwriting beyond its years and worshipful rock so genuine it disarms the honest cynic. Often quoted as one of Christian music's most gripping live bands, the 2006 debut Sound of Melodies and 2008's Opposite Way quickly established Leeland as a leader in the worship community and beyond. With its 2009 album release, titled Love Is On The Move, Leeland has written a collection of songs that offer lyrics with a service-filled response to both physical and spiritual poverty."Worship, justice and action are not separate," explains lead singer and guitarist Leeland Mooring. "They are united. They work together. When you have an amazing encounter with God and you experience His love during worship, the fruit of that should be your life overflowing with action and love – justice – to the world around you." The band's three album releases have each garnered GRAMMY nominations, and a combined eight Dove nominations.
In February 2009, Leeland and Jack Mooring were selected by the White House to participate in the Compassion in Action Roundtable spotlighting the innovative leadership of an emerging generation of social entrepreneurs in America. On top of non-stop touring across the U.S. and abroad, the band also partners with Christian relief organization Food for the Hungry, and has recently taken outreach trips to Africa and Asia. Leeland is: Leeland Mooring (lead vocals, guitar); Jack Mooring (keyboard, background vocals); Jake Holtz (bass); and Mike Smith (drums).
For more information, visit www.leelandonline.com and follow on Twitter http://www.twitter.com/leelandofficial.
About Phil Wickham:
Phil Wickham is at his core a humble and sincere artist who writes songs and worships God using the medium of music. It is with that brush that he paints images of a loving and creative God across the canvases of listeners' hearts and minds. The evidence of this gift was apparent on Wickham's debut INO Records release, his sophomore album Cannons and his LIVE Singalong digital release, he continues to prove this on his third studio album Heaven And Earth, which released November 17.
Heaven And Earth is the follow-up release to the critically acclaimed album Cannons, which debuted with more than 40 percent of album sales in digital and the album remained in the Top 10 on iTunes Christian album chart for several weeks peaking at No.3. He also debuted on Real Rhapsody's top artists chart in the Christian/Gospel genre as well as on the Napster top artists chart. In addition, Cannons was a featured new release for both Napster and Sony Connect.
Wickham has toured with some of the industry's most renowned artists including MercyMe and the David Crowder Band. For more information please visit www.philwickham.com
About Matt Maher:
Matt Maher –worship leader, songwriter, singer and recording artist – has taken his calling as a "musical missionary" to create a substantial impact on a national and global stage. As an award-winning songwriter, Maher gained notice as the writer of the internationally renowned modern-worship song, "Your Grace Is Enough." Highly sought after for his poignant yet poetic writing style, Maher has recently had songs recorded by such artists as Chris Tomlin; Bethany Dillon; Phillips, Craig & Dean; Brenton Brown and others. In addition, Maher's songs have appeared in the top 10 ranked songs on the CCLI chart, marking their popularity in church worship services around the world. Maher recently garnered six GMA Dove Award nominations including nods in the prestigious Song of the Year category and Worship Song of the Year for "I Will Rise," a song recorded by Chris Tomlin. Maher picked up another nod in the Worship Song of the Year category for the song "Alive Again" as well as one for Praise & Worship Album of the Year for his acclaimed sophomore project Alive Again.
Amid busy touring and writing schedules, Maher finds it important to serve alongside ministries including Life Teen and Adore Ministries, while still playing an active role with Oregon Catholic Press' spiritandsong.com. Further, he serves as a regular host for Worship Together's "Newsong Café." Maher, recently honored with a Praise Award as Worship Leader's Breakout Artist of 2008, has been featured on the covers of Breakaway and Christian Single, performed live on "FOX & Friends," written for Billboard Magazine and is an active, bylined contributor to OnFaith.com (www.newsweek.washingtonpost.com/onfaith), an interactive conversation on religion.
For more information on Matt Maher, please visit www.mattmahermusic.com.
# # #
LEELAND / PHIL WICKHAM "A NIGHT OF WORSHIP" SPRING TOUR 2010
*Dates, markets and venues subject to change without notice.
APRIL 2010
4/8 Temple, TX Temple Bible Church
4/9 Abilene, TX Beltway Park Baptist Church
4/10 Tyler, TX Friendly Baptist Church
4/11 Edmond, OK University of Central Oklahoma
4/12 Lenexa, KS Westside Family Church (Worship Together Conference)
4/13 Wheat Ridge, CO Crossroads Church of Denver
4/15 Reno, NV South Reno Baptist Church
4/16 Fresno, CA Northpointe Community Church (Phil Wickham not on this show)
4/18 Twin Falls, ID Lighthouse Christian Fellowship
4/19 Idaho Falls, ID Calvary Chapel
4/22 Spokane, WA Service Station (Matt Maher not on this show)
4/23 Puyallup, WA Puyallup Church of the Nazarene (Matt Maher not on this show)
4/24 Seattle, WA Philadelphia Church (Resolution 1:21 Conference)
4/25 Meridian, ID Capital Christian Center
4/26 Tualatin, OR Rolling Hills Community Church
4/27 Bend, OR Christian Life Center
4/30 El Dorado Hills, CA Rolling Hills Christian Church
MAY 2010
5/1 Brentwood, CA Golden Hills Community Church
5/4 Camarillo, CA Calvary Chapel Nexus
5/6 Mesa, AZ Central Christian Church
5/7 Oceanside, CA Calvary Chapel
5/8 Riverside, CA California Baptist University
5/9 Tucson, AZ Victory Worship Center
5/10 Belen, NM Calvary Chapel Rio Grande Valley
# # #


[2022]
Jan. | Feb. | March | April | May | June | July | Aug. | Sept. | Oct. | Nov. | Dec.
[2021]
Jan. | Feb. | March | April | May | June | July | Aug. | Sept. | Oct. | Nov. | Dec.
[2001 - 2021]
Visit our complete MUSIC NEWS ARCHIVE