DAVID CROWDER*BAND'S CHURCH MUSIC GARNERS "PRAISE & WORSHIP ALBUM OF THE YEAR" WIN AT 41ST ANNUAL GMA DOVE AWARDS
Band Unveils Innovative "Crowder's Fantastical Church Music Conference"
Set for Sept. 30 through Oct. 2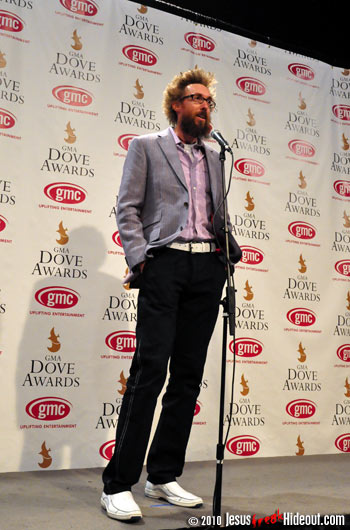 NEWS SOURCE: The M Collective
April 22, 2010
Nashville, Tenn. April 22, 2010… Church Music, the latest from the David Crowder*Band, took home the top prize for "Praise and Worship Album of the Year" at last night's 41st Annual GMA Dove Awards, the band's first win in this category.
In addition to the their win for "Praise & Worship Album of the Year," Church Music was also nominated for "Rock/Contemporary Album of the Year" with "How He Loves" also receiving a nomination for "Rock/Contemporary Recorded Song of the Year." David Crowder also performed "How He Loves" with MercyMe during the televised awards show. The group now has 7 GMA Dove Awards and has raked in a total of 20 nominations total.
Named among the "most thoughtful, progressive and exciting acts in contemporary Christian music" by the New York Times, the popular yet unconventional David Crowder*Band released their latest album Church Music in the fall which debuted at No. 1 on the Christian retail chart.
The 41st Annual GMA Dove Awards were held on Wednesday, April 21, 2010, at Nashville's historic Grand Ole Opry House, and will be televised nationwide on gmc Sunday, April 25, from 8 p.m. - 10 p.m. EST.
After wrapping the Rock and Worship Road Show along with summer festivals and Disney's Night of Joy appearances, the David Crowder*Band will present the first ever "Crowder's Fantastical Church Music Conference." The conference whose stellar line-up includes Louie Giglio, Rob Bell, Matt Redman, Matt Maher, Jars of Clay, Leeland, Gungor, Derek Webb and more will take place on Sept. 30 through Oct. 2 in Crowder's hometown of Waco, TX. To purchase tickets and see a personal invitation from David Crowder himself, visit http://www.davidcrowderband.com/fantastical/.
"Oh, Happiness" is the newest radio single from David Crowder*Band's Church Music. The single is impacting New & Active on AC Monitored as well as AC Indicator, and is already in the Top 50 on the National Christian Audience Charts.
About David Crowder*Band: Church Music is the follow-up to David Crowder*Band's 2007 release of Remedy. Along with the group's 7 GMA Dove Awards and 20 nominations, David Crowder*Band has toured with Michael W. Smith, Third Day and MercyMe including a headlining tour with Mute Math. The first Christian artist to be named MSN.com's Artist of the Year in 2006 as well as foster a partnership with M-Audio/Propellerhead's Reason software, Crowder is also the namesake behind premiere guitar maker Tom Anderson Guitarworks's Roadster Acoustic. They have received media coverage from such major news outlets as CNN, Fox and the New York Times. Despite the success, David Crowder*Band makes it a point to get back to University Baptist Church on most Sundays, a church they helped found near the campus of Baylor University in Waco, TX. The band is also featured at the enormously popular Passion gatherings. The group's leader David Crowder is further an acclaimed author, having penned two books, including his acclaimed, highly personal, Everybody Wants to Go to Heaven, But Nobody Wants to Die: Or (The Eschatology of Bluegrass).
About sixstepsrecords:
Founded in 2000 by Louie Giglio, sixstepsrecords (www.sixstepsrecords.com) is a worship label and a division of Passion Conferences. sixstepsrecords' artists include Chris Tomlin (Hello Love), David Crowder* Band (Church Music), Charlie Hall (The Bright Sadness), Matt Redman (We Shall Not Be Shaken), Kristian Stanfill (Attention), Christy Nockels (Light Life Up) and Passion (Passion: Awakening). The label partners with Sparrow Records/EMI CMG Label Group for A&R, marketing, sales and distribution operations.
About EMI CMG Label Group:
Brentwood, Tennessee-based EMI CMG Label Group is comprised of Sparrow Records, Forefront Records, and Credential Recordings, in addition to providing A&R and marketing support for sixstepsrecords via a joint venture and licensing partnership. Balancing freedom, discipline, creativity, profitability and ministry, EMI CMG Label Group strives for excellence in artist development. The Label Group is a division of EMI Christian Music Group. For further information, please visit www.emicmg.com.
# # #
For more info on David Crowder*Band, visit the JFH Artists Database.

[2021]
Jan. | Feb. | March | April | May | June | July | Aug. | Sept. | Oct. | Nov. | Dec.
[2020]
Jan. | Feb. | March | April | May | June | July | Aug. | Sept. | Oct. | Nov. | Dec.
[2001 - 2020]
Visit our complete MUSIC NEWS ARCHIVE