Building 429 Headlines 2nd Annual Summerfest Tour
with New Partner Food For The Hungry
Special Guests Include Britt Nicole, Mikeschair and Finding Favour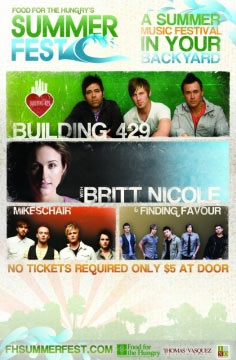 NEWS SOURCE: The M Collective
July 1, 2010
Nashville, Tenn.…June 30, 2010… Back by popular demand, Building 429's Annual Summerfest Tour kicks off July 6 in Dodge City, Kansas with the support of Christian radio partners in each market. This year the tour is partnering with Food for the Hungry, and also features the talents of Britt Nicole, Mikeschair and special guests Finding Favour.
After ending a month-long Canadian tour in June, headlining act Building 429 recently traveled to Haiti joining Food For The Hungry to aid in earthquake relief efforts. So moved by what they saw and the Haitian people they met, Summerfest 2010 is partnering with Food For The Hungry to seek child sponsorships specifically in Haiti, which aid children who have been displaced by the 2010 earthquake.
"After being in Haiti just a couple months ago, the work of Food For The Hungry has rooted itself even deeper in our hearts," said Building 429's front man Jason Roy. "We're proud to be partnering with them on this upcoming summer tour, working to save the lives of thousands of Haitian children. Spreading the mission of Food For The Hungry is an honor and we are excited to do it on the Summerfest 2010 tour."
Summerfest 2010 runs through August 20, visiting 13 cities. Tickets for the family-friendly event are available at the door for the low cost of $5, except for a few select markets. For more information about Food For The Hungry's Summerfest 2010 tour, visit the tour website at www.FHSummerFest.com.
###
Summerfest 2010 Tour Dates:
July 6 – Dodge City, KS
July 7 – Amarillo, TX
July 9 – Lubbock, TX
July 13 – West Columbia, SC
July 14 – Winston-Salem, NC
July 20 – Shreveport, LA
July 21 – Birmingham, AL
July 23 – Monroe, MS
July 24 – Picayune, MS
August 5 – Panama City, FL
August 6 – Charlotte, NC
August 19 – Princeton, WA
August 20 – Waynesboro, VA
*all dates subject to change.
Building 429
Building 429 has had a history of success with the release of three albums, and now the rock band has joined forces with INO Records for their fourth studio record which became available in stores last year. In 2005 "Glory Defined" was named BMI's Christian Song of the Year, they were named the Gospel Music Association's 2005 New Artist of the Year and nominated that same year for Rock/Contemporary Album of the Year and Song of the Year. They have toured with artists such as TobyMac, Family Force 5, Casting Crowns and Thousand Foot Krutch. Jason, Michael and Jesse are excited for their fans to hear a record that reflects where they are as individuals and artists.
About Food For The Hungry:
Since 1971, Food for the Hungry has boldly served and spoken out for the poor. Food for the Hungry is more than a relief and development organization; they are tested, trusted and innovative partner who respectively walks with the poor in more than 26 countries worldwide while intentionally reflecting the love of Jesus. For more information, please visit www.fh.org
About Britt Nicole:
Hailing from Salisbury NC, pop-rock artist Britt Nicole burst onto the Christian music scene in 2007 with her Sparrow Records debut, Say It. The finely crafted pop collection produced 3 Top 10 radio singles "You," "Set the World on Fire," and "Believe," while earning Britt a slot on "The Winter Jam 2007 Tour" and Superchick's spring 2008 "Cross The Line Tour." Her songs have been featured on LucasArt's Thrillville 2 video game, "Legally Blonde 3" DVD, MTV's "The Hills," and most recently heard during three episodes of NBC's The Biggest Loser and featured on the soundtrack for new family friendly film "Ice Castles." In addition, Britt's "Welcome to the Show" will be heard on televisions across the country during ABC Family's "Campus Crush" promo, highlighting their series TV shows, original movie and acquitted movies. Britt's sophomore project, The Lost Get Found, (Aug. 11, 2009) produced by Robert Marvin (Mat Kearney, tobyMac) and Dan Muckala (Brandon Heath, Backstreet Boys), debuted at No. 1 on the Billboard Top Christian Albums chart, No. 62 on the Billboard 200, went straight to No. 1 on iTunes' Christian/Gospel Top Albums chart, and peaked in the Top 10 on iTunes Top 100 albums chart. The album's lead single, "The Lost Get Found," rocketed to No. 1 on the Radio & Records CHR chart, spending eight consecutive weeks in the top position while climbing to No. 1 on iTunes' Christian/Gospel Top Songs chart as well. For more information about Britt Nicole, please visit www.myspace.com/brittnicolemusic
About MIKESCHAIR:
This is a band well-known for infectious songs that inspire action to change the world through love. Partnering with organizations and utilizing mikestable at many of their shows, it is the band's hope for people to be aware of what's going on in the world in terms of need, to give them empowerment, while also give options. Audiences are welcomed to visit mikestable, which is dedicated to offering information for various causes such as Food for the Hungry, IJM, Love 146 and much more. MIKESCHAIR is managed by Creative Trust, Inc., and booked by Jeff Roberts & Associates, both located in the Nashville, TN area. www.MIKESCHAIR.com
About Finding Favour:
Hailing from Vidalia, GA, five-piece pop-rock band Finding Favour was formed in 2005. Averaging over 120 dates per year, they have performed at numerous camps, youth events, conferences, and festivals over the past five years. The band recently recorded a 3-song EP with award-winning producer Ed Cash (Chris Tomlin, Leeland). For more information, please visit www.findingfavour.com
For more info on Building 429, visit the JFH Artists Database.


[2022]
Jan. | Feb. | March | April | May | June | July | Aug. | Sept. | Oct. | Nov. | Dec.
[2021]
Jan. | Feb. | March | April | May | June | July | Aug. | Sept. | Oct. | Nov. | Dec.
[2001 - 2022]
Visit our complete MUSIC NEWS ARCHIVE