A SPECIAL MESSAGE FROM THE KATINAS

Remembering Their Dear Friend Israel "Izz" Godkin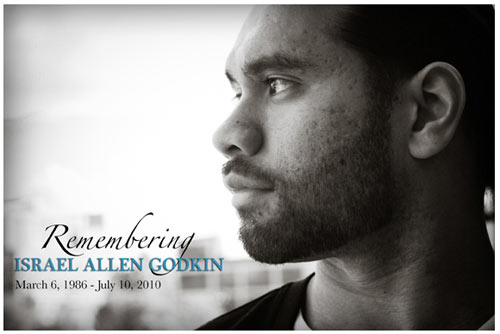 NEWS SOURCE: Brimstone Services
July 16, 2010
The following is a special message from The Katinas...
Israel was like a younger brother to us. He was married to his "girl", Pele who is like a sister and one of our kid's favorite Aunties. This past Saturday, he went home to be with the Savior. We've experienced death on several occasions. It's never easy and it always feels too soon, especially in this situation.
Izz was only 24 years old. He and Pele were going to celebrate their 1st anniversary next month. They are expecting their 1st child, (a baby girl) this coming November. It still seems so unbelievable. It's hard to accept that someone so strong, so young, so loved and so full of life is no longer here. We know he's with Jesus now, but our selfish human nature wishes so badly that he was still here.
He was a beautiful soul. His soft -spoken personality was a bit of a contrast to his muscular build and long, black hair. Sometimes he wore it in braids and other times he just put it in a ponytail. He was usually sportin' jeans, sweats, shorts, a jersey, or a t-shirt along with the latest Nikes he could find on ebay. When he walked into a room he was definitely the point of attraction. He could be intimidating if he wanted to, but his heart was way too loving and humble to come across that way. He played the bass and sang along with his brothers, Ishmael and Isaac forming the band known as the "Godkins". He was a natural athlete. He was passionate about sports and enjoyed competing. Even on a fun "couple's game night", he always brought it! He was a joy go hang out with. Most of his childhood was spent in Washington State and San Diego, California. 2 years ago, the Godkins moved to Tennessee to pursue music full time. However, God had a much greater plan for Izz. It wasn't long after he moved that he met Pele. She's a beautiful person who would give you her last dime. (No, really!) I remember sitting in a green room backstage and Izz was going through the pictures on his cell phone. Someone walked by and asked him, "Who is that"! He replied so affectionately and with the biggest smile I'd ever seen from him, "This is my girl". I knew at that moment that he had found the love of his life. I could go on and on about Izz but if he were still here, he would rather us tell you about his love for Jesus, his wife, his parents and his brothers.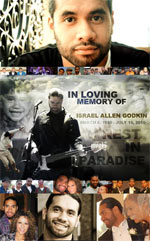 He will be missed by all of us who were blessed to know him. The world lost a really good man. If heaven is as "sweet" as they say, it just got even sweeter! We will see you again someday little brother. With God's help, we will take care of Pele and your beautiful daughter. Your Parents, Ish and Ice will be okay too. Our hearts our broken but that's just the world we live in. We'll get through, somehow, someway. It just won't be the same without you.
We love you Izz!
The Katinas
If you are interested in making a donation to Israel's family, you can do so by going to THIS FACEBOOK PAGE and click on "Ways To Give". Thank you and God Bless you!
__________________________________________________

Israel Godkin's viewing in Nashville, TN
His home going celebration will immediately follow.

Monday, July 19, 2010
10:00am - 12:00pm

Bethel World Outreach Center
5670 Granny White Pike
Brentwood, TN 37027
For more info on The Katinas, visit the JFH Artists Database.


[2021]
Jan. | Feb. | March | April | May | June | July | Aug. | Sept. | Oct. | Nov. | Dec.
[2020]
Jan. | Feb. | March | April | May | June | July | Aug. | Sept. | Oct. | Nov. | Dec.
[2001 - 2020]
Visit our complete MUSIC NEWS ARCHIVE