THE CHARIOT UNVEIL NEW MYSPACE LAYOUT, DEBUT NEW TRACK 'THE AUDIENCE'
'LONG LIVE' PRE-ORDER PACKAGES NOW AVAILABLE!

TOURING THIS FALL WITH CANCER BATS

SET TO RELEASE 'LONG LIVE' ON NOVEMBER 23RD, 2010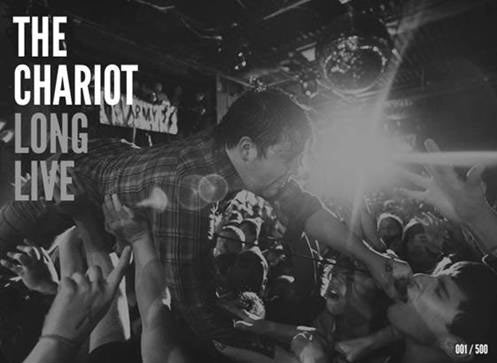 NEWS SOURCE: Adrenaline PR
October 14, 2010
Georgia's THE CHARIOT has just unveiled their new MySpace layout, along with a brand new track, 'The Audience'! Head over to the new MySpace to check out the design and the new song! Also, a brand new group of pre-order packages have been made available for fans to purchase Long Live! See below for all of the packages, and purchase your bundles here!
Pre-Order #1 – copy of Long Live CD - $12
Pre-Order #2 – copy of Long Live CD and Long Live commemorative t-shirt - $18
Pre-Order #3 – copy of Long Live CD and Long Live commemorative hoodie - $40
The first 500 pre-orders (of any kind) receive a free signed, hand numbered silk screen poster (pictured above). Act now to get your bundle and poster before supplies run out!
THE CHARIOT is pleased to announce a fall tour with CANCER BATS, taking them through eastern Canada and U.S.! The tour begins with some solo headlining dates from November 12th through November 17th, and the CANCER BATS join in on November 19th in Windsor! See below for all current dates!
The band's highly-anticipated new release, Long Live, hits stores on November 23rd, 2010. The record will mark the first release for the band on their new label, GOOD FIGHT MUSIC. Behind the boards on Long Live is seasoned producer Matt Goldman (UnderOath, MyChildren MyBride, Four Letter Lie), who is known for his work on several past records by THE CHARIOT, such as Wars and Rumors of Wars (2009), The Fiancée (2007), Unsung EP (2005), and Everything Is Alive, Everything Is Breathing, Nothing Is Dead And Nothing Is Bleeding (2004).
"This is easily my favorite material that we have ever written for an album," affirms vocalist Josh Scogin. "I believe it is the most passionate release we have ever done, as well as the most impulsive. All of our records have a very spontaneous pulse to them, the songs are always in a constant state of evolving and growing, but for the songs for Long Live, we literally just let go. It was a very natural process and I think that comes across in the music."
Check out THE CHARIOT on tour this fall!
SOLO HEADLINING DATES
11/12 Harrisonburg, VA @ The Blue Nile
11/13 West Springfield, VA @ Jaxx
11/14 Providence, RI @ Club Hell
11/15 Hartford, CT @ Webster Underground
11/16 Toronto, ON @ The Mod Club
11/17 Montreal, QC @ Underworld
W/ CANCER BATS & STRAY FROM THE PATH
11/19 Windsor, ON @ The Blind Dog
11/20 Kitchener, ON @ Club Wax
11/21 London, ON @ The Music Hall
11/22 Ottawa, ON @ Ritual
11/23 Kingston, ON @ Time To Laugh Comedy Club
11/24 Peterborough, ON @ The Legendary Red Dog
11/25 Barrie, ON @ The Mansion
11/26 Brantford, ON @ Jackhammer's Night Club
11/27 Mississauga, ON @ Millcreek Restaurant
11/30 Edinboro, PA @ The Hangout
12/01 Pittsburgh, PA @ Altar Bar
12/02 Poughkeepsie, NY @ The Loft
12/03 Garden City, NY @ Ethical Center
12/04 Vineland, NJ @ Hangar 84
12/05 West Chester, PA @ The Note
12/06 Virginia Beach, VA@ Club Relevant
12/07 Raleigh, NC @ The Brewery
12/08 Corbin, KY @ Technology Center
12/09 East Ridge, TN @ The Warehouse
12/10 Prattville, AL @ The Blue Iguana
12/11 Douglasville, GA @ The 7 Venue
For more information on THE CHARIOT, please visit these sites:
http://www.goodfightmusic.com/
http://www.myspace.com/thechariot
http://www.thechariot.com/
For more info on The Chariot, visit the JFH Artists Database.


[2022]
Jan. | Feb. | March | April | May | June | July | Aug. | Sept. | Oct. | Nov. | Dec.
[2021]
Jan. | Feb. | March | April | May | June | July | Aug. | Sept. | Oct. | Nov. | Dec.
[2001 - 2021]
Visit our complete MUSIC NEWS ARCHIVE