MULTI-PLATINUM ROCKERS THIRD DAY ANNOUNCE PLANS FOR
40-CITY 'MAKE YOUR MOVE' TOUR
Spring 2011 Tour Features Special Guests
REVIVE (February), TENTH AVENUE NORTH (March-May) & TREVOR MORGAN

Tour Follows Release of Third Day's New, Chart-Topping Studio Album MOVE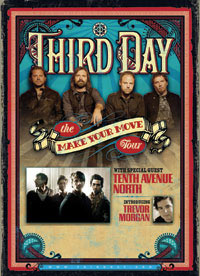 NEWS SOURCE: Provident Label Group
December 16, 2010
NASHVILLE, TN—Dec. 16, 2010—Four-time GRAMMY® Award-winning band Third Day will headline a massive 40-city tour across the U.S. this spring. The "Make Your Move" Tour will kick off Feb. 18, in Mercedes, Texas, with special guests Dove-nominated rock band Revive on dates in February, and progressive pop Dove Award winners Tenth Avenue North rounding out the remainder of the tour dates from March through May. Acclaimed singer/songwriter/guitarist Trevor Morgan will also join the tour's roster in all markets.
The Make Your Move Tour follows the successful release of multi-platinum rock band Third Day's 11th studio album, Move (Oct. 19), which debuted inside the Top 10 on Billboard's Top 200 Albums chart and at No. 1 on the Billboard Top Current Contemporary Christian chart. The Atlanta-based band will perform selections from the new album which have already become concert highlights – including the hit radio single "Lift Up Your Face," "Make Your Move," "Gone" and "Children of God" – as well as long-time fan favorites that feature the group's signature rock sound.
"The fan response to the new album Move has been better than we ever could have hoped," says Third Day bassist Tai Anderson. "We can't wait to play the new music live and take the songs to a whole other place on the Make Your Move Tour. The show is going to be about the music and message that has given us the greatest and most supportive fans in the world, and we're going to deliver that music and message with renewed urgency and passion."
As a unique price point option for concert attendees, all regular tickets for the Make Your Move Tour will be offered at $25 across the board. A special VIP ticket package will be available for purchase, including a prime-seating concert ticket, an exclusive Third Day poster, a Move CD and entry to a special VIP meet & greet. A group ticket package will be available, and Fan Club pre-sale dates will be announced soon.
The Make Your Move Tour is sponsored in part by Grand Canyon University (www.gcu.edu) and Christian humanitarian organization World Vision (www.worldvision.org). World Vision provides assistance to approximately 100 million people in nearly 100 countries by tackling the causes of poverty and injustice.
About Third Day:
Over the past decade, the Atlanta-based, multi-Platinum rock band Third Day (made up of members Mac Powell, Tai Anderson, David Carr and Mark Lee) has racked up 27 No. 1 radio singles and sold more than 7 million albums which reflect an impressive 2 RIAA Platinum and 8 Gold Certifications. A recent Georgia Music Hall of Fame inductee (2009), Third Day has garnered 24 career GMA Dove Awards from 42 nominations, 4 GRAMMY Awards (with 11 career nominations), an American Music Award (with 3 American Music Award nominations) and multiple ASCAP honors for songwriting. As a credit to its songwriting, Third Day's memorable "Call My Name," off its Revelation project, was selected by country star Keith Urban as a bonus track on his Defying Gravity project.
As a top-ranked touring band, according to Pollstar magazine, Third Day has played for audiences reaching into the millions. The band recently wrapped up the 2010 Make A Difference Tour, one of the year's largest Christian concert tours, co-headlining with fellow artists Michael W. Smith, TobyMac and author Max Lucado. Because of its mass appeal, Third Day has been featured by top media outlets including "The Tonight Show with Jay Leno" (NBC), "The Late Late Show with Craig Ferguson" (CBS), "60 Minutes" (CBS), ABC's "Nightline," USA Today, the New York Times, and even graced the cover of Billboard magazine, which called Third Day "one of the best rock bands." For additional information about Third Day please visit www.ThirdDay.com.
About Tenth Avenue North:
Progressive pop band Tenth Avenue North – composed of members Mike Donehey (lead vocals/acoustic guitar), Jason Jamison (drummer), Jeff Owen (electric guitar/background vocals) and Ruben Juarez (bass) – saw its sophomore album, The Light Meets The Dark, debut in May 2010 at No. 1 on the Nielsen Christian SoundScan chart and No. 15 on the Billboard Top 200 with first week scans of 21,583. The album also secured the No.1 Christian Album chart position at both iTunes and AmazonMP3, and reached Top 5 on the iTunes overall chart. Named GMA Dove Awards New Artist of the Year at the 40th Annual GMA Dove Awards, Tenth Avenue North first impacted the music community as the best-selling and most played new Christian artist of 2008, scoring three No. 1s at radio ("By Your Side" finished the year at No. 2 on the Hot Christian Songs chart, and at No. 3 overall for the decade on said chart) and saw its national debut Over and Underneath (5/20/08) cross the 100,000 unit sales mark in less than seven months. To date, Over and Underneath has surpassed the 300,000 mark in total album sales. The breakthrough band received two nominations for the 41st Annual GMA Dove Awards in the Group of the Year and Song of the Year categories and the smash hit "By Your Side" claimed the coveted Song of the Year honor.
Tenth Avenue North continued the momentum gained from its first headlining tour in 2009 (executed with only one album under its belt) with feature slots on the 2009-10 Winter Jam and Casting Crowns tours, plus a very active summer 2010 festival schedule. This fall, the band undertook its second headlining tour – The Light Meets The Dark Tour – which saw Tenth Avenue North play to more than 67,000 fans and sell out more than half its hard ticket dates, along with generating sponsorships for 1,700 children within Compassion International programs. For more, visit www.tenthavenuenorth.com.
About Revive:
Originally from Sydney, Australia, vibrant pop/rock outfit Revive cites influences such as Third Day, Switchfoot, Jeff Buckley and Steven Curtis Chapman. The band's own unique sound unites its rock appetites with more mainstream pop sensibilities. In 2010, Revive earned its first Dove Award nomination in the coveted New Artist of the Year category for the 41st Annual GMA Dove Awards. The band released its sophomore album Blink in June, fueled by strong radio success of the project's title track. The high-energy band first caught the attention of frontman Mac Powell during Third Day's "Down Under" tour of Australia in 2007. After relocating to Atlanta, Powell handled production duties on Revive's 2009 debut Chorus of the Saints. Revive has played alongside Sanctus Real, DecembeRadio, NEEDTOBREATHE and toured extensively with Third Day. For more information, visit www.reviveband.com.
About Trevor Morgan:
Trevor Morgan is a Dove Award-winning singer and songwriter based in Franklin, Tennessee. His guitar prowess has made him an in-demand session player in Nashville, and his electrifying live performances have left crowds buzzing across the country. He has recently been involved in the Glory Revealed albums and tours, and his new Mac Powell-produced solo project will be available this spring through Third Day's Consuming Fire record label. For more information, please visit www.facebook.com/trevmorganmusic.
THIRD DAY / MAKE YOUR MOVE TOUR – SPRING 2011
* More dates to be added. All dates are subject to change without notice.
FEBRUARY
2/18 Mercedes, TX RGV Livestock Show Grounds
2/19 Longview, TX S.E. Belcher Performance Hall
MARCH
3/10 Indianapolis, IN Northview Church
3/11 Brookfield, WI Elmbrook Church
3/12 Davenport, IA Adler Theater
3/13 Grand Rapids, MI Sunshine Community Church
3/18 Bossier City, LA First Baptist Church
3/19 Grand Prairie, TX Verizon Theater
3/20 Joplin, MO Joplin Memorial Hall
3/24 Beaver Falls, PA Geneva College
3/25 Grove City, OH Grove City Church
3/26 Johnstown, PA War Memorial Arena
3/27 Charleston, WV Charleston Civic Center
3/31 Johnson City, TN Freedom Hall
APRIL
4/1 Fairfax, VA Patriot Center
4/14 Memphis, TN Hope Church
4/15 Knoxville, TN Knoxville Coliseum
4/16 Greenville, SC TBA
4/17 Macon, GA Centerplex
4/28 Valparaiso, IN Valparaiso Nazarene Church
4/29 Chicago, IL Life Changers
4/30 Greenville, IL Agape Festival
MAY
5/1 Kansas City, MO First Baptist Church
5/4 Salem, VA Salem Civic Center
5/5 Louisville, KY TBA
5/6 Cincinnati, OH Landmark Church
5/7 Akron, OH Akron Baptist Church
5/12 Chattanooga, TN Memorial Auditorium
5/13 Greensboro, NC Special Events Center
5/14 Nashville, TN Ryman Auditorium
5/19 Jacksonville, FL Veterans Memorial Arena
5/20 Ft. Myers, FL Germain Arena
5/21 West Palm Beach, FL Cruzan Amphitheater
For the most up-to-date tour information, please visit www.ThirdDay.com.
# # #
For more info on Third Day, visit the JFH Artists Database.


[2021]
Jan. | Feb. | March | April | May | June | July | Aug. | Sept. | Oct. | Nov. | Dec.
[2020]
Jan. | Feb. | March | April | May | June | July | Aug. | Sept. | Oct. | Nov. | Dec.
[2001 - 2020]
Visit our complete MUSIC NEWS ARCHIVE