MICHAEL W. SMITH'S "A SIMPLE BLESSING: THE EXTRAORDINARY POWER OF AN ORDINARY PRAYER" INSPIRES FANS AND CRITICS
GRAMMY ® AWARD WINNER APPEARS ON FOX NEWS CHANNELS' HIT SHOW HUCKABEE AND THE 700 CLUB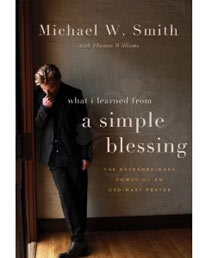 NEWS SOURCE: The M Collective
March 11, 2011
(NASHVILLE, Tenn) March 11, 2011--With 16 Gold Records, 7 Platinum and 2 Double-platinum albums to his name, and as the author of 12 books, Michael W. Smith's latest read "A Simple Blessing: The Extraordinary Power of an Ordinary Prayer" is compelling critics and fans to bless others as well:
"Instead of looking for how you can be blessed, it's inspiring to hear Michael's insight on how best to bless others. It only seems fitting to consider Michael W. Smith's 'A Simple Blessing: The Extraordinary Power of an Ordinary Prayer' a blessing itself!"—Jesusfreakhideout.com
"This small, well-written book is relevant to any Christian. Readers will learn more about Smith's experience of marriage, family, career and mission at home and around the world, and fans will appreciate the heart of ministry that motivated him to offer such a blessing."--Charisma
"His thoughts of blessing include not only being blessed but by becoming a blessing to others by letting go of selfishness, and to be guided instead, by love for others…Fans of Michael W. Smith will want a copy, and those who may feel the need for an infusion of graceful words that call to a less selfish life."—Amazon.com
"In 'What I Learned From a Simple Blessing' musician Michael W. Smith explains how words of blessing spoken over others can be hugely impactful. The amazing truth is that our simple words combined with God's grace and power can breathe new life and hope into hurting people desperate to receive a blessing."- Walk Thru the Bible Ministries
"Michael W. Smith's latest book is a true tour de force. It showcases the power of an ordinary prayer and how it can help anybody in a time of great need, whether it's during a natural disaster or a time of separation/divorce or other relevant scenarios. "-suite101.com
In honor of his new book, Smith recently took a break during the 2 Friends Tour with longtime friend Amy Grant to join Governor Mike Huckabee on his national Fox News Channel program to discuss the simple prayer that has impacted so many across the country. Fans can watch the full-length interview and special performance on Huckabee via the web. In addition, earlier this week fans were able to watch the GRAMMY ® award winning artist give an in-depth interview with The 700 Club. To watch Smith speak about the book with The 700 Club click here.
For more information Smith and "A Simple Blessing: The Extraordinary Power of an Ordinary Prayer," please visit www.michaelwsmith.com.
###
About Michael W. Smith: Throughout his 28-year career as a recording artist, Michael W. Smith has amassed an impressive catalog of achievements. His prior 21 albums have garnered multiple honors including an American Music Award, three GRAMMY ® Awards (from 13 nominations), 44 GMA Dove Awards (in addition to 1 nomination in the 41st Annual GMA Dove Awards) and 33 No. 1 radio hits. In addition, he holds 16 Gold, 7 Platinum and 2 Double-Platinum albums for career sales approaching 17 million. Wonder, Smith's 22nd career album, released Sept. 28, 2010. Smith, who was inducted into the Gospel Music Hall of Fame in 2009, has scored several film projects, written 12 books and has been featured by media outlets including "Hannity," NBC's "Today Show," ABC's "Good Morning America," "NBC Nightly News," "Larry King Live," "FOX & Friends," "Hannity and Colmes," The Associated Press, Billboard magazine, USA Today, The New York Times, The Washington Post, Los Angeles Times, Newsweek, has been named one of People magazine's "Most Beautiful People" and has presented multiple times on the GRAMMY ®Awards show. His tours consistently rank among the best attended in the country, and he has performed to capacity crowds throughout the world. Constantly giving back to the community, one of Smith's current projects is Rocketown – a nightclub for teens in his hometown of Nashville, Tenn. – which serves as safe place for young people to enjoy music and for artists to be discovered. He and wife of 29 years, Debbie, are the proud parents of five children. For up-to-date information on Michael W. Smith, please visit www.michaelwsmith.com or www.providentpress.com.
For more info on Michael W. Smith, visit the JFH Artists Database.


[2021]
Jan. | Feb. | March | April | May | June | July | Aug. | Sept. | Oct. | Nov. | Dec.
[2020]
Jan. | Feb. | March | April | May | June | July | Aug. | Sept. | Oct. | Nov. | Dec.
[2001 - 2020]
Visit our complete MUSIC NEWS ARCHIVE