New Releases from iShine Artists Mission Six, The Rubyz and Jonnie & Brookie In Stores Today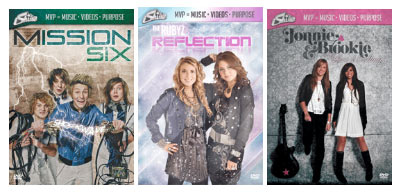 NEWS SOURCE: Nashville Publicity
May 3, 2011
(NASHVILLE, Tennessee) -- iShine Records artists Mission Six, The Rubyz and Jonnie & Brookie each have new albums hitting stores today, May 3, 2011. All three releases, available in iShine's new MVP format, are available in stores (through Provident-Integrity Distribution) as well as through digital retailers such as iTunes.
Popular iShine artists Mission Six and The Rubyz are each releasing their third albums, Shockwave and Reflection. The two teen acts have spent the past few years performing nationwide on the popular iShineLIVE Tour and co-starring on the TBN Saturday morning series iShine KNECT.
New to the iShine family is Jonnie & Brookie, whose Love is Calling was first released to digital retailers last fall. Now headed to stores in an expanded MVP edition, iShine fans will get a chance to know the teen sister pop/rock duo, who in addition to winning Radio Disney's "Next Big Thing," have been performing across the U.S. for years, including the iShineLIVE Tour, Disney Channel's Summer at Sea concerts and opening for the likes of Everlife and the Jonas Brothers.
All three artists will be heavily featured on the new nationally syndicated iShine Radio, as well as Season 3 of iShine KNECT, which premieres in July on TBN. Each artist is also prominently featured in the new iShine Bible (Tyndale House Publishers), which is the first Bible to feature QR codes that link readers to additional online ministry content. By scanning the QR codes in the iShine Bible, readers will be able to access exclusive content from the iShine artists, such as devotionals, passage discussions, videos, music and more.
iShine artists and products will be featured in an endcap promotion in all LifeWay Stores in June, and for a limited time, fans will be able to get one MVP release for free with the purchase of an iShine Bible (at participating retailers).
The MVP (Music, Video, Purpose) format is a DVD with ten new songs, ten music videos, ten video song explanations, inspiring interviews, multimedia content and an episode of the weekly TBN television series iShine KNECT which features the artist. MVP's also include a link to download the music files for use on CDs, iPods and more.
ABOUT iSHINE
iShine is a Christian media group dedicated to ministering to "tweens" and their families. iShine reaches today's "tweens" through Biblically-based live concert events (iShineLIVE!), unique television programming seen weekly on TBN (iShine KNECT), iShine artist releases to CD and DVD, interactive websites and an entire line of books and Bibles all specifically designed to be relevant to this vital audience. For more information, visit iShine online at http://www.ishinelive.com and http://www.ishineministries.com.
# # #


[2020]
Jan. | Feb. | March | April | May | June | July | Aug. | Sept. | Oct. | Nov. | Dec.
[2019]
Jan. | Feb. | March | April | May | June | July | Aug. | Sept. | Oct. | Nov. | Dec.
[2001 - 2018]
Visit our complete MUSIC NEWS ARCHIVE