3RD ANNUAL "ROCK & WORSHIP ROADSHOW" CONTINUES WITH STAR-STUDDED LINEUP:

MERCYME, JARS OF CLAY, DISCIPLE,
HAWK NELSON, MATT MAHER & GROUP 1 CREW
TO HIT A DOZEN TOUR MARKETS THIS NOVEMBER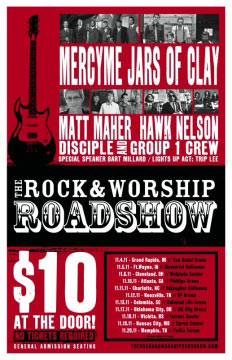 NEWS SOURCE: The M Collective
July 28, 2011
(Nashville, Tenn.) June 28, 2011--"The Rock and Worship Roadshow" will venture into their second leg of the tour hitting 12 markets this November with a stellar cast including MercyMe, Jars of Clay, Disciple, Hawk Nelson, Matt Maher and Group 1 Crew. Talented rapper Trip Lee along with other artists will serve as the pre-showentertainment. This will mark the first time "The Rock and Worship Roadshow" will tour in the fall in addition to their annual spring trek.
Admission prices will be the traditional $10 at-the-door, making it an affordable event for the whole family. Compassion International will once again serve as a tour sponsor. Compassion International is a Christian child advocacy ministry that releases children from spiritual, economic, social and physical poverty and enables them to become responsible, fulfilled Christian adults. For more information on Compassion International go to http://www.compassion.com.
Kicking off Nov. 4 in Grand Rapids, MI, the tour will stop in cities such as Cleveland, OH, Atlanta, GA, Columbia, SC, Oklahoma City, OK, and Kansas City, MO before wrapping on Nov. 20 in Memphis, TN.
See full list of markets are listed below, but stay tuned to www.rockandworshiproadshow.com for the latest tour information.
###
About MercyMe:
Since their debut in 2001, Grammy-nominated, American Music Award and multiple GMA Dove Award winners MercyMe have sold over 6 million units in CD and DVD sales, while being one of few Contemporary Christian music groups to have had all of their recordings certified Gold or Platinum, as well as garner 23 No.1 multi-format Christian radio singles, and four consecutive mainstream radio hits with "I Can Only Imagine," (No. 4 AC/top 25 on Top 40/Hot AC), "Here With Me" (No. 4 AC), "Homesick" (top 10 AC), and "So Long Self." In 2009 BILLBOARD named MercyMe's "Word Of God Speak" the #1 Song of The Decade and the group the #1 Christian Songs Artist of the Decade, with an additional #1 as the Christian AC Song Artist of The Decade as one of the industry's most notable talents. MercyMe recently made history as "I Can Only Imagine" surpassed 1 million digital downloads, making it the first song in Christian music to go platinum in the digital domain. The multi-platinum selling band has sold out venues including Radio City Music Hall and has been seen on The Tonight Show, CNN, Fox New Channel's Fox & Friends, ABC News, CBS' The Early Show, and on the pages of Entertainment Weekly, The New York Times, USA Today, Billboard, and more. www.mercyme.org
About Jars of Clay:
Jars of Clay, made up of members Dan Haseltine (vocals), Charlie Lowell (keyboards), Stephen Mason (guitars), and Matt Odmark (guitars), launched its breakout career with the multi-format hit "Flood" in 1995. Since then, it has amassed more than 6 million in career sales (5 Gold, 2 Platinum and 1 Double Platinum certification), three GRAMMY Awards (from 8 nominations), an American Music Award nod, six GMA Dove Award nominations, 17 No. 1 radio hits, and numerous film credits and BMI honors for songwriting and performing. The band's GRAMMY-nominated 10th album, The Long Fall Back to Earth, debuted at No. 1 on SoundScan and on Oct. 5, 2010, Jars of Clay released the compelling and community-minded project, Jars of Clay Presents The Shelter featuring guest artists including Matt Maher and Audrey Assad.
While celebrated for its music and writing, Jars of Clay is most concerned with the needs in Africa. Compelled to make a difference, the group successfully launched the Blood:Water Mission, a non-profit organization promoting clean blood and water in Africa. Since the band's debut, Jars of Clay has built an extraordinary career based on the uncompromising integrity of its music, worldview, and humanitarianism. For more information, please go to www.jarsofclay.com.
About Disciple:
Disciple has released four records with Fair Trade Services: Disciple (2005) brought home three No. 1 hits, their sophomore album Scars Remain (2006) bolstered the band's radio hit "After the World" and their third record Southern Hospitality (2008). The award-winning rock group's fourth album Horseshoes & Handgrenades debuted at No. 1 on Christian soundscan upon its release in the fall of 2010. Disciple has been nominated for 10 GMA Dove Awards, garnered two wins for "Rock Album of the Year," scored 10 No. 1 Christian Rock singles and four No. 1 CHR hits. Disciple's music has been featured on "Best Damn Sports Show," NFL's "Total Axxess," WWE's "Cyber Sunday," "Criminal Minds," "CSI Miami" and Speed TV's "Speed Report," as well as in venues such as Wachovia Center in Philadelphia and even Madison Square Garden in New York City. The bandhas played 2,000 shows in their 14 year career spanning 10 headlining tours, and opening stints for Skillet, Red, Kutless and the Newsboys.
Disciple is comprised of Kevin Young– vocals, Israel Beachy- bass, Andrew Welch- guitar, Micah Sannan- guitar and Trent Reiff- drums. www.disciplerocks.com
About Hawk Nelson:
This powerhouse, pop rock foursome hailing from Canada has won the hearts of thousands since their debut release. In 2009, Hawk Nelson performed fans across the country with the Winter Jam Tour Spectacular, REVOLVE tour, the Rock and Worship Roadshow and Skillet's Awake & Alive tour. Despite their insane touring schedule, the guys recorded their fourth studio album, "Live Life Loud," which released September 2009. This release was the third top album on the overall Christian chart, the 18th digital album in the nation, the second digital album on the Christian chart and debuted with eight singles in the Top 200 digital tracks during street week. "Live Life Loud" followed the successful release, Hawk Nelson Is My Friend, which debuted at #34 on the Billboard Top 200 selling more than 18k units in its first week. Hawk Nelson has also appeared on NBC's drama "American Dreams," a cameo appearance in the Nickelodeon film "Yours, Mine, & Ours" as well as had their songs featured on NBC's Stanley Cup promo spots, WB's Smallville, Summerland, & Laguna Beach. In addition, the band has formed a lasting relationship with TOMS Shoes. TOMS Shoes provide shoes for children in poverty stricken areas with the motto "One for One." For the band's effort, every pair of shoes purchased via Hawk Nelson's website, TOMS donates a pair of shoes to someone in Haiti as the band's ongoing involvement with the Hands & Feet Orphanage. In 2010, Hawk Nelson's "Live Life Loud" was nominated for two GMA Dove Awards (Music Packaging & Short Form Video). For more information visit www.hawknelson.com and follow the band on Twitter @HawkNelson.
About Matt Maher:
Matt Maher – worship leader, songwriter, singer and recording artist – has taken his calling as a "musical missionary" to create a substantial impact on a national and global stage. As an award-winning songwriter, Maher gained notice as the writer of the internationally renowned modern-worship song, "Your Grace Is Enough" which is currently on the Top 10 of the CCLI chart, marking their popularity in church worship services around the world. Highly sought after for his poignant yet poetic writing style, Maher has recently had songs recorded by such artists as Michael W. Smith; Chris Tomlin; Hawk Nelson; Phillips, Craig & Dean; Audrey Assad; Brenton Brown and others.
Maher garnered Album of the Year and Song of the Year at last year's Covenant Awards (GMA Canada) as well as six award nominations at the 41st Annual GMA Dove Awards including nods in the prestigious Song of the Year category and Worship Song of the Year for "I Will Rise," a song recorded by Chris Tomlin. He picked up another nod in the Worship Song of the Year category for the song "Alive Again" as well as one for Praise & Worship Album of the Year for his acclaimed sophomore project Alive Again. Maher claimed a Dove Award in the Special Event Album of the Year category for his contribution on the Glory Revealed II: The Word of God in Worship project.
Amid busy touring and writing schedules, Maher finds it important to serve alongside ministries including Life Teen and Adore Ministries. Further, he serves as a regular host for Worship Together's "Newsong Café." Maher, recently honored with a Praise Award as Worship Leader's Breakout Artist of 2008, has been featured on the covers of Breakaway and Christian Single, performed live on "FOX & Friends," written for Billboard Magazine and is an active, bylined contributor to OnFaith.com (http://www.newsweek.washingtonpost.com/onfaith), an interactive conversation on religion. Maher is scheduled to release his third album, The Love In Between, in September 2001.
For more information on Matt Maher, please visit: http://www.mattmahermusic.com. For the latest in Matt Maher news and updates, follow him on twitter: http://www.twitter.com/mattmahermusic.
About Group 1 Crew:
With a unique hybrid of hip-hop, rock, funk and soul, Group1Crew is an award-winning band that lets diversity and their faith backgrounds inspire them. Group1Crew's Manwell, Pablo and Blanca have teamed together for one unified purpose- to shine the love of Christ through the power of song.
Group1Crew has taken home five GMA Dove Awards to date. Winning "Rap/Hip-Hop Album of the Year" for Group1Crew (2008), Ordinary Dreamers (2009) and Outta Space Love (2011), along with winning "Rap/Hip-Hop Recorded Song of the Year" for "Movin" (2010) and "Walking On the Stars" (2011). Additionally, Group1Crew has toured with artists such as FireFlight, KJ52 and Hawk Nelson, along with playing on major tours such as WinterJam and Revolve. For more information on the group please visit group1crew.com
ROCK AND WORSHIP ROADSHOW ROUTING FALL 2011
FRI 4-Nov GRAND RAPIDS, MI // VAN ANDEL ARENA
SAT 5-Nov FT WAYNE, IN // MEMORIAL COLISEUM
SUN 6-Nov CLEVELAND, OH // WOLSTEIN CENTER
THU 10-Nov ATLANTA, GA // PHILLIPS ARENA
FRI 11-Nov CHARLOTTE, NC // BOJANGLES COLISEUM
SAT 12-Nov KNOXVILLE, TN // UT ARENA
SUN 13-Nov COLUMBIA, SC // COLONIAL LIFE ARENA
THU 17-Nov OKLAHOMA CITY, OK // OK CITY ARENA
FRI 18-Nov WICHITA, KS // INTRUST CENTER
SAT 19-Nov KANSAS CITY, MO // SPRINT CENTER
SUN 20-Nov MEMPHIS, TN // FEDEX FORUM
For more info on MercyMe, visit the JFH Artists Database.
For more info on Jars of Clay, visit the JFH Artists Database.