TobyMac Releases First Holiday Recording
Christmas in Diverse City
Five-Time Grammy Award-Winning Artist Goes Unplugged On Fall Tour
NEWS SOURCE: The M Collective
October 6, 2011
(Nashville, Tenn) October 6, 2011—Throughout the course of his extensive career, five-time GRAMMY ® award-winning artist TobyMac has yet to release a Christmas record. This week, that changed as the multi-platinum selling artist released Christmas in Diverse City (Forefront Records). Christmas in Diverse City is available wherever music is sold, including iTunes, Amazon MP3, Family Christian Stores, LifeWay, Parable, and Mardel.
The unique project showcases TobyMac at his best-mixing pop, rock, soul, hip-hop and urban flavors into irresistible songs with a distinctive Christmas spirit. Featuring memorable collaborations with the industry's finest such as Owl City, Sixpence None the Richer's Leigh Nash and rising star Jamie Grace, the album's track listing also spotlights performances and songs from TobyMac's long-time touring band, Diverse City.
"I just tried to think outside the box," commented TobyMac on the creative process behind the project. "It's difficult at first to imagine some of these songs with a modern beat, but I think Christmas is about celebration and come on, on the inside everyone wants to dance. It has a bit of everything- six songs are my artistry: an eclectic blend of Christmas classics and originals. The other seven tracks are my amazing band's (Diverse City) individual artistic efforts. I love it."
Christmas in Diverse City also features the No. 1 radio hit "Christmas This Year," which was released as a single track last year and features the talents of Leigh Nash.
In addition to his holiday release, this fall TobyMac will embark on a tour unlike any he has done before. TobyMac will get personal with his fans and reveal a different side of his music on "UNPLUGGED A Night of Stories and Songs" tour. Joined by special guest Jamie Grace for this "storyteller's night," TobyMac will open up about the inspiration behind the songs of his 10 year solo career and more. See full list of tour dates below.
For more information on TobyMac, Christmas in Diverse City and "UNPLUGGED A Night of Stories and Songs" tour, please visit www.tobymac.com.
###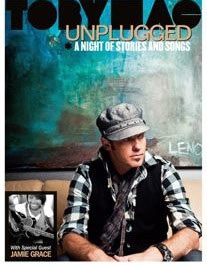 Christmas in Diverse City Track Listing:
1) Christmas This Year (Featuring Leigh Nash)-TobyMac
2) The First Noel (Featuring Owl City)-TobyMac
3) Mary's Boy Child (Featuring Jamie Grace)-TobyMac
4) O Come All Ye Faithful-TobyMac
5) Little Drummer Boy-TobyMac
6) This Christmas (Father of the Fatherless)-TobyMac
7) Carol of the Kings (Featuring Gabe Real & Liquid) –Maj
8) Birthoflove-Superherose
9) What Child Is This? - Arch Nemesiz
10) It Snowed- Tim Rosenau
11) Angels We Have Heard on High- Nirva Ready
12) Santa's Comin' Back 'Round- Toddie Funk
13) ChristmasTime- Byron "Mr. Talkbox" Chambers
TobyMac "UNPLUGGED A Night of Stories and Songs" Tour Dates:
Nov. 3 – Huntsville, Alabama
Nov. 4 – Marietta, Georgia
Nov. 5 – Fayetteville, Georgia
Nov. 6 – Columbus, Indiana
Nov.10 – Rocky Mount, North Carolina
Nov.11 – Fayetteville, North Carolina
Nov.12 – Cincinnati, Ohio
Nov.13 – Evansville, Indiana
Nov.17 – Dothan, Alabama
Nov.18 – Tallahassee, Florida
Nov.19 – Aiken, South Carolina
Nov.20 – Mobile, AL
About TobyMac:
With over 10 million in career sales, TobyMac's first three solo projects received RIAA Gold status and GRAMMY® nominations, his live CD/DVD took home a GRAMMY® award in 2009, and this year the much-celebrated and acclaimed artist celebrated his seventh consecutive GRAMMY® nomination for his latest album TONIGHT that received a nod for "Best Pop/Contemporary Gospel Album." The GRAMMY ® nominated single from the hit record "City On Our Knees" track topped the sales and radio charts faster than any of his previous singles, spending 8 weeks at #1 on the Christian Audience Chart. TONIGHT also garnered him the highest sales debut of his solo career with over 78,000 units and a No. 6 Billboard Top 200 debut. The album was also named as iTunes® Best Christian Album of 2010 and recently took home the Dove Award for "Best Rock Contemporary Album of the Year."
Along with sold out tour dates, back-to-back radio hits and being named the GMA Dove Award's 2008 "Artist of the Year," he was also nominated for "Favorite Contemporary Inspirational Artist" at the 2010 American Music Awards and was up for three Billboard Music Awards this year including "Top Christian Artist." The hit song "Tonight" was also chosen as the theme song for MLB's 30 Clubs in 30 Days Spring Training Series and featured on the Golf Channel. Additionally, his music has been heard in major motion pictures such as "Hancock," "TRANSPORTER 2," while also being featured on Fox sports, The NFL network, being selected as the theme song for Fox College Football and WWE's Fatal 4-Way Pay-Per-View. "Showstopper," from the chart-topping album TONIGHT, was featured in ESPN's ESPY Award Show and used to launch the last season of CBS hit television show CSI: NY. For more information on TobyMac, go to: http://www.tobymac.com
###
For more info on TobyMac visit the JFH Artists Database.