INPOP RECORDS SIGNS KARYN WILLIAMS
Debut single and album to be released in 2012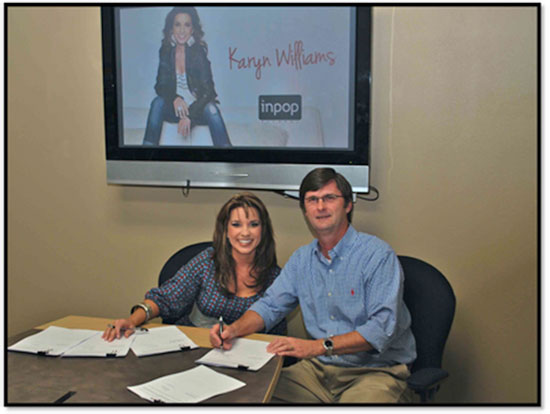 NEWS SOURCE: Inpop Records
November 11, 2011
(Nashville, TN) – Multi-talented singer/songwriter, Karyn Williams has inked a recording deal with Nashville's Inpop Records, paving the way for her first full-length album next year. She joins an impressive Inpop roster that includes Newsboys, Mat Kearney, Jaci Velasquez and more.
"I'm so excited to join the Inpop family," said Williams. "Christian music has had a huge impact on my life and has also played a big part in my walk with the Lord over the years. I'm honored to be able to work on this record with a company that believes in me so much."
"She's real and authentic," said Andrew Patton, General Manager of Inpop Records. "She knows who she is, and has a powerful story that we can't wait to share through her music. We were all won over by her immediate warmth, amazing songs, and her worldwide platform through Adoption that creates a ministry that few new artists start out with."
Williams debut single and album will be released with a flurry of domestic and international appearances in the spring of 2012.
About Karyn Williams
The eldest daughter of Orlando Magic Senior Vice President and founder, Pat Williams, Karyn has been around giant hoops, giant hopes, and giant dreams for as long as she can remember. Her international family includes 19 children, fourteen of which were adopted from all over the world. She has teamed up with Holt International & the Congressional Coalition on Adoption Institute as an artist partner, an outspoken advocate and tireless worker on behalf of adoption and foster care. The 9-time marathoner and graduate of the University of Florida is also the author of the highly acclaimed book, The Takeaway , co-authored with her dad. (HCI 2009) She currently makes her home in Nashville, Tennessee with her husband, award winning songwriter & producer, Brian White. For more information, visit www.karynwilliams.com
About Inpop Records
Inpop Records is an independent music label based in Brentwood, Tennessee and is home to some of the best-known bands in Christian music. Distributed by EMI Christian Music Group, Inpop Records has become one of the top-selling independent labels within the industry, having established a reputation for seeking out the best artists in emerging talent and for expanding the music marketplace with sound and ideas. Inpop's roster includes Newsboys, Mat Kearney, Jaci Velasquez, Tricia Brock, Jimmy Needham, and The Advice among others. For more information, visit inpop.com .
###
**Photo features Williams and John Kelly, Inpop Records President / CEO.**