BRANDON BEE TRAVELS TO ITALY
FOR WORSHIP CONFERENCE, CONCERTS
Producer/Performer/Worship Leader Performs in Rome, Naples, Sicily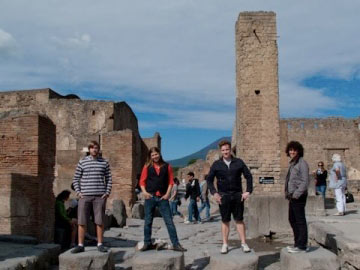 Bee and band members visiting the ruins of Pompeii. Pictured (L-R): Terjeson, Bee, Peterson, Roth.
NEWS SOURCE: McCain & Co. PR
November 16, 2011
Seattle, Wash. (Nov. 16, 2011) - Popular worship leader, recording artist and producer Brandon Bee recently traveled to Italy as co-organizer of a worship conference at Alpha Omega Church in Rome. Bee also performed a number of concerts at various churches in the Italian cities of Rome and Naples and on the island of Sicily.
During the conference, Bee spoke on panels and taught classes throughout the day, including sessions for musicians and songwriters. Organizers are calling the event a success, with attendees from all regions of Italy participating in the worship conference.
"We saw that church leaders in Italy are eager to learn how to incorporate contemporary worship music in their churches. People came from all over. Even people who had never left their hometowns before traveled to Rome for our event," says Bee. "There is obviously a need and we're committed to investing in traveling to Italy annually to share what we know."
Bee, along with bandmates Luke Peterson, Seth Roth and Matt Terjeson, accompanied the mission outreach team from River Valley Christian Church in Grants Pass, Ore., on the 11-day trip. Michael Bahn, worship leader at River Valley, co-organized the event with Bee and also performed.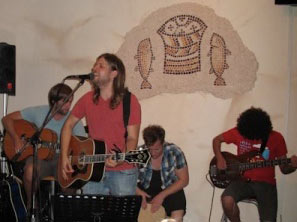 Bee and band perform at Calvary Chapel in Rome. Pictured (L-R): Terjeson, Bee, Peterson, Roth.
About Brandon Bee: Bee, a multi-talented musician who has been compared to Charlie Peacock and Aaron Sprinkle by CCMmagazine.com, has earned the respect of his peers as a producer by bringing out the best in a long line of established and up-and-coming artists. Bee-produced artists include Grammy Award nominee and Dove Award winner Stacie Orrico; Juno Award nominee and Island Award winner Matthew James; pop/rockers Amber Pacific, Jaime Jamgochian and Lanae Hale; West Coast rapper Benjiman; 2009 Immerse winner Jake Brothers; and indie folk-pop rising star Beth Whitney. Bee most recently produced Circleslide's exciting 2010 CD, Echoes of the Light. Bee credits being immersed in that creative atmosphere with inspiring his own music to greater heights.
After spending two years on the road touring in support of This is the Revolution, Bee recognized he had a lot more to say about the Christian journey - a journey we all go through with varying levels of success. "We go through seasons where we live the life and seasons where we don't, so thank God we are saved by grace," Bee muses. "Realizing that many of us are going through the same types of things, I decided to make a record about my journey."
To help shape his vision for his new CD, Inside These Walls, Bee called on the talents of a cadre of fellow songwriters, producers and musicians, including Scott Krippayne (Jordin Sparks' "This Is My Now"), Carl Cartee ("Glorious Impossible") and Circleslide frontman Gabe Martinez ("Love Amazing"). Bee called on his own experience and personal testimony of going through seasons of both faith and doubt, acceptance and rejection to create a soundtrack for the journey that is summed up in the metaphoric title cut and embellished by the rest of the songs on the project.
Bee's worship leader roots shine through on "Radiant Sun (Give Thanks to the One)," and worship anthems like "The Everlasting Song" and "Bring Me To Life" could easily be sung in congregational settings on Sunday morning. But Bee is just as likely to encase his pensive, semi-autobiographical lyrics in a grittier wrapper of good old fashioned rock 'n' roll on songs like "Helpless" and "Bones."
Bee's Inside These Walls mirrors life's journey, with compelling melodies that rise and fall, ebb and flow, aptly reflecting how as believers we all stumble, fall, then get back up again. Regardless of the style of the individual songs, each is autobiographically inspired and soul-baringly honest.
"Everybody needs to be reminded that we're all sinners and we all need a savior," Bee declares. "My goal with Inside These Walls is that people will look at it as a devotional. For me personally, the process has allowed me to learn more about myself and why I need God, though my hope is that people see less of me and examine more within their own life. Even though my stuff may look a little different from theirs, we're all going through this walk together."
Inside These Walls is available through Save the City Records and Provident Distribution. For more information on Bee and Inside These Walls, visit brandonbeemusic.com or savethecityrecords.com.