BIG DADDY WEAVE TO UNWRAP FIRST CHRISTMAS TOUR,
"CHRIST IS COME" ON DECEMBER 8
Presented by World Vision, the Tour Will Also Feature
Soulful New Artist Dara Maclean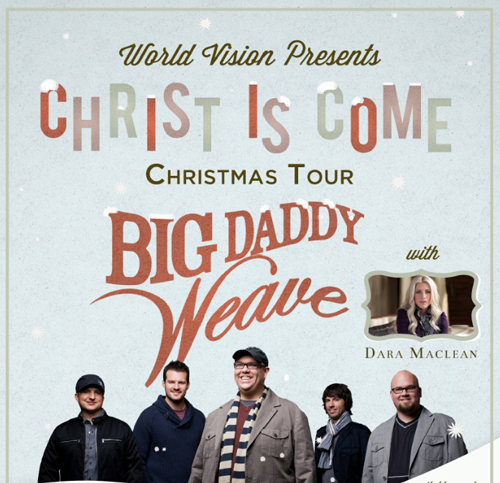 NEWS SOURCE: Warner Music Nashville
November 18, 2011
NASHVILLE, TN - (November 18, 2011) - Dove Award winning group for "Christmas Albumt of the Year," Big Daddy Weave is bringing on the Holiday cheer with their first Christmas tour. The "Christ is Come" Christmas Tour, presented by World Vision will kick off in Elkhart, IN on December 8 and will include soulful new artist Dara Maclean. Tour details and ticket information are available now at www.BigDaddyWeave.com.
"We were guests on a Christmas tour two years ago and experienced an excitement and feeling that was different than playing at other times of the year," said Big Daddy Weave's Mike Weaver. "For our own tour, we're excited about encouraging people with the Christmas message of Emmanuel, God With Us. Some people right now are feeling that no one is on their side. We want them to leave this concert knowing that they are not alone, that the feeling of 'comfort and joy' can be theirs all year long."
Big Daddy Weave recently released The Ultimate Collection, which spans the group's hit 10-year-career and includes their current Top 5 hit single "Love Come To Life." The group formed when the band members were in college at the University of Mobile and stepped into the spotlight in 2002 with the release of their second album One and Only, which debuted in SoundScan's Christian Top 5 - the highest debut for any new artist that year. Since then, the evolution of their career has been swift with Big Daddy Weave scoring three No. 1 singles and becoming a top draw at concerts across the country.
Dara Maclean grew up outside Fort Worth, Texas, in a family that encouraged her love for music and ministry from her earliest days. She began singing at age 8, then went on to lead worship and actively pursue youth ministry. Dara continues to serve with her family in their local church. Heavily influenced by Lauryn Hill and everything from the Motown era as well by contemporaries like Adele, Natasha Bedingfield, Marc Broussard and Ray LaMontagne, she incorporates the funk and soul she grew up loving into her music, bringing forth a uniquely fresh and pure new sound. For additional information on Dara Maclean, visit www.DaraMaclean.com.
For more information on Big Daddy Weave and the "Christ is Come" Christmas tour, please visit www.BigDaddyWeave.com.
Facebook: www.facebook.com/bigdaddyweave
Twitter: www.twitter.com/bdwmusic
YouTube: www.youtube.com/bdwmusic
# # #
For more info on Big Daddy Weave visit the JFH Artists Database.
For more info on Dara Maclean visit the JFH Artists Database.