Worship Artist David M. Edwards Hosted,
Performed At Regent University's Global Day Of Worship On 11/11/11
New EP, Rising Up To Heaven Set For November 22, 2011 Release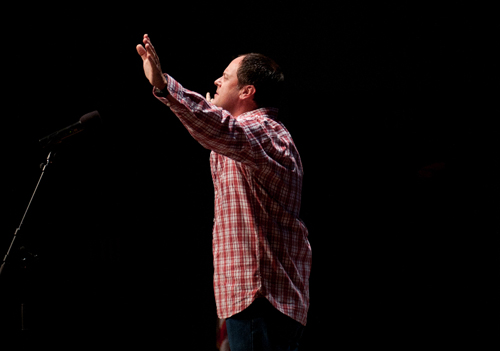 NEWS SOURCE: TKO Marketing
November 18, 2011
LOS ANGELES (November 18, 2011) - On Friday, November 11, 2011, Worship Artist David M. Edwards hosted an evening of worship, the conclusion of Regent University's Global Day of Worship. After the university spent the week focusing on a unified, global worship movement, Edwards, with Regent's praise team, local churches, and worship and recording artists from across the country and around the globe joined together for 24 hours of continuous worship culminating in an inspiring worship service that evening.
"I was very proud to serve alongside my fellow worship leaders and artists as we joined together to praise and lift up the name of Jesus Christ," said Edwards, recording artist, creative director of the International Center for Worship and artist-in-residence at Regent University. "I felt His presence from the time we opened up in prayer at 12:01 a.m. until the time we closed in prayer at 11:59 p.m. We asked Him to come, to show up, and He did."
During the event, Edwards performed the theme song for the event, "Rising Up To Heaven" as part of the live broadcast. The song is the title track from his 4-track EP, Rising Up To Heaven, released by Maranatha! Music and produced by Phil Sillas, which is available digitally on www.maranathamusic.com, iTunes, Amazon and Rhapsody November 22, 2011.
On Sunday, November 20, 2011, Edwards ministers at the Warwick Assembly of God in Hampton, Va. at 6:30 p.m. EST featuring songs from Rising Up To Heaven.
Edwards released "Here With You" earlier this year through Maranatha! Music and EMI-CMG Distribution. Edwards is the author of Worship 365: The Power of a Worshiping Life and the Worship 365 events. He is a columnist for Rev! Magazine and a popular conference speaker. In 2010, Edwards was honored with the appointment as Artist-In- Residence, in the School of Divinity at Regent University, in Virginia Beach, Va., where he has taught Worship + Renewal since 2008 and serves as the Director of the Regent University International Center for Worship. Edwards is an official spokesman for the Bible League, which is one of the world's largest evangelical, non-denominational Scripture placement agencies.
Maranatha! Music is a pioneer in praise and worship music resource publishing. Best known for the Praise Series, Praise Band Series, The Invitation CD and Top 25 Series; Maranatha! Music has sold more than 30 million records worldwide.
For more information on David M. Edwards, visit www.davidmedwards.com.
For more information on Maranatha! Music, visit www.maranathamusic.com.