PETER FURLER ANNOUNCES BAND FOR WINTER JAM TOUR THAT BEGINS TODAY
Band Features Former Newsboys Member Phil Joel

Furler's First Solo Album, On Fire, Sparks No. 1 Song Of The Year In Australia

"Reach" Tops Chart as "Matter Of Faith" Gains Momentum in US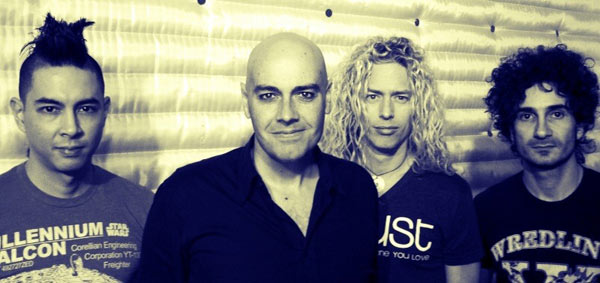 Peter Furler's Winter Jam band pictured (l-r): Jeff Irizarry, Furler, Phil Joel and Dave Ghazarian.
NEWS SOURCE: Hoganson Media
January 6, 2012
Playing "Reach," "Matter of Faith" and other favorites from his widely acclaimed and first solo CD, on fire, Peter Furler will also draw upon his multiple radio hits spanning his career as founder of the newsboys during Christian music's largest annual tour, Winter Jam. Joining Furler's band during the tour is fellow artist and former newsboy bassist/vocalist, Phil Joel, who recently released his solo album, Playlist. Rounding out Furler's band is Dave Ghazarian (Superchick) on guitar and Jeff Irizarry on drums.
The 48-city Winter Jam tour that begins today in Charleston also features Skillet, Sanctus Real, Kari Jobe, NewSong, Building 429, Group 1 Crew, illusionist Brock Gill and others in venues like American Airlines Center (Dallas), Fed Ex Forum (Memphis); Sprint Center (Kansas City), Time Warner Arena (Charlotte); AT&T Center (San Antonio), Phillips Arena (Atlanta) and more.
With multiple GRAMMY nominations and Dove awards, "Songwriter of the Year" nods and musical talent that has driven the sales of five RIAA Certified Gold records, over seven million albums sold and 25 No. 1 songs, Peter Furler adds to his accolades this week by gathering the No. 1 Christian song of 2011 in Australia with "Reach." A featured track on his solo CD, "Reach" held the top spot on The Rock Across Australia (TRAA) Top 100 Song Chart for eight consecutive weeks. The song also became a multi-format top 10 single in the US as his current single, "Matter Of Faith," hits Top 15 and continues to climb this week on the Billboard AC Indicator chart.
Furler makes his return to music after amicably ending his long tenure in 2009 as the lead singer of newsboys, the band he founded in Mooloolaba, Queensland, Australia. Refreshed and reawakened to the joy of music, Furler's first solo album, on fire, released amidst wide critical acclaim on Sparrow Records and sparked cover features in CCM Magazine, Christian Musician, I Am Entertainment magazine and more. The album is available on iTunes, Amazon, Walmart, LifeWay Christian Stores or at favorite Christian retailers everywhere.
As one of the most successful, award-winning artists today continues his musical journey, Peter Furler is one of Australia's biggest exports of any musical genre. Writing, producing, recording and singing such international classics as "He Reigns," "Shine," "Something Beautiful" and "It is You," Furler has a raw honesty and ability to turn a rock show into a deep worship experience. He has collectively performed to over 15,000 Muslims in Morocco, for the Pope during World Youth Day, at the Rock and Roll Hall of Fame, at a 9/11 service for U.S. military leaders at the Pentagon, at a New Age festival on the shores of Galilee in Israel, rocked the punters at an outback pub in Australia, and was enthusiastically received last year in front of 20,000 people at Easterfest in Mooloolaba as his first concert since returning to music.
More information Peter Furler can be found at: http://peterfurler.com, www.facebook.com/peterfurlerofficial and http://twitter.com/PeterFurler.
# # #
For more info on Peter Furler visit the JFH Artists Database.