AWARD-WINNING WORSHIP LEADER LAURA STORY
PENS FIRST BOOK,
WHAT IF YOUR BLESSINGS COME THROUGH RAINDROPS?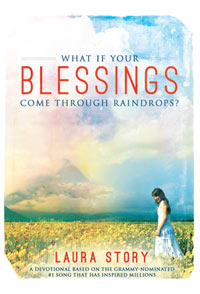 NEWS SOURCE: Turning Point Media
February 7, 2012
NASHVILLE, Tenn.—What If Your Blessings Come Through Raindrops?, the first book by Dove Award-winning and Grammy Award-nominated worship leader Laura Story, will release March 13 by Freeman-Smith, a division of Worthy Publishing. The 30-day devotional is based on Story's #1 song, "Blessings," nominated for a 2012 Grammy Award for Best Contemporary Christian Music Song.
Comprised of 30 daily devotions designed to draw readers into a deeper understanding of God's sometimes mysterious gifts, What If Your Blessings Come Through Raindrops? includes the devotions "He Loves Us Too Much to Give Us Lesser Things"; "When Faith Disappears"; "The Blessed Thorn"; "Giving Endurance a Chance to Grow"; and "How Can We Find Peace Amid Suffering?" Each devotion contains Story's personal reflections garnered from her own journey, along with prayers, quotes and a journaling page for readers to recount how blessings have impacted their own lives.
Written and recorded by Story, "Blessings" was a #1 hit at Christian AC and Inspo radio last year, in addition to topping the iTunes Christian/Gospel Top Songs chart for 28 consecutive weeks. The song is featured on Story's critically acclaimed Fair Trade Services recording, Blessings. Her previous recording, Great God Who Saves, garnered a Dove Award for Inspirational Album of the Year and featured the hit single, "Mighty to Save." In addition, Story penned the popular worship song "Indescribable," recorded by Chris Tomlin.
Story is involved in music and women's ministry at Perimeter Church in Atlanta, where she resides with her husband, Martin. She will be on the Girls Night Live Tour this spring with Mandisa and Britt Nicole. For a complete list of upcoming dates, visit www.laurastorymusic.com.
Worthy Publishing, a division of Worthy Media, Inc., is a privately held company whose mission is helping people experience the heart of God. Worthy is an independent voice in Christian publishing, managing editorial, marketing, publicity, sales and distribution from its home offices in Brentwood, Tennessee. Worthy focuses on a boutique list of new books each year, crossing a broad spectrum of genres, including fiction, Bible study, current events, devotionals, biography, leadership, specialized Bibles, as well as spiritual and personal growth.
What If Your Blessings Come Through Raindrops? ($11.99) will be distributed to retail outlets nationwide by EMI CMG. For a free download of the first chapter, visit www.laurastorymusic.com/free. For further information, visit www.worthypublishing.com.
###
For more info on Laura Story visit the JFH Artists Database.