JFH NEWS SHORTS FOR WEDNESDAY FEBRUARY 29, 2012
News on NEEDTOBREATHE, Owl City, Kari Jobe, Dara Maclean, Demon Hunter, Poema, Sidewalk Prophets, Matthew West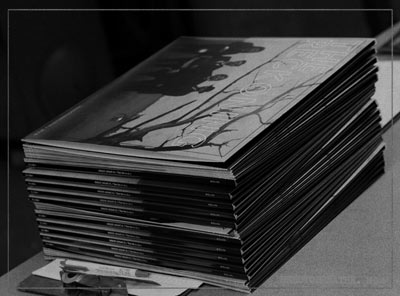 NEWS SOURCE: a Jesusfreakhideout.com report
February 29, 2012
>> NEEDTOBREATHE Release Double-Vinyl Edition of The Reckoning
While you can only grab it at their live shows now for about $25, NEEDTOBREATHE has released their lastest album, The Reckoning, on white double vinyl. In addition to The Reckoning's 14 original tracks, the band has added two b-sides from The Reckoning's recorded sessions exclusively for the vinyl release -- "Cops" and "Disaster Road." It hasn't been announced whether or not the vinyl will be made available elsewhere (like the band's webstore), but it's likely that after their spring tour, any remaining copies should be made available online. For further details, visit Needtobreathe.net.
>> Owl City Covers Johnny Cash's "Home of the Blues" on Piano
Adam Young and a black Steinway Piano teamed up to record a wonderful rendition of Johnny Cash's "Home of the Blues." Adam's strikingly different, yet beautiful acoustic version of this classing Cash song can be heard by clicking here! In other news, Owl City has a new album due out this summer. More details to come! (from Stunt Company)
>> Kari Jobe, Dara Maclean, Blanca Reyes and more Film SNL Skit Spoof
The Winter Jam 2012 crew are clearly enjoying their time on the road together, and the ladies of WJ (Dara Maclean, Kari Jobe, and Blanca from Group 1 Crew) have put together their own spoof video of a recent SNL Skit based around a popular song by Adele. In the video--just like the SNL skit--the girls use the Adele song "Someone Like You" to express their broken hearts about various topics. The spoof also stars Russ Lee of Newsong and Joel of for King & Country, as well as other road crew. Dara writes, "I kept watching it and showing it to Kari and Blanca and we would laugh hysterically! I love the random things they just burst into tears about and every girl knows exactly what I mean! Well, one night, in our dressing room, I was like, "Girls!!! We have to do a spoof of this video and it has to Winter Jam related!!!" We got really excited and so the process began! I went to catering and saw Russ and told him the whole idea, he added some thoughts and got on the band wagon. Then, I saw Joel and told him he had to be in it! I don't even know how it all evolved, but the cast came together beautifully and after some practice, we gave it a go! However, there was only one cake, so the pressure was on, we had one shot and went for it! This is what happened..." Visit http://www.daramaclean.com/blog/adeles-someone-you-snl-spoof?eml=022812 for the video!
>> Demon Hunter Debut New Song
Demon Hunter's new album True Defiance releases April 10th, but you can hear a brand new song from the guys now. Visit YouTube now to listen to "Someone To Hate" and then you can check out some cool preorder options at MerchDirect.
>> Poema Member Offers Custom Painted iPhone Cases
Poema's own Shealeen Puckett has been making custom-painted iPhone cases for friends and family and has now made them available to all who are interested in her little works of art. Check out her Etsy page at Etsy.com/shop/shealeenlouise to see what's for sale (including some handmade crochet beanies)! Also, be on the look out for new tunes from Poema sometime this year...
>> Sidewalk Prophets Get Ready To Live Like That
Sidewalk Prophets is busy preparing for the March 27 release of Live Like That. To get ready for their sophomore album, each week one of the band members is sharing what the words "live like that" mean to them. Check out the new videos and the Live Like That pre-order options. (from Word Records)
>> Matthew West Invites Listeners to Share in New
In a note posted originally to fans, two-time GRAMMY® nominee Matthew West is once again extending an invite for people to submit their stories for his new album slated to debut in the fall of this year. After receiving over 10,000 personal stories from all over the globe for his 2010 project The Story of Your Life, the acclaimed singer/songwriter who has been forever impacted by the outpouring of stories, felt as though there was even more for others to say during this season of his music. Matthew is collecting stories through the end of March, and giving away a free download of "The Story of Your Life" for every submission. West will begin recording the new album in the spring of this year with a plan to unveil the set of new songs in September. (from Sparrow Records)
For more info on these artists, visit the JFH Artists Database.