GRAMMY®-NOMINATED JEREMY CAMP WILL DEBUT
FANETWORK GLOBAL SOUNDS CONCERT SERIES
INSPIRATIONAL SERIES WILL PREMIERE MAY 9, 2012 FROM NASHVILLE, TN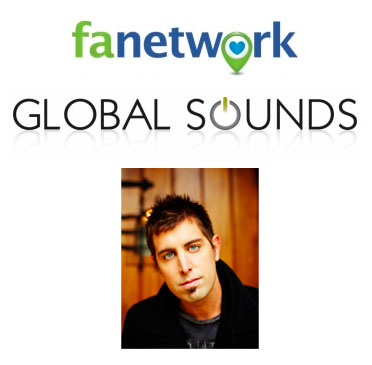 NEWS SOURCE: Merge PR
April 11, 2012
Nashville, Tenn (April 11, 2012) FANetwork presents the launch of the inspirational concert series Global Sounds on May 9 featuring GRAMMY Award nominated Jeremy Camp. This first ever satellite television F-broadcast concert series delivered within the Facebook platform will air live on multiple Facebook pages and will feature six episodes connecting artists with their Facebook fans from all over the world. Each Global Sounds concert event will be a part of a month-long engaging experience providing the opportunity to share, encourage, and unify on a global platform in real time.
Jeremy Camp will be the first in this series from his home in Tennessee. He will host his family and friends along with Facebook fans, churches and youth groups from everywhere for a night of stories behind the songs that he has written. Fans will be able to interactively take part before, during and after the live event, gaining access through the "Global Sounds Live" application featured on multiple Facebook pages.
"I am really excited about this new opportunity with FANetwork," shares Camp. "I love that through Facebook and social media we can now broadcast around the world and allow people a chance to experience all the stories behind the songs that may not typically get to come to a show."
"With the launch of FANetwork.TV's live events and original programming in combination with Facebook's 850 million subscribers around the world, every fan is immediately granted all-access to their favorite artists," says Charlie Stuart Gay, President of FANetwork. "It's great that we can express ourselves connecting through the premiere of Global Sounds featuring inspirational mega artists starting with Jeremy Camp. He is an extraordinary performer and by broadcasting this concert live from his home in Tennessee, it is unique. It also gives his million plus fans the chance to engage in the heart of his authentic expression, interact and share Global Sounds with their friends."
Prior to the event Jeremy will be engaging fans throughout social media outlets encouraging them to express themselves through contests beginning in April leading up to the live event on May 9. Contest winners and the most popular fan questions will be announced during the event. These contests promote fan expressions through video and photos, allowing fans to spread the word about the event through social media outlets.
To view Global Sounds, there will be a "pledge" option for fans as opposed to purchasing a ticket. By encouraging people to pledge a suggested amount, the Global Sounds event is empowered to support Camp's non-profit Speaking Louder Ministries and the collective Global Sounds community. Those who cannot pledge at this time are still able to enjoy the concert.
"Majority of the proceeds go to our non profit called Speaking Louder Ministries, which allows us to do free evangelistic outreaches all around the world," states Camp.
About Jeremy Camp:
Over his stellar 10 year career, BEC Recordings' artist Camp has established himself with these landmark accolades: over three million albums sold, Four RIAA Gold-selling studio albums including his debut album; One RIAA Multi-Platinum long-form video; 26 No. 1 Radio Hits across all formats; GRAMMY® nominated project for his album Speaking Louder Than Before; Billboard's No. 3 Christian Artist of the Decade including five songs in the Top 50 Billboard Christian Songs of the Decade; Four ASCAP Songwriter of the Year awards; ASCAP Song of the Year award; Five Dove awards including two-time Male Vocalist of the Year. Jeremy is a Compassion International artist.
About FANetwork:
FANetwork, is both a broadcaster of live events and a distributor of music and film within the delivery ecosystem of Facebook and beyond. This growing media group with offices in London and Los Angeles is managed by media investors and entertainment producers, providing immediate investment, innovative delivery-platforms and distribution to major artists and entertainment properties. FANetwork has grouped pioneering digital delivery companies from Europe and US to support it's launch of theatrical quality programming through social medias. In the past its President, Charlie Stuart Gay has been used to producing large Christian assemblies including being Arrangements Chair for the final Billy Graham Crusade at the Rose Bowl.
For more info on Jeremy Camp visit the JFH Artists Database.