PAUL BALOCHE'S THE SAME LOVE: A DEVOTION
RELEASES OCT. 1 FROM DAVID C COOK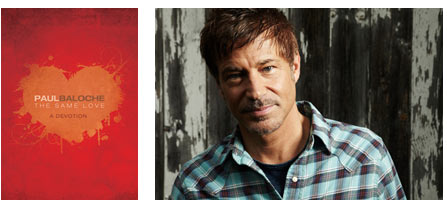 NEWS SOURCE: Hoganson Media
August 22, 2012
In the spring of this year, modern worship trailblazer Paul Baloche released his widely acclaimed 12th album, The Same Love, which forged a progressive path musically. Baloche is now offering deeper insight into each of the 13 songs on the album with the Oct. 1 book release from David C Cook, The Same Love: A Devotion.
Each new song from The Same Love was birthed from genuinely inspired moments through which lyrics and melodies were created. But there were also moments in between the songs where Baloche felt there was more to be said. The Same Love: A Devotion is that collection, a progression of thoughts and prayers that compliment the lyrics and message of the songs.
"Songwriting is a big part of my spiritual life," Baloche shares. "It helps me go deeper with God. It helps me fix my mind on Jesus, to set my mind on things above. It keeps my own heart fresh and alive, for myself, my family and the church."
In Baloche's spiritual walk, the church is both a beacon and the passion that fuels his own journey.
"I try to be mindful that I'm putting words into the mouths of God's people," he explains, aware that these songs can give believers a vocabulary to sing back to God. "And when they sing those words, hopefully it will act as a catalyst in their heart, so something will happen in them. Because when we sing, it goes down deep into our soul."
With The Same Love: A Devotion, Baloche provides a tangible way to go deeper. For instance, while diving into the message of the song that became the title track of the book and album, Baloche shares inspiration from Mark 5.21-43, where Jesus healed a sick woman and raised a synagogue leader's daughter from death. Going through this passage of scripture, Baloche then compels the reader to apply the story personally.
"The Same Love that spread the heavens wide and was crucified and raised Jairus' little girl and sent a woman back into her new life is calling to you today," relays Baloche in the book. "Your situation and circumstances will be unique to you because you are unique. Maybe The Same Love is challenging you to live what you believe….maybe that same love is simply calling your name to remind you of your worth in God's eyes. Different times, different stories, different needs, but a love that is the same yesterday, today, and forever calling, 'Come to me now.'"
Taking the message of these songs on the road, Baloche's touring/workshop/teaching schedule takes him around the world. In the coming months, he will host Leadworship Workshops throughout the U.S., as well as travel abroad to Brazil, UK, Ireland and Canada.
Best known for such modern classics as "Open the Eyes of My Heart," "Above All," "Hosanna," and "Your Name," Baloche's songs have been recorded by numerous artists, including Michael W. Smith, Casting Crowns, Matt Redman and Philips, Craig & Dean. And this three-time Dove Award-winning writer's songs are sung by millions of worshippers around the world, with 21 of them included in the CCLI Top 500 list, indicating the songs most often used in North American churches.
In addition to writing, recording, touring and celebrating 20 years as the worship pastor at Community Fellowship in Lindale, TX, Baloche has created a variety of teaching DVDs, along with many free resources designed specifically for worship leaders and musicians. He has also written the book, God Songs -How to Write and Select Songs for Worship. He is a contributing writer for both Worship Leader and Worship Musician magazines and is a featured blogger on ChurchLeaders.com.
For more information on Paul Baloche, go to www.leadworship.com, www.davidccook.com and www.integritymusic.com.
# # #
For more info on Paul Baloche visit the JFH Artists Database.