NATIONWIDE RETAIL CONTEST CELEBRATES
NICHOLE NORDEMAN'S LOVE STORY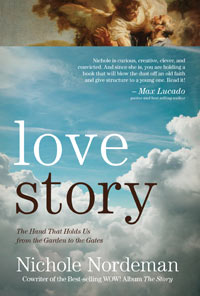 NEWS SOURCE: Turning Point
September 19, 2012
NASHVILLE, Tenn.- Worthy Publishing and more than 80 independent Christian retailers across the country have joined forces for a special sweepstakes celebrating singer/songwriter Nichole Nordeman's recently released literary debut, Love Story. The contest will give one winner an all-expense paid trip for two to a performance of The Story Tour at Dallas' American Airlines Center in December.
The grand prize package includes airfare, hotel accommodations, meals, premium concert seating and a backstage meet and greet with the tour artists. Entry forms are available at participating Christian stores, and no purchase is necessary to enter or win. Entries must be submitted by midnight on November 11, and the winner will be notified by November 16.
Nordeman's Love Story: The Hand That Holds Us from the Garden to the Gates is based on the best-selling, Dove Award-winning Music Inspired By The Story (EMI/WOW) multi-artist recording, which she co-wrote. Tracing God's unyielding mission from the beginning of time to rescue His beloved, in our most fragile and broken condition, Love Story exposes the humanity and more emotional underside of beloved biblical characters.
Also based on the recording, The Story Tour will feature Nordeman, Casting Crowns' Mark Hall, Jeremy Camp, Natalie Grant, Matthew West, Selah and Rawsrvnt, along with author and pastor Randy Frazee and musical director Bernie Herms. Kicking-off November 23 in Louisville, Kentucky, the tour will hit more than a dozen cities before concluding December 8 in San Antonio, Texas.
Nichole Nordeman is a recording artist and songwriter for Sparrow Records/EMI Christian Music Group, with numerous #1 and Top 10 singles to her credit and cumulative CD sales of over one million. A two-time Gospel Music Association winner for Female Vocalist of the Year, she has won a total of nine Dove Awards. She lives with her family in Tulsa, OK. Connect with her on Twitter @nicholenordeman.? ?
Worthy Publishing (www.worthypublishing.com), a division of Worthy Media, Inc., is a privately held company whose mission is helping people experience the heart of God. Worthy is an independent voice in Christian publishing, managing editorial, marketing, publicity, sales, and distribution from its home offices in Brentwood, TN. Worthy focuses on a boutique list of new books each year, crossing a broad spectrum of genres, including fiction, Bible study, current events, devotionals, biography, leadership, specialized Bibles, as well as spiritual and personal growth.
For further information visit http://worthypublishing.com/books/Love-Story/
For more info on Nichole Nordeman visit the JFH Artists Database.
###