Pillar Reunites With New Album Plans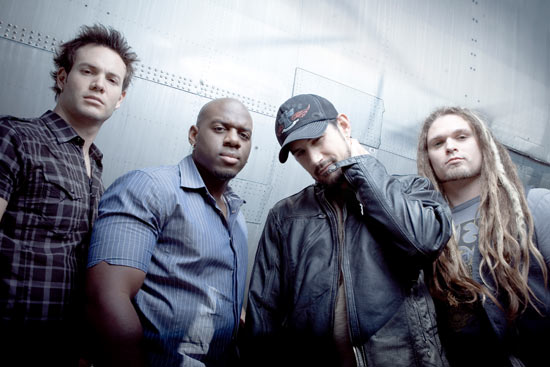 NEWS SOURCE: Rex PR
October 31, 2012
Former Flicker Records rock band Pillar teased an announcement of their reunion late last week and made an official announcement over the weekend. Below is the official press release from Rex PR and idefimusic... - JFH
----------------------------------------------------
Tulsa, Okla.- One of the most successful Christian Rock bands of all time, Pillar, announced on their social media pages and in e-mail to their fans this weekend that they will be reforming their marquee line up to record their first album in four years, and first for next level record label idefi Music.
"We're going to be doing a record and are shooting for a summer 2013 release" says Pillar singer Rob Beckley. "It's going to have that gritty sound but will come from a more mature place lyrically."
Considered by many to be the band's definitive line up, founding members Beckley, and Michael "Kalel" Wittig, were joined by virtuoso guitarist Noah Henson for the 2002 release "Fireproof." The album immediately topped the charts and in the course of selling over 300,000 copies, won two Dove Awards and established the band at the vanguard of Christian Rock. During touring for the album, Lester Estelle Jr., a much respected drummer, joined the band, cementing one of the most musically solid bands of the era. The effort spawned several hit singles including the title track and the band's signature song "Fireproof."
In 2004, the band again topped the charts with the release of "Where Do We Go From Here." The album immediately shot to number one and included the singles "Bring Me Down" and "Frontline."
"What was cool about 'Fireproof' and 'Where Do We Go From Here' was we were young and touring... those were pretty authentic records," Beckley says.
The band's next full-length, "The Reckoning," not only furthered the band success but added a Grammy nod for "Best Rock or Rap Gospel Album." Their follow-up, "For Love of the Game," brought more Dove nominations and hit singles but would be the end of the band's most successful line-up as Estelle and Wittig departed.
Beckley says the band is very excited to be back together again. He says that he's very thankful for Pillar's fan base. "We're going to rally the troops so to speak... what made Pillar successful was not the music, but the fans. The Underground Army has been in hiatus for a while and now it's time to re-enlist," he says. "One thing we know is that our fans were the driving force behind what we did. We're really relying on them to support and get the word out about the new record."
As for idefi, Beckley says he's happy to be part of a groundbreaking business model. A thought echoed by idefi CEO Brady Deaton. "I am so proud to think that the idefi model gave them another option, one that included staying together and continuing to make great music while getting paid royalties on their music sales from day 1!"
Idefi Music LLC is a web based "all access" record label that allows performers of any age, level of experience or genre to upload music and create a profile for free. Idefi's mission is to give artists freedom and control. They offer duplication, world-wide distribution, support for recording, help with music video creation and tour support as well as marketing based on a reward point system. Sign up for Pillar updates and get Rob's single "Value of My Heart" for free at www.pillartour.com.
For more information about Pillar and idefi visit www.idefimusic.com.
For more info on Pillar visit the JFH Artists Database.