Downhere Wins Three Major Awards At GMA 2012 Covenant Awards:
Album Of The Year, Group Of The Year, Male Vocalist Of The Year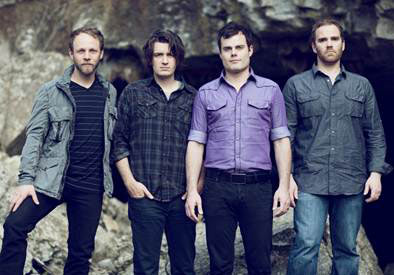 NEWS SOURCE: Bozeman Media
November 9, 2012
Nashville, TN (November 9, 2012) ---- As Centricity Music's high-profile band Downhere comes to the end of their 12-year career as a group, the band won three major categories at the GMA 2012 Covenant Awards in Canada. Downhere was nominated in eight categories and walked away with trophies for Album of the Year (On The Altar Of Love), Group Of The Year and Male Vocalist Of The Year (Marc Martel). The band also performed their last single at the award's ceremony, Rest, which was nominated as Song Of The Year and Recorded Song Of The Year. It's a fitting tribute for the group who has been one of the most celebrated rock bands in the Christian music industry.
"After 12 years of music, this was a fantastic way to cross the finish line!, exclaims Downhere. "To hear 'well done' from our peers in Canada meant the world to us!" Jeremy, Jason, Marc and Glenn announced in July that the group would end their music ministry in January 2013. It has become very clear to us that this chapter of our journey, initiated by God, is drawing to a close. While we mourn the end of this season we also celebrate over a decade of ministry. It has been hard work and our families have paid a big price. The friends, songs, experiences, and lives changed as a result of hearing the truth of God's love has sustained us through many years and miles.
Downhere's final album for Centricity Music is the current Covenant Award winning, On The Altar Of Love, which received rave reviews, including TheFish.com. "Plain and simple, this is a band that knows how to write to its strengths and play its songs to the hilt, and this is an album worth acclaim." Downhere has enjoyed great chart success over the years as "Here I Am" and "Hope Is Rising" peaked at #5 and #17 on the AC charts, while "My Last Amen" peaked at #5 on the CHR charts. All of the songs are from Downhere's previous project Ending Is Beginning that media heralded as their strongest studio album at that time. Downhere released their first Christmas project in 2009, based on the enormous success of "How Many Kings" that peaked at #4 on the charts. Also during their illustrious career, Downhere has garnered 16 Covenant Awards, 4 Juno Awards and a Dove Award for Modern Rock Recorded Song of the Year.
At the same time, co-lead singer Marc Martel has become a music sensation with his Queen Extravaganza video audition that generated more than 4-million hits. It led to an appearance on the Ellen Show, winning the MTV O Awards 2011 for Best Fan Cover and Queen drummer, Roger Taylor, announcing in a FOX News interview that Martel "is an extraordinarily good singer." After performing on two legs of the Queen Extravaganza Tour, he'll join the tour again in January 2013.
About Centricity Music
Centricity Music is an independent recording and publishing company based in Bellevue, Washington and Nashville, Tennessee. The company's mission is to enable our artists to create life-changing experiences for the world. Centricity Music's artist roster includes; Aaron Shust, Andrew Peterson, Downhere, Jaime Jamgochian, Jason Gray, Remedy Drive, Seth Mosley, Sixteen Cities, and Unspoken.
For more info on Downhere visit the JFH Artists Database.