FIRST ACOUSTIC CHRISTMAS TOUR PRESENTED BY K-LOVE RADIO AND
25 ENTERTAINMENT DRAWS SELLOUT CROWD IN LITTLETON, CO
Tour Featuring Sanctus Real, Sidewalk Prophets and Dara Maclean
Brings Attention to World Vision's "Survive to Five" Program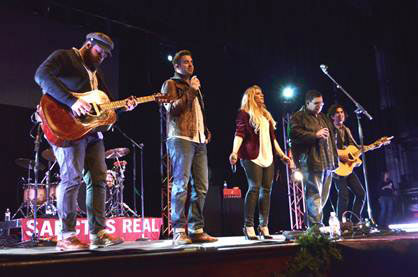 NEWS SOURCE: Word Records
December 4, 2012
NASHVILLE, TN - (December 4, 2012) - The Acoustic Christmas Tour which kicked off this past Thursday in Oklahoma City, OK drew a sellout crowd to the December 2 Littleton, CO date. With packed houses on the previous dates, the first Acoustic Christmas Tour by K-LOVE Radio and 25 Entertainment is proving to be a success. Tickets are still available but selling quickly for the additional 11 dates. The Acoustic Christmas Tour concludes in San Antonio, TX on December 16.
"It's an honor to be a part of even one person being affected by the message of the gospel," said Dara Maclean. "Sunday night, the 'ones' were multiplied as we got the equal honor to watch as a sold out crowd in beautiful Littleton, CO worshiped with us throughout the evening. There is nothing like it."
In addition to the creative evening of music, Survive to Five, a World Vision program is the ministry focal point. World Vision, a Christian humanitarian organization dedicated to working with children, families and their communities worldwide, presents nightly opportunities to sponsor children from around the world. The goal is to have a total of 600 children sponsored by the end of the tour.
Additional Acoustic Christmas Tour Dates:
Dec. 4, 2012 Bozeman, MT Journey Church
Dec. 5, 2012 Pasco, WA Faith Assembly Pasco
Dec. 6, 2012 Bend, OR Christian Life Center
Dec. 7, 2012 Portland, OR New Hope Community Church
Dec. 8, 2012 Sacramento, CA Warehouse Ministries
Dec. 9, 2012 Fresno, CA Warnors Theatre
Dec. 10, 2012 Reno, NV Sparks Christian Fellowship
Dec. 12, 2012 San Diego, CA Skyline Church
Dec. 13, 2012 Phoenix, AZ Grand Canyon University
Dec. 15, 2012 Midland, TX Mid Cities Community Church
Dec. 16, 2012 San Antonio, TX Oak Hills Church
Tickets are on sale now. Tour sponsors include: K-LOVE, World Vision's Survive to Five, Grand Canyon University, Word Films and 25 Entertainment. For more information on K- LOVE and 25 Entertainment's Acoustic Christmas Tour, please visit: www.acousticchristmastour.com.
About Sanctus Real:
GRAMMY nominated, Dove Award winning Sanctus Real creates compelling, authentic music. Featured on ABC World News with Diane Sawyer and gathering its 2nd GRAMMY nomination for Pieces of a Real Heart, the band strives to live up to meaning of their name: to be Holy (Latin meaning of "sanctus") in all they do, but also "real" as they interact with fans, and as they live out their lives as Christians. For more information please visit www.sanctusreal.com.
About Sidewalk Prophets:
Sidewalk Prophets have made an impressive debut on the CCM scene, winning "New Artist of the Year" in 2010 and garnering four Dove Nominations to date, including "Pop Contemporary Song of the Year" and "Group of the Year." Produced by Ian Eskelin (Francesca Battistelli), their debut album These Simple Truths catapulted Sidewalk Prophets into one of the top-selling new artists of the genre. The album delivered the smash No. 1 singles "You Love Me Anyway" and "The Words I Would Say," which topped Billboard's AC/Indicator Chart for five consecutive weeks. Sidewalk Prophets recently kicked-off "The Rock & Worship Roadshow" alongside Hawk Nelson, MercyMe, Tenth Avenue North, among others. For more information please visit www.sidewalkprophets.com.
About Dara Maclean:
Dara Maclean, 2012 "New Artist of the Year" Dove Award nominee, is a soulful singer of incredible grace, power, and control - as well as a gifted songwriter - whose debut album, You Got My Attention, peaked at No. 9 on the Billboard Christian Albums chart. Influenced by contemporaries like Adele, Natasha Bedingfield, Ray LaMontagne, John Legend and Marc Broussard, she has since charted two Top 10 singles on the Christian charts ("Suitcases" and "Free"). Maclean and her unique blend of modern pop, '70s soul, and R&B was recently featured during the Winter Jam Tour Spectacular, Christian music's largest annual tour. "Maclean has a power set of pipes and a smooth, clean delivery that works well whether she is grooving on a soul-tinged R&B number, bouncing around the dance floor, or pulling back for an intimate acoustic ballad," says Christianity Today. For more information please visit www.daramaclean.com.
About K-LOVE:
Positive, Encouraging K-LOVE is an adult contemporary Christian radio network heard on over 400 signals in 46 states. For more information please visit www.klove.com.
About World Vision's "Survive to Five":
It's hard to imagine but, millions of children don't even survive to five years of age because of malnutrition, malaria, and other preventable diseases. K-LOVE and World Vision have partnered together to help change that and we hope you'll join us. "Survive to Five" strives to sponsor children ages newborn to 5 years, to give them a chance to grow healthy pass the age of five. These kids are from countries where mortality rates are high and family & community support are missing in their lives.
About Grand Canyon University:
Grand Canyon University was founded in 1949 and is Arizona's premier private Christian university. GCU is regionally accredited and emphasizes individual attention for both traditional undergraduate students and the working professional in seven colleges: the Ken Blanchard College of Business, the College of Education, the College of Nursing, the College of Arts and Sciences, the College of Theology, the College of Fine Arts and Production, and the College of Doctoral Studies. GCU offers traditional programs on its growing campus, as well as online bachelor's, master's and doctoral degree programs. The University's curriculum fuses academic and clinical rigor with Christian values to prepare its students to be skilled, caring professionals. For more information about GCU, visit www.gcu.edu.
About Word Entertainment:
A leader in the music industry for over 60 years, Word Entertainment, a Warner/Curb company, is a unique, comprehensive entertainment company comprised of multi-faceted artist service departments including publishing, merchandising, booking, and online initiatives. Word Entertainment represents some of the top names and brands in music, including Meredith Andrews, Chris August, BarlowGirl, Francesca Battistelli, Big Daddy Weave, Jason Castro, Patrick Ryan Clark, Everfound, for KING & COUNTRY, Group 1 Crew, Dara Maclean, Point Of Grace and Sidewalk Prophets and is home to 25 Entertainment, Word Distribution (representing Curb Records and Big Idea/VeggieTales among others), Word Print, Word Films, Word Music Publishing and Word Label Group's Word Records and Fervent Records.
About 25 Entertainment:
25 Entertainment is the event booking, production and promotion arm of Word Entertainment, a comprehensive Christian entertainment company comprised of multi-faceted artist service departments including recorded music, publishing, distribution, merchandising, Church resources, and online initiatives. Based in Nashville, 25 Entertainment's roster includes some of the world's most-renowned Christian artists including Chris August, Natalie Grant, Phillips, Craig & Dean, Point of Grace, and Sidewalk Prophets. The company also proudly represents Girls of Grace, a nationwide conference for 6th - 12th grade girls, focusing on common age-related issues with positive Christian messages, and K-LOVE's Acoustic Christmas Tour, an annual touring event featuring today's top Christian artists.