ALWAYS BEEN ABOUT YOU BOWS FEBRUARY 12
FROM FELLOWSHIP CREATIVE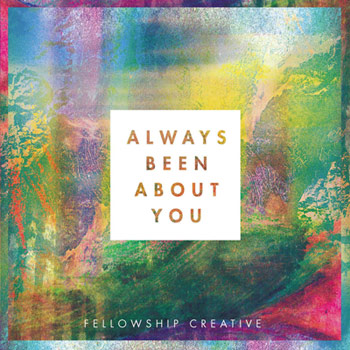 NEWS SOURCE: Turning Point PR
February 4, 2013
DALLAS-Fellowship Creative, a multi-media collective emanating from Dallas-based Fellowship Church led by pastor Ed Young, will release the new recording Always Been About You February 12. The collection will be available at www.fellowshipcreative.com, as well as iTunes, Amazon, and other digital outlets.
Beginning February 1, each song from the recording will be featured for one day at www.fellowshipcreative.com, leading up to the release date. In addition to a video sharing the story behind the song, additional resources including song charts, lyrics and tracks will be offered for the designated song each day.
Produced by renowned rock and pop engineer CJ Eiriksson (U2, Matchbox Twenty, Incubus), Always Been About You features 12 songs written and performed by the Fellowship Creative team. Rooted at the intersection of passionate worship and creative art, Always Been About You features "God Of The Rescue," "Future Back," "In You," and the album's closer, "Beautiful," inspired by a visit from pro surfer Bethany Hamilton whose dramatic recovery from a shark attack was documented in the feature film Soul Surfer.
"'Beautiful' focuses on the idea of starting your day off like any other day," says Derric Bonnot, Worship Pastor, Fellowship Church. "And how, in an instant, everything can change. But even in those moments when everything looks the worst, He can create something beautiful that shows who He is and what He can do."
"Always Been About You" reflects the foundation of Fellowship Church. "On one hand, everything we do is about people," Bonnot continues. "On the other, it's all about God. So we are centered on the greatest commandment; it's about Jesus and what He has done in our lives."
"Future Back," also the project's first video, captures a truth revealed in the lives of the Fellowship Creative team. "The song is about a fresh start," Bonnot explains. "The clean slate opportunity that Jesus gives us; only He can get our future back."
"Fellowship Creative focuses on creating a great experience using a diverse mix of artists and mediums, though music, visual design, and staging," explains Pace Hartfield, Creative Pastor, Fellowship Church. "It's a movement of volunteers and artists who share the same passion to express themselves creatively and tell others of God's plan for redemption."
"We're fully convinced that through Christ, the Church is the Hope of the world," Hartfield continues. "Because of that, we believe by engaging and empowering creative people to be a part of something that's bigger than themselves, we're helping them discover their purpose. To be who God designed them to be-it's a fulfillment they'll find nowhere else."
Fellowship Church is one of the most attended churches in North America. Pastored by Ed Young, also a New York Times best-selling author, Fellowship Church has campuses in Texas (Dallas, Grapevine, Fort Worth, Plano), Florida (Midtown Miami, South Miami) and Columbia, South Carolina. Fellowship Church also has an international reach through FellowshipLive.com.
For further information, visit www.fellowshipcreative.com or www.fellowshipchurch.com.