"MOTHER INDIA: LIFE THROUGH THE EYES OF THE ORPHAN"
TO BE RELEASED APRIL 23 ON DVD
The Documentary Narrated by Rebecca St. James Captures the Lives of 25 Abandoned and Orphaned Children Living on the Streets in India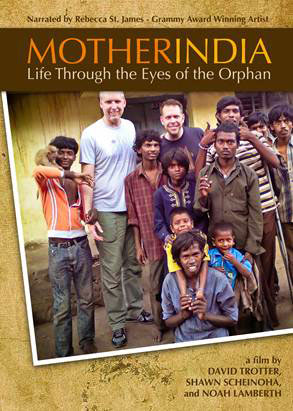 NEWS SOURCE: Word Records
March 25, 2013
Nashville, TN - (March 25, 2013) - Word Films is set to release "Mother India: Life Through the Eyes of the Orphan" on DVD April 23. Winner of "Best Short Documentary" at the 2012 San Diego Christian Film Festival, the film is a compelling documentary that chronicles the adventure of 25 courageous orphans living as a family along the railway in Tenali, India. "Mother India" brings to light the struggles faced daily by over 31 million orphans in India and the challenge of rescuing them from a life of begging and addiction.
"Mother India," filmed during a two-week period in early 2012 with a small production team, is the work of first-time filmmakers David Trotter and Shawn Scheinoha. "India is growing in both population and industry, but few people know that there are over 31 million orphans in this nation," commented Trotter (Executive Producer, Director). "Each of these young lives is much more than a statistic. Every one of them has a name, a face and a story." "The bottom line is that statistics go in one ear and out the other," added Scheinoha (Executive Producer). "People need to hear stories and see the reality of what it looks like for millions of Indian children who are orphaned. We're not out to just tell a tragic story. We're focused on raising awareness and changing lives."
While the production team was shooting the documentary, a spontaneous effort was made to help the two youngest children transition into an orphanage and school operated by the humanitarian organization, Harvest India. Although this was not within the scope of the original documentary, these two young lives soon became a central storyline within the film.
"From childhood, I have had a heart to do what I can do to help people in need, especially kids, and most definitely orphans," said Rebecca St. James. "My hope is that thousands will see this film and join this community of world changers by taking action."
For further information about the 47-minute DVD "Mother India" and to view the trailer please visit wordfilms.com.
About Word Entertainment
A leader in the music industry for over 60 years, Word Entertainment, a Warner/Curb company, is a unique, comprehensive entertainment company comprised of multi-faceted artist service departments including publishing, merchandising, booking, and online initiatives. Word Entertainment represents some of the top names and brands in music, including Meredith Andrews, Chris August, BarlowGirl, Francesca Battistelli, Big Daddy Weave, Jason Castro, Patrick Ryan Clark, Everfound, for KING & COUNTRY, Group 1 Crew, Love & The Outcome, Dara Maclean, Point Of Grace and Sidewalk Prophets and is home to 25 Entertainment, Word Distribution (representing Curb Records and Big Idea/VeggieTales among others), Word Print, Word Films, Word Music Publishing and Word Label Group's Word Records, Word Worship and Fervent Records.
###
For more info on Rebecca St. James visit the JFH Artists Database.