EPIC PERFORMANCE OF "THE THORN" IS COMING TO EASTER AUDIENCES!
Nearly 1 million people have seen this unique live performance of "The Thorn" --
Cirque du Soleil style production meets The Passion of the Christ meets
Broadway musical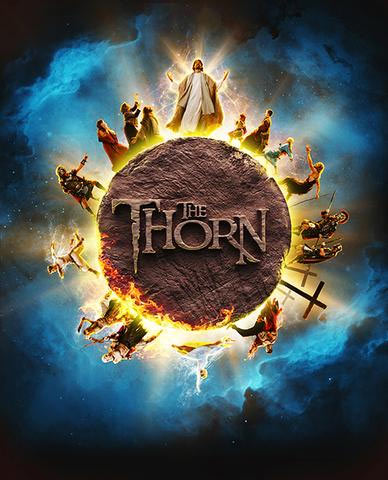 NEWS SOURCE: Morning Star PR
March 26, 2013
(Nashville, Tennessee) - The acclaimed Easter stage show, "The Thorn," is coming to audiences around the nation for a limited engagement run as part of the production's highly anticipated 2013 national tour.
Nearly 1 million people have to date seen the stunningly unique live production, described by reviewers as "A Cirque du Soleil performance, meets The Passion of the Christ, meets a Broadway musical."
"The Thorn" is a live, dramatic portrayal of the passion of the Christ like you have never seen it before, featuring live music, dance, special affects and aerial gymnastics. With unexpected features such as martial arts, live Taiko drums, overhead acrobatics, pyrotechnics and other special effects rivaling Hollywood, "The Thorn" is not a traditional church play production. And the critics agree. Paul Asay from the Gazette exclaims, "The Thorn is a local dramatic and musical extravaganza." Eric Gorski from the Denver Post remarks: "The Thorn rivals a Broadway production in scope and ambition."
Beginning in Colorado Springs, Colorado as a small regional play 16 years ago, "The Thorn" has grown to become the largest perennial, volunteer-based touring Easter production in the United States. Over the past 16 seasons, nearly one million people have witnessed this dramatic live event and more than 60,000 people are expected to see the 2013 version.
"The Thorn" this Easter season will make a multi-market tour to include Charleston, SC, Nashville, TN, Colorado Springs, CO, Denver, CO and Seattle, WA.
Creator & Executive Producer, John Bolin said, "The Thorn is more than a show; it is an experience! And an unforgettable one at that."
Audiences can expect an unforgettable presentation--from spiritual warfare where angels and demons battle on stage to the most realistic portrayal of the horrific beating and crucifixion of Jesus Christ done in a live production format, "The Thorn" recounts the dramatic story of what happened on the first Easter.
For additional market-to-market information resource online: www.thethorn.net