Three Relient K Members Sit Out Spring Tour
Band still plans to release new album Collapsible Lung this year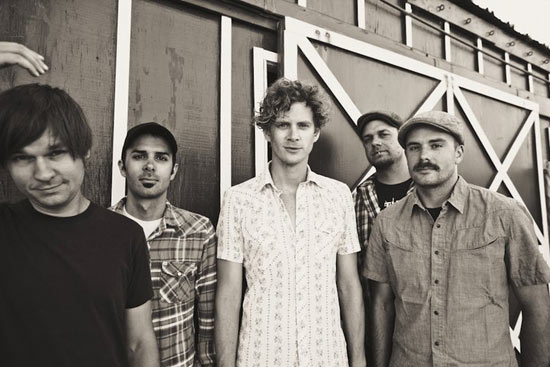 Left to Right: John Warne, Jon Schneck, Matt Thiessen, Ethan Luck, Matt hoopes
NEWS SOURCE: Jesusfreakhideout.com / Relient K
April 17, 2013
***April 21, 2013 Update***
According to a new Facebook post from Ethan Luck, the drummer has officially left the band...
To all the great fans of Relient K

It saddens me, more than you know, to tell you that I have left Relient K. Thank you, from the bottom of my heart, for the last 5 years. You all made me feel like I was in the band longer than I was. Thank you all for taking the time and spending the money to come to the shows, allowing me to have a job in music. Thank you for spending time with me after shows, having good conversation or just saying hello. I am beyond grateful. I love being on tour so much and I canít wait to play for you all again. Iím currently out with Cold War Kids, guitar teching. Come on out to a show and say hello! Trust me when I say, I wish this would have turned out differently. I tried my very best to not have things get to this point.

God Bless You All.

Ethan Luck
____________________________________________
April 17, 2013
Relient K is hiting the road again, but fans will notice some changes in the band's lineup. John Warne, Jon Schneck and Ethan Luck will be sitting out this tour. In their stead, fans will see Tom Breyfogle on drums and former Sanctus Real bassist Dan Gartley. About the future of the "Jo(h)s" and Ethan, they announced on their facebook: "It is with sadness that we write you to say that we will not be touring with Relient K on the upcoming tour dates. This will be the first tour that the Jo(h)n's have missed in over eight years, and the first that Ethan has missed since he joined the band in 2008. We will miss seeing you all on the road this year, and we want to thank you for always being there for us. Hope to see you soon."
The follow-up clarification of details from Monday is pasted below:

MONDAY April 15, 2013
Just to clarify a few things about Relient K. (From our previous post)

1. We will be doing the upcoming tour as a full band, and we are very excited about it! Dan Gartley and Tom Breyfogle will be performing on bass and drums respectively. They are both amazing friends (from Canton, OH), and incredibly talented musicians.

2. We are all still friends, and only want the best for each other.

3. Our new album "Collapsible Lung" is finished and will be coming out soon. It was made by all five of us. We apologize for the delays thus far. We are so excited about it and can't wait for you to hear it!

When Matt and I started this band in high school, we could have never imagined where it was headed, and it has continued to be a blessing and an amazing experience throughout the years. Thank you for sticking with us, hanging out with us, singing with us, and being a part of our lives.

Life happens. It is difficult to balance families, financial responsibilities, relationships, and the rest of life. Time won't slow down, and we are all on a journey, becoming the people we are going to be, and figuring out how to live.

The Jo(h)ns and Ethan are not able to do this upcoming tour. We hope to continue to make records and play shows together in the future.

We do plan to continue to play shows and make records. We would only ask at this point for your continued support. These types of things can tend to seem more dramatic than they actually are, and we urge you to not spread speculation about what may be going on. We would ask that you would support us and hope for the best for us individually and collectively.
For more info on Relient K visit the JFH Artists Database.