ALLIANCE FESTIVAL RELEASES LINE UP FOR FIRST ANNUAL EVENT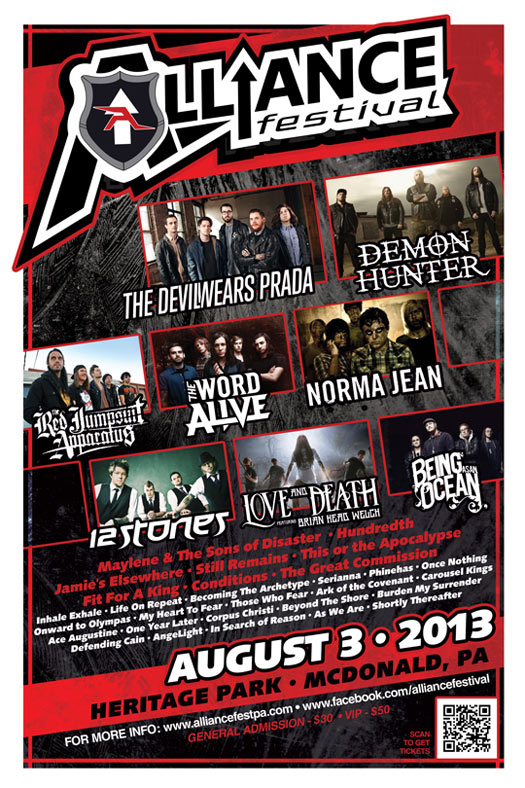 NEWS SOURCE: Alliance Festival
May 3, 2013
McDonald, PA – Alliance Festival is an annual Christian charity benefit festival, taking place on August 3rd 2013. The event will take place in McDonald, PA a small town just outside of Pittsburgh, PA. Orchestrated by college student Ryan Babirad, Alliance Festival is designed to ignite a positive impact throughout the region through music, entertainment, community, and all to aid a great cause.
"Alliance Festival is going to be the go-to heavy music festival in Pennsylvania," Babirad says. "Alliance Festival is an event that will not only feature fantastic music and an incredible experience for all ages, but also unite the community together for an event filled with purpose."
Alliance Festival will feature a small skate park, inflatables, and various other activities – along with merchandise vendors and meet & greet opportunities with national and local artists.
The Charity Benefit Festival will be funded through sponsors, churches, organizations, and supporters from across the country who are interested in supporting this unique movement and mission. Alliance Festival believes that the heavy music scene is a ripe demographic for their event to target. Lives can be positively changed and impacted through heavy music, and that is exactly what Alliance is looking to do. Tickets are available for purchase at the event's website. Alliance Festival wants to do everything they can to make the event affordable for everyone. In an effort to achiever this, they have removed all fees from advanced ticket purchases.
THE DEVIL WEARS PRADA will be headlining the Main Stage, with direct support coming from a rare festival appearance by DEMON HUNTER. Other top supporting acts include THE RED JUMPSUIT APPARATUS, THE WORD ALIVE, NORMA JEAN, and 12 STONES. The event will also feature Love and Death, the side project of legendary guitarist and co-founder of Koßn, Brian "HEAD" Welch. Over 30 additional bands will round out the Alliance Festival 2013 Lineup, including MAYLENE & THE SONS OF DISASTER, BEING AS AN OCEAN, HUNDREDTH, JAMIE'S ELSEWHERE, and a reunion show from STILL REMAINS, who will also be debuting a new record. The entire Alliance lineup consists of not only some of the top National acts in the scene today, but some of the top bands from the thriving Pennsylvania metal division.
For tickets, directions and information, please visit www.alliancefestpa.com
To connect with the Festival on Facebook visit www.Facebook.com/AllianceFestival
###