DREAM Records Signs Wilmington, NC Rock Band, Sumerlin
Wilmington, NC Rockers, Sumerlin signs with DREAM Records. Debut Album To Be Released Early 2014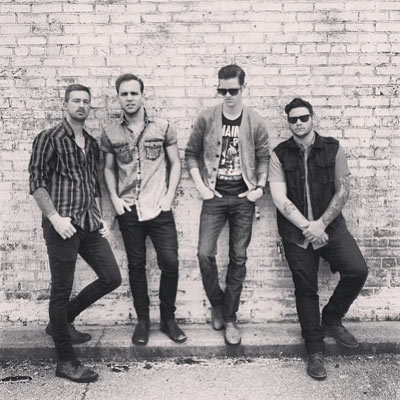 Sumerlin (L to R) Joshua Mace, Dan DiGiovanni, Chris Taylor, Logan Tudor
NEWS SOURCE: DREAM Records
June 5, 2013
Los Angeles, CA (June 2013)- DREAM Records is proud to announce the signing of Sumerlin to their growing roster. The Wilmington, NC based group recently released their EP, Motives that rave reviews and ROCK radio success (reaching the top 15) with their song, "Just A Dream". The guys will be going into the studio this fall to release their first full length debut in early 2014.
"When we discovered Sumerlin we immediately thought they would be perfect for DREAM. With absolute hearts of gold, an amazing live show and their desire to impact many lives with their music we see great things in their future with us." -- Lance Brown, General Manager of DREAM Records.
"Nothing excites us more then furthering our reach with Sumerlin - with that said we're extremely excited and blessed to have joined the Dream Records family and begin extending that reach and amplifying the impact Sumerlin has and will be making. Join us in celebrating the next step in our journey!" -- Sumerlin
Check out their acoustic version of "Just A Dream":
http://www.youtube.com/watch?v=G09N2EhxNmg
To purchase their EP, Motives click here. For more information about the group and to receive upcoming new tour dates go to www.DreamRecords.org
ABOUT DREAM RECORDS
DREAM was founded in 2008 to provide artists with a genuine approach to how real artist development should be done. By allowing for a partnership as a business model, Dream's artists empower themselves to develop and carry out a real vision for their lives as they affect other people's lives with their music and message. Incorporating social media, press, radio and touring it's allowing it's artists grow together as a family.
ABOUT SUMERLIN
In the wake of swarming bands fighting for a musical footprint in a scene flooded with genres that mimic one another -SUMERLIN stands apart by blending the importance in being both culturally relevant and spiritually significant. These guys have so much to offer to everyone - with their heart for ministry, passion for live performance, and drive for musical entertainment.