DAVID IAN TO RELEASE 2ND HOLIDAY EP
Vintage Christmas Wonderland Available September 24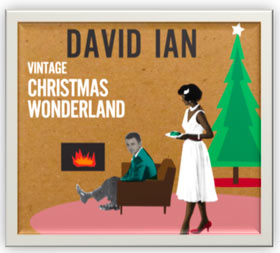 NEWS SOURCE: Merge PR
September 13, 2013
13 Sept. 2013 - Nashville, Tenn - Who's ready to get in the Christmas spirit? After one listen to David Ian's
Vintage Christmas Wonderland
, releasing September 24, you'll surely be humming to these tunes all through the holiday season. As the follow up to his highly acclaimed 2011 release Vintage Christmas, Ian's new EP of even more jazzy classic holiday tunes continues to bring fresh, swinging arrangements. Yet again he captures a vintage sound, one that harks back to classic jazz and Christmas LP's of the 1950's.
"After overwhelming enthusiasm that came from my debut album Vintage Christmas, I felt energized to explore more Christmas music," David Ian explains. "Songs I've chosen for the new EP include two instrumentals: a mellow and swinging rendition of 'O Little Town Of Bethlehem' and 'The First Noel,' featuring a melodic bass solo by Jon Estes. The familiar sound of the vocalists stay true to the Vintage Christmas brand in 'Angels We Have Heard on High' and 'Winter Wonderland,' with a slight departure in 'Jingle Bells.'" "Jingle Bells," the EP's final track, is confidentally led by Andre Miguel Mayo and decorated by the classic and energetic harmonies of Tal and Acacia who also appeared on Vintage Christmas. Each song easily captures the spirit of the season with an intimate sound that's warm and inviting.
Upon the release of his 2011 Vintage Christmas, David Ian received stellar reviews, from online music critics to the Associated Press, stating:
"[Vintage Christmas] might be the best holiday jazz album of 2011." - All About Jazz
"Seamlessly melding the some traditional compositions with the perfect hint of lounge-meets-jazz phrasing." - The Associated Press "A release that will easily whether the years and decades to come." - Folk & Acoustic Music Exchange
"David Ian did more than cover a bunch of pretty Christmas songs. He put a profound jazz stamp on them. He honored them. His...thoughtful, jazz Vintage Christmas album is already a classic. - Examiner
It goes without saying that Christmas wouldn't be Christmas without all of the trimmings: a fresh-cut tree, twinkling lights adorning eaves and windows, strategically placed mistletoe, a turkey in the oven and eggnog in the fridge. But it just doesn't feel like the holidays until you've got those familiar Christmas tunes spreading good cheer from your speakers. So deck the halls with boughs and holly. Roast some chestnuts by the fire. Walk in a winter wonderland. Be merry and bright. Be joyful and triumphant. And don't forget to include David Ian's Vintage Christmas Wonderland in your music rotation.
ABOUT DAVID IAN:
David Ian was born in Toronto, Canada to Armenian immigrant parents, came early to music, beginning in classical piano when he was five, with just a few years later knowing that this was his life's calling. He performed in a number of garage bands throughout his school years, and after graduating from college he became lead guitarist in the acclaimed band Church of Rhythm, the group that eventually morphed into the even more successful and GRAMMY-nominated rock group Superchick.
But Ian wasn't just a rock star. He began his love with jazz in his early teens. He studied jazz piano with noted teacher Pat Pace, and joined with fellow students to help initiate the jazz lab curriculum at his high school in Akron, Ohio. When he conceived the idea of recording these Christmas records, he drew inspiration from two legendary jazz pianists. "I tried to capture some of the essence of the gorgeous voicing and phrasing of Bill Evans in his interpretations of ballads, as well as the festive approach of Vince Guaraldi, particularly his injection of the blues."
While dozens of Christmas albums are released each year, the most evocative ones are often those made by jazz musicians. This should come as no surprise, since the emotional primacy in the best jazz music echoes the spirituality inherent in the best Christmas songs. Jazz and Yuletide music have a long and complementary history, from Chet Baker's Have Yourself a Jazzy Little Christmas to Vince Guaraldi's A Charlie Brown Christmas to Wynton Marsalis' Crescent City Christmas Card. Taking proud place in this music lineage is David Ian Vintage Christmas and Vintage Christmas Wonderland, which breathes new life into a set of familiar Christmas classics in relaxed, swinging arrangements that capture the spirit of the season while respecting the sanctity of the material. Take one listen and you're guaranteed to have yourself a swinging little Christmas. www.iantunes.com
# # #