Gospel Music Leading Lady Tamela Mann Set To Release New CD BEST DAYS DELUXE EDITION October 29 Featuring 5 New Recordings
Sophomore Single "I Can Only Imagine" Impacting Gospel Radio Now, Debuts On Billboard Gospel Radio Chart At #21

Smash Hit "Take Me To The King" Climbs To Top 10 On Urban AC

Tamela Set To Appear On Verizon's How Sweet The Sound Tour As Judge And Performer, Plus Performance On The 44th Annual Dove Awards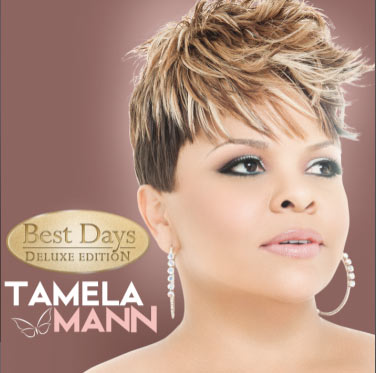 NEWS SOURCE: TKO Marketing
September 25, 2013
NASHVILLE, Tenn., (September 25, 2013) -Acclaimed actress, NAACP Image Award nominee, and Grammy® Award nominated recording artist TAMELA MANN is set to release the BEST DAYS DELUXE EDITION CD on October 29 through her independent label Tillymann Music Group and Central South Distribution. The deluxe version features 5 new recordings including 3 live versions of Best Days hits and two new songs.
"I want to thank all of my fans for their support of Best Days over the past year by releasing the deluxe edition, which includes live versions of some of their favorites from the CD and live shows along with a couple new tracks," said Tamela. "This past year has been incredible, and I hope my music will continue to bless others."
Best Days has been in the top five since its release over a year ago and #1 on Billboard's Gospel sales chart for 22 weeks so far. "Take Me To The King" spent 25+ weeks at #1 on Billboard's Gospel Radio Chart and is currently top 10 on the Urban AC radio chart.
The Best Days Deluxe Edition contains live versions of concert fan-favorites "Guest of Honor," "Best Days," and "Take Me To The King," which is featured in a medley with "I Surrender All." It also includes an updated version of the classic Kirk Franklin/Tamela Mann collaboration "Now Behold The Lamb" and newly released Gospel radio single "I Can Only Imagine."
"'I Can Only Imagine' is the ultimate worship song," said Tamela. "Every time I sing that song, I feel the presence of God take over the room. It's the perfect addition to the Best Days Deluxe Edition."
Best Days Deluxe Edition track listing:
1. Guest of Honor - Live (new)
2. Best Days - Live (new)
3. Take Me To The King medley with I Surrender All--Live (new)
4. I Can Only Imagine (new)
5. All To Thee
6. I'll Hold On
7. Lord We Are Waiting
8. This Place
9. Here I Am
10. Now Behold The Lamb (new)
11. Rain
12. Stretch
13. Back In The Day Praise
Tamela is also celebrating five Gospel Music Association Dove Award nominations for the upcoming 44th Annual GMA Dove Awards including Artist Of The Year, Song Of The Year: Take Me To The King, Gospel Performance Of The Year: Take Me To The King, Traditional Gospel Album of The Year: Best Days, and Traditional Gospel Song Of The Year: Take Me To The King. The Dove Award winners will be announced during the show on Tuesday, October 15, 2013 at Allen Arena on the campus of Lipscomb University in Nashville, Tenn.
Catch Tamela on Verizon's How Sweet The Sound Tour as a judge and performer and on The Dove Awards performing her smash hit, "Take Me To The King," airing on the Up Network October 21, 2013. Check local listings for times.
Connect with Tamela:
www.facebook.com/davidtamelamann
https://twitter.com/DAVIDANDTAMELA
ABOUT TAMELA MANN
Tamela Mann is an accomplished NAACP Image Award nominated actress, GRAMMY® Award nominated singer, songwriter, producer, and businesswoman. Starring as "Cora Simmons," the loving and churchgoing daughter of beloved Deacon Leroy Brown and the iconic Madea Simmons on the hit TBS comedy Tyler Perry's Meet The Browns, Tamela makes millions laugh every week while she enjoys a unique personal double blessing. Continuing the role she originated in Perry's 2004 play and 2008 film of the same name, the sassy, high spirited multi-talented singer and actress is able to work every day with David Mann, her husband who plays Leroy. Tamela's highly successful, Dove Award-winning CD "The Master Plan" remained at the top of the Gospel sales chart for almost a year, and in 2010, Tamela released "The Master Plan Deluxe Edition" which contained not only all the songs from the best-seller, but David's CD, Mr. Brown's Good Ol' Time Church, and a full bonus DVD of behind the scenes footage and music videos. Tamela's CD Best Days debuted in 2012 at #1 on several music sales charts and includes the #1 single "Take Me To The King," which earned Tamela her first GRAMMY ® Award nomination for Best Gospel/Contemporary Christian Music Performance. Both the CD and single remained at #1 for a record number of weeks; the CD charted at the top for 15 weeks and the single for 25 weeks. Tamela and David's new cooking and lifestyle show, "Hanging With The Manns," along with several other film and TV productions, will be released soon.
For more information about Tamela Mann, visit http://www.tillymannmusic.com.
####