DREAM Releases Redeemer by Kingdom And DREAM Christmas Vol. 2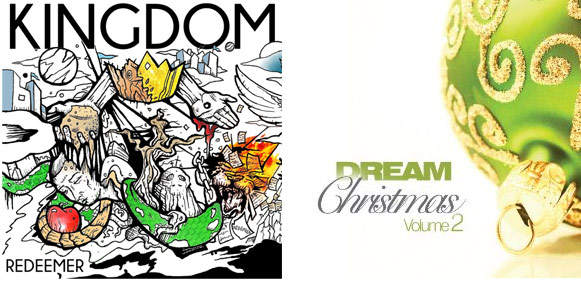 NEWS SOURCE: DREAM Records
November 12, 2013
Los Angeles, CA (October, 2013) KINGDOM, the worship team from Rocklin, CA is proud to announce their sophomore release with DREAM titled, "REDEEMER". The group put together a mixture of worship, rock and pop and features guest vocal performances by Esterlyn's, Luke Caldwell and Run Kid Run's, David Curtis. Their new album is available on Amazon here! Pick up their digital album on iTunes, December 3rd.
Check out the promo video for their new album here:
http://www.youtube.com/watch?v=nXxXRa2eDtM
Check out their first single, "God Of Fire" which debuts on the top 30 Billboard Rock charts this week here:
http://www.youtube.com/watch?v=cHWQMtZPHgk&feature=youtu.be
Below, check out the Redeemer track listing for the new album.
Redeemer Track Listing:
1. Redeemer
2. Carry On (Feat. David Curtis)
3. Unbreakable
4. Lord Of Light
5. All For Love
6. Made Alive
7. Chorus Of The Saints (Feat. Luke Caldwell)
8. What I've Found
9. Until The Whole World Knows
10. Always You
11. God Of Fire

To keep up with KINGDOM go to their site, www.KingdomBand.com and www.DreamRecords.org.
Also, in stores today is DREAM Christmas Vol 2, featuring 8 Christmas songs from artists on DREAM Records and DREAM Worship. Artist such Cindy Cruse Ratcliff, Sumerlin, Satellites & Sirens, Steven Welch, New Hope Oahu and a special David Thulin Remix of "Carol Of The Bells" featuring Steven Hare contribute to an eclectic mix sure to bring you into the Christmas spirit. Pick up the DREAM Christmas Vol 2 today on iTunes!
Check out "What Child Is This" by Sumerlin:
http://www.youtube.com/watch?v=wMMUBDdi3y4
DREAM Christmas Vol. 2 track listing:
1. O HOLY NIGHT (Featuring Cindy Cruse Ratcliff)
2. WHAT CHILD IS THIS (Featuring Sumerlin)
3. THE SOUNDS OF CHRISTMAS (Featuring Satellites & Sirens)
4. JOY TO THE WORLD (Featuring Steven Welch)
5. O HOLY NIGHT (Featuring New Hope Oahu / Jana Alcain)
6. HOPE OF ALL HOPE'S (Featuring New Hope Oahu / Joseph Lauer)
7. CAROL OF THE BELLS (David Thulin Remix, Featuring Steve Hare)
8. GLORIOUS CROSS "Easter Bonus" (Featuring New Hope Oahu)

If you would like to also purchase the first Vol of DREAM Christmas, visit iTunes today by clicking here.
ABOUT DREAM RECORDS
DREAM was founded in 2008 to provide artists with a genuine approach to how real artist development should be done. By allowing for a partnership as a business model, Dream's artists empower themselves to develop and carry out a real vision for their lives as they affect other people's lives with their music and message. Incorporating social media, press, radio and touring it's allowing it's artists grow together as a family.
###