KINGDOM BOUND MINISTRIES ANNOUNCES CHANGES TO ITS LEADERSHIP TEAM
Matt Gould Named New COO; Current President Rick Cua Adds CEO To His Role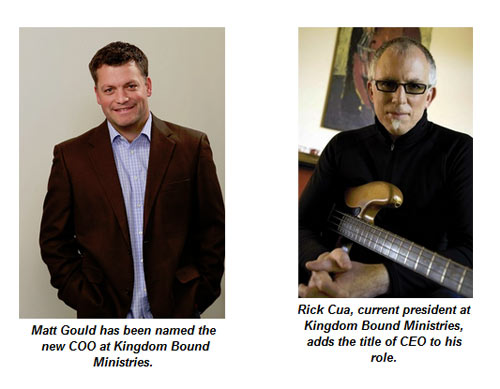 NEWS SOURCE: McCain & Co. PR
December 12, 2013
BUFFALO, N.Y. (December 12, 2013) - In an effort to expand its mission, Kingdom Bound Ministries (KBM) has announced changes to its leadership team. The ministry, ranked by Business First Magazine among the top 25 non-profits in Western New York, has named Matt Gould as Chief Operating Officer. Additionally, current KBM President, Rick Cua, has accepted the additional responsibilities of Chief Executive Officer to his role with the organization.
Gould comes to Kingdom Bound with 20 years of experience in both corporate and ministry-related media arts. Most recently, he has been the Television Director for the NHL's Buffalo Sabres and a member of their award-winning production staff since 2006. During the past year, Gould served as a member of the KBM Board of Directors after having volunteered in varying capacities over the past decade, including serving as Producer of the Performing Arts Center Stage at the annual Kingdom Bound Festival.
Along with Gould and Cua, the leadership team includes Donna Russo, who will continue to serve KBM as Festival Director and will now add Chief Financial Officer to her title.
Rick Cua, current president at Kingdom Bound Ministries, adds the title of CEO to his role. "We are all excited to have Matt on board in this newly-created position of Chief Operating Officer," says Cua. "He comes with years of KBM service under his belt, broadcast and live presentation experience at the highest level and a drive to help lead the ministry forward. He will very effectively cast and implement renewed vision for KBM."
"I am thrilled to transition into this new role with Kingdom Bound Ministries," Gould says. "The arts, both media and music, have been a major part of my life and I'm looking forward to working closely with a team of people that has, for 28 years, been on the leading edge of the Christian arts community."
"Our goal in very short order is to take the vision of the Gospel Through the Arts and expand it to reach even more people through concerts and workshops," Gould says. "We will partner with arts ministries throughout our region, creating new outlets for the next generation of artists, all with a high bar of excellence. Music, visual and media arts play an integral role in the lives of our kids. Kingdom Bound Ministries will be an exciting conduit for them to experience the arts in a very interactive manner, with the end goal of a deeper, more enriching relationship with God."
For more information about KBM, visit kingdombound.org.
About Kingdom Bound Ministries:
Kingdom Bound Ministries Inc. (KBM) will celebrate its 28th year of presenting the Gospel through a variety of art forms including concerts, outreaches and an annual performing arts festival at Darien Lake Theme Park. KBM has presented more than 100 individual concerts since 1987. In addition, the organization will co-present the 7th Annual Christian Musicians Summit May 2-3, 2014, at the Chapel in Getzville, N.Y. CMS provides a unique weekend of intensive training and evening concerts designed with regional artists and technicians in mind. Featured artists and clinicians include GRAMMYŠ and Dove Award winners.
KBM also supports more than 30 other ministry organizations as well as operating The Teachers Desk, in Buffalo N.Y., which has been featured in People Magazine. The Teacher's Desk provides free school supplies to thousands of teachers in need and was born from a KBM program called WNY Shares, an outreach that included an annual Christmas Toy Drive and Back to School Backpack program.
For more information about KBM, visit kingdombound.org.
About Rick Cua:
Rick Cua's list of accomplishments in the world of music is remarkable. Cua was a member of the gold-selling mainstream band, The Outlaws, has recorded 12 solo records, and has six No. 1 singles to his credit. He also is an author, columnist, and has been vice president of Creative for EMI Christian Music Publishing. He was the on-camera host for more than 80 Worship Together New Song Cafe webisodes. Cua currently serves as Pastoral Care Pastor at Grace Chapel in Leiper's Fork, Tenn., is president/CEO of Kingdom Bound Ministries and still performs nationally.
About Matt Gould:
Previous to his eight years with the NHL's Buffalo Sabres, Matt Gould was a producer and videographer at Empire Sports Network and WGRZ-TV. Gould also served for four years as the Television Director at The Tabernacle in Orchard Park, N.Y. Freelance work has been an important part of Gould's repertoire taking him around the world, including Ukraine, Africa, and across much of North America. In 2012, he traveled with the ABC News team covering both political conventions and operating a camera at two Presidential Debates. He resides in Eden, N.Y. with his wife, Jackie, and their three children.