NATALIE GRANT TO HOST NEW GSN COMPETETION SERIES
IT TAKES A CHURCH TO DEBUT IN MID-2014
MULTIPLE 2014 GRAMMY® NOMINEE REVEALS NEWS
DURING HIGH PROFILE APPEARANCE ON FOX & FRIENDS

STAR OFFERS TWO REMARKABLE PERFORMANCES,
INCLUDING HER GRAMMY®-NOMINATED, #1 SINGLE, "HURRICANE"
AND EXCLUSIVE RENDITION OF "O HOLY NIGHT"

UPCOMING SCHEDULE INCLUDES IMPACT NEW YEAR'S EVE BASH,
TO BE BROADCAST LIVE ONLINE FROM NASHVILLE'S ALLEN ARENA

AWARD-WINNING SINGER/SONGWRITER TO BE AMONG THE TOP STARS AT
15TH ANNUAL NFL SUPER BOWL GOSPEL CELEBRATION
SET FOR JANUARY 31ST AT NYC'S THEATRE AT MADISON SQUARE GARDEN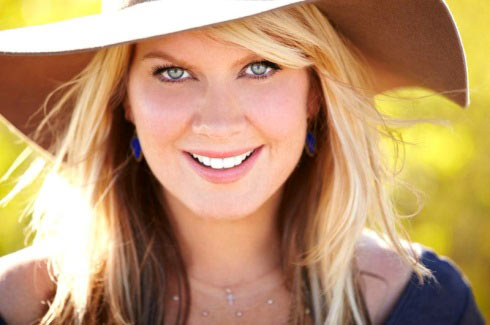 NEWS SOURCE: Plan A Media
December 23, 2013
Curb recording artist - and multiple 2014 GRAMMY® Award-nominee - Natalie Grant has announced plans to host GSN's upcoming new original series, IT TAKES A CHURCH. Each one-hour episode of IT TAKES A CHURCH will see members of a Christian congregation play matchmaker in a competition to help an unattached fellow parishioner find their match. GSN has ordered eight episodes of the series, which is scheduled to debut in mid-2014.
"I'm so excited to host IT TAKES A CHURCH and have the opportunity to interact with churches all across America to bring a family friendly show based on Christian faith and values," says Grant. "Church has been such an anchor and source of hope in my own life, and I look forward to showing the sense of community that can be found in the local church."
IT TAKES A CHURCH is produced by Authentic Entertainment for GSN, with Tom Rogan and Lauren Lexton (Flipping Out, The Best Thing I Ever Ate) serving as Executive Producers along with Richard Hall (The Amazing Race) of Great Blue Productions. Sean Kelly (Minute to Win It) is Consulting Producer.
Grant officially revealed the news last week during a holiday visit to Fox News's Fox & Friends. The award-winning singer/songwriter chatted with hosts Elisabeth Hasselbeck, Brian Kilmeade, and Steve Doocy before offering a stellar live rendition of her GRAMMY®-nominated hit single, "Hurricane." The complete appearance can be viewed now at http://video.foxnews.com/v/2943173071001/natalie-grant-performs-grammy-nominated-single-hurricane. Furthermore, Grant also performed a very special version of the classic carol, "O Holy Night," broadcast during Saturday's installment of Fox & Friends Weekend.
The news of Grant's hosting role on IT TAKES A CHURCH follows the recent announcement of her two major nominations for the upcoming 56th Annual GRAMMY Awards. "Hurricane," the chart-topping title track from Grant's extraordinary new album, "HURRICANE," was honored in a pair of top categories: "Best Gospel/Contemporary Christian Music Performance" and "Best Christian Music Song."
"Hurricane" arrived earlier this year and proved the fastest rising single of Grant's already brilliant career. The single swiftly ascended to #1 on the iTunes Store's "Top Christian & Gospel Songs" chart while also achieving top 10 success on Billboard's "Hot Christian Songs" tally.
"HURRICANE" followed soon thereafter and was received with equal popularity. Grant's first new release in more than three years, the collection entered Billboard's "Top Christian Albums" chart at #1, marking the Nashville-based artist's first-ever debut atop the chart. In addition, "HURRICANE" made a top 20 entry at #17 on the overall SoundScan/Billboard 200.
Natalie Grant is among contemporary Christian music's most talented and beloved superstars, acclaimed around the world for her breathtaking vocal abilities, powerful songwriting, and courageous efforts to help victims of human trafficking. One of the most honored artists in CCM history, Grant is a five-time GMA (Gospel Music Association) Dove Award winner as "Female Vocalist of the Year" (including four consecutive victories spanning 2006 to 2009 and a return win in 2012), as well as a 2012 GRAMMY® "Best Gospel/Contemporary Christian Music Performance" nominee for "Alive (Mary Magdalene)," featured on 2011's blockbuster, "(MUSIC INSPIRED BY) THE STORY)."
"HURRICANE" - available now on the iTunes Store -- follows 2010's "LOVE REVOLUTION," which like its predecessor, 2008's "RELENTLESS," reached the #2 spot on Billboard's "Top Christian Albums" chart. Produced by her husband and longtime collaborator Bernie Herms, the album stands as Grant's most affecting and spirited collection to date. Songs like "Closer To Your Heart" and the powerful duet, "Born To Be" (featuring Rascal Flatts' Gary LeVox) chronicle her recent struggles and hardships, a personal journey which saw this gifted artist emerge at last from the darkest, most challenging period of her life thus far.
An inspired performer known for making lasting connections with her audience, Grant has a number of high profile live dates scheduled, including a just-announced appearance at the 15th Annual NFL Super Bowl Gospel Celebration, slated for January 31st at New York City's Theater at Madison Square Garden. She will also be among the artists appearing at "Impact New Year's Eve Bash," an all-star celebration to be broadcast live online directly to churches from Nashville's Allen Arena at Lipscomb University on Tuesday, December 31st. Moreover, January sees the start of Grant's 2014 "Dare To Be…The Journey Continues" event tour with speaker/author Charlotte Gambill, including stops in such major markets as Seattle, Dallas, and Washington, DC. For complete details and ticket information, please see nataliegrant.com/tour.
In addition to her extraordinary musical career, Grant is also committed to giving voice to the voiceless through a variety of charitable efforts. An outspoken advocate for victims of human trafficking, she is the founder of Abolition International, a non-profit origination that works towards providing quality restorative aftercare to human trafficking victims both domestically and around the world.
Grant has visited the nation's capital twice this year, including a memorable appearance before Presidents Obama, Clinton, and Carter, among others, at the "Let Freedom Ring" ceremony held at the Lincoln Memorial in Washington commemorating the 50th anniversary of the 1963 March on Washington for Jobs and Freedom.
As if all that weren't enough, Grant will also be seen in a supporting role in the upcoming film, Persecuted. Produced by multiple Oscar®-winner Gray Frederickson (The Godfather Trilogy, Apocalypse Now), the independent thriller - set for release on May 9th, 2014 - sees Grant co-starring alongside James Remar, Bruce Davison, and Fred Thompson.
For more information, please visit nataliegrant.com, twitter.com/nataliegrant, facebook.com/nataliegrantmusic, instagram.com/nataliegrant, and www.youtube.com/nataliegrantvideos.
- ### -
For more info on Natalie Grant visit the JFH Artists Database.