MATTHEW HAGEE EMBRACES A NEW SEASON MARCH 18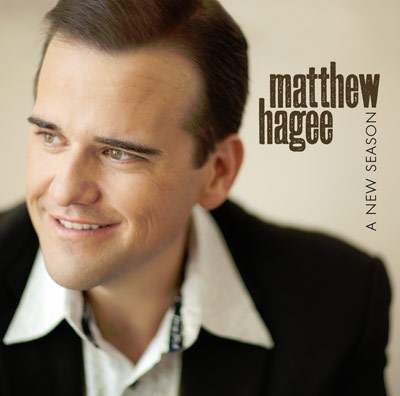 NEWS SOURCE: Turning Point PR
February 19, 2014
NASHVILLE, Tenn.—Leading pastor, author and recording artist Matthew Hagee takes center stage for A New Season, his March 18 Difference Media/Capitol Christian Distribution solo debut. Produced by Michael Sykes (Oak Ridge Boys, Gaither Vocal Band), the project features 11 Inspirationally-focused country selections.
Highlights of A New Season include the debut single, "I Don't Want To Get Adjusted"; the Hagee co-penned songs "This Ain't Nothin'" and "My Nomination"; and "That's Jesus," which was co-written by Hagee's father, internationally-renowned evangelist Pastor John Hagee. The project also showcases a new arrangement of the beloved classic "The Day He Wore My Crown," featuring guest contributions from Larry Stewart and David Innis of legendary country group Restless Heart.
"I constantly am trying to encourage people that God is a God of new beginnings and second chances," Hagee says of the project's theme. "Regardless of what they've gone through, if they're breathing, God's got better things in store. It's A New Season. There's something better waiting for everybody."
Executive pastor of the 20,000-member Cornerstone Church in San Antonio, Texas, where he preaches alongside his father, Matthew Hagee is the author of Shaken, Not Shattered (Charisma House). A husband and father of four, Hagee is a member of the Dove Award-winning Southern Gospel quartet Canton Junction and also records and tours with his family's vocal group, The Hagees.
Difference Media is a division of Cornerstone Church, founded and pastored by John Hagee. The label features some of the leading names in Gospel music, including Aaron & Amanda Crabb, Canton Junction, Matthew Hagee, Tim Duncan, The Cornerstone Sanctuary Choir, John Hagee and The Hagees. A non-denominational evangelical church, Cornerstone Church is home to John Hagee Ministries, which telecasts Pastor Hagee's radio and television teachings throughout America and in more than 190 countries around the globe. The ministry also operates GETV, a 24/7 online television and video on-demand broadcast of sermons and original programming, as well as music videos and performances by Difference Media artists.
A New Season, distributed by Capitol Christian Distribution, will be available March 18.
For further information, visit differencemedia.org